Netflix is nothing if not a goldmine of content, with basically something to watch for everyone, and today we are making a list of the best new shows on Netflix in November 2022 that you can watch right now. The shows in this list are not ranked.
Young Royals Season 2 (Nov. 1)
Synopsis: When Prince Wilhelm (Edvin Ryding) arrives at the prestigious boarding school Hillerska he finally gets an opportunity to explore his true self and find out what kind of life he really wants. Wilhelm starts dreaming of a future filled with freedom and unconditional love far away from the royal obligations – but when he unexpectedly becomes next in line for the throne his dilemma is heightened as he has to make a choice. Love or duty.
Blockbuster (Nov. 3)
Synopsis: Timmy Yoon (Randall Park) is an analog dreamer in a 5G world. He's spent his entire adult life dedicated to his first love, movies — a passion that's kept him at his first and only job, managing his hometown Blockbuster Video.
Then Timmy is alarmed to learn that his store is officially the last Blockbuster in America. He now has no choice but to take action to stay open and keep his friends employed. Timmy and his staff quickly come to realize that being home to the last Blockbuster might actually be exactly what their community needs to rekindle the human connections they lost to the digital age. It also unexpectedly reunites him with his long-time crush Eliza (Melissa Fumero), who's recently come back to work for him. Will this battle to preserve the past be the push Timmy needs to step into the present? His employees can only hope so.
The Dragon Prince Season 4 (Nov. 3)
Synopsis: Season 4 kicks off the next phase of The Dragon Prince saga, called "Mystery of Aaravos." This new multi-season arc will see the enigmatic Startouch elf, Aaravos, take center stage—staking his claim to the magical world of Xadia after centuries of careful planning.
Manifest Season 4, Part 1 (Nov. 4)
Synopsis: Two years after the brutal murder of Grace turned their lives upside down, the Stone family is in shambles as a devastated Ben continues to mourn his wife and search for his kidnapped daughter, Eden. Consumed by his grief, Ben has stepped down from his role as co-captain of the lifeboat, leaving Michaela to captain it alone, a near impossible feat with the passengers' every move now being monitored by a government registry. As the Death Date draws closer and the passengers grow desperate for a path to survival, a mysterious passenger arrives with a package for Cal that changes everything they know about Flight 828 and will prove to be the key to unlocking the secret of the Callings in this compelling, mind-bending, and deeply emotional journey.
The Crown Season 5 (Nov. 9)
Synopsis: With the new decade in its stride, the Royal Family are presented with possibly their biggest challenge to date; as the public openly question their role in '90s Britain.
As Queen Elizabeth II (Imelda Staunton) approaches the 40th anniversary of her accession, she reflects on a reign that has encompassed nine prime ministers, the advent of mass television and the twilight of the British Empire. Yet new challenges are on the horizon. The collapse of the Soviet Union and the transfer of sovereignty in Hong Kong signals a seismic shift in the international order presenting both obstacles and opportunities. Meanwhile, trouble is brewing closer to home.
Prince Charles (Dominic West) pressures his mother to allow him to divorce Diana (Elizabeth Debicki), presenting a constitutional crisis of the monarchy. Rumours circulate as husband and wife are seen to live increasingly separate lives and, as media scrutiny intensifies, Diana decides to take control of her own narrative, breaking with family protocol to publish a book that undermines public support for Charles and exposes the cracks in the House of Windsor.
Tensions are set to rise further as Mohamed Al Fayed (Salim Daw) arrives on the scene. Driven by his desire for acceptance of the highest order, he harnesses his self-made wealth and power to try and earn him and his son Dodi (Khalid Abdalla) a seat at the royal table.
Warrior Nun Season 2 (Nov. 10)
Synopsis: Ava and the Sister-Warriors of the OCS must find a way to defeat the angel, Adriel, as he attempts to build his following into the dominant religion on the planet.
1899 (Nov. 17)
Synopsis: 1899. A migrant steamship heads west to leave the old continent. The passengers, a mixed bag of European origins, united by their hopes and dreams for the new century and their future abroad. But their journey takes an unexpected turn when they discover another migrant ship adrift on open sea. What they will find on board, will turn their passage to the promised land into a horrifying nightmare.
Dead to Me Season 3 (Nov. 17)
Synopsis: Jen and Judy return for the third and final season. In the aftermath of yet another hit and run, both women receive shocking news, and are ready to risk their lives for a friendship that's above the law.
Elite Season 6 (Nov. 18)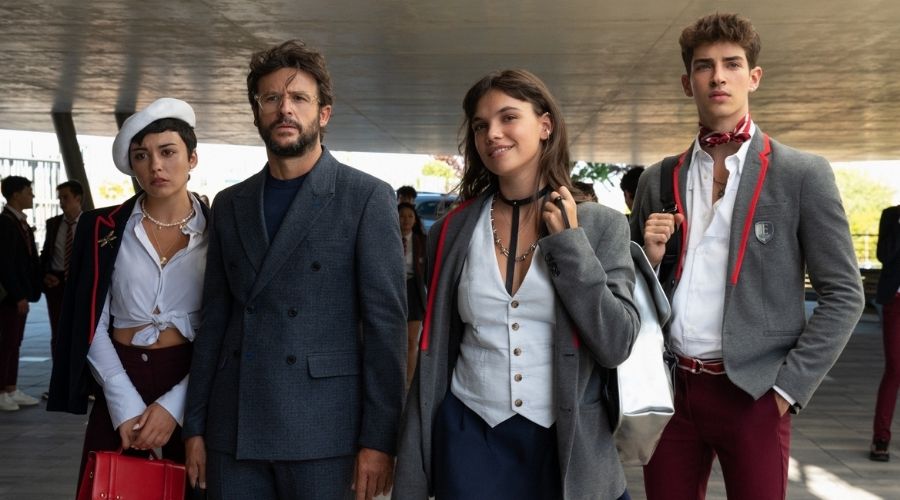 Synopsis: A new season is coming ahead at Las Encinas with so many businesses to attend. After Phillipe's fateful New Year's party and Guzman's runaway, the secret about Armando's death could destroy the love story between Samuel and Ari. Meanwhile, Rebeka is going through a process of self-discovery, while Omar is recovering from his separation from Ander; in addition, the appearance of Adam Nourou, winner of the Goya for Best New Actor for the film Adú, who will play Bilal, will complicate his relationship with Samuel. Phillipe's confession of abuse, Patrick's anger issues, Benjamin's revenge desires, a present from Armando to Mencia that could destroy "the benjamins", a pact of silence between Samuel and Rebeka that doesn't last long, bringing the worst consequences…
A minefield where two fresh new students arrive: Isadora, Valentina Zenere (Cable Girls), the young heiress of a huge nightlife business empire, and Iván, André Lamoglia (Juacas), son of the world's biggest soccer star. Of course, neither of them will be unnoticed.
Inside Job Part 2 (Nov. 18)
Synopsis: Inside Job is an adult animated comedy about the shadow government– and the dysfunctional team whose daily grind is committing the world's conspiracies. From convoluted coverups to secret societies to masked orgy etiquette, navigating office culture at Cognito Inc. can be tricky, especially for anti-social tech genius Reagan Ridley. Even in a workplace filled with reptilian shapeshifters and psychic mushrooms, she's seen as the odd one out for believing the world could be a better place. Reagan thinks she can make a difference, if only she could manage her unhinged, manifesto-writing father, her irresponsible coworkers, and finally snag the promotion she's been dreaming about.
Wednesday (Nov. 23)
Synopsis: The series is a sleuthing, supernaturally infused mystery charting Wednesday Addams' years as a student at Nevermore Academy. Wednesday's attempts to master her emerging psychic ability, thwart a monstrous killing spree that has terrorized the local town, and solve the supernatural mystery that embroiled her parents 25 years ago — all while navigating her new and very tangled relationships at Nevermore.