Hulu is nothing if not a goldmine of content, with basically something to watch for everyone, and today we are making a list of the best 8 new shows on Hulu in April 2022 you can watch right now. The shows in this list are arranged according to their premiere or release date.
Mushoku Tensei: Jobless Reincarnation Season 2 (April 3)
Synopsis: An unemployed otaku has just reached the lowest point in his life. He wants nothing more than the ability to start over, but just as he thinks it may be possible…he gets hit by a truck and dies! Shockingly, he finds himself reborn into an infant's body in a strange new world of swords and magic. His identity now is Rudeus Greyrat, yet he still retains the memories of his previous life. Reborn into a new family, Rudeus makes use of his past experiences to forge ahead in this fantasy world as a true prodigy, gifted with maturity beyond his years and a natural-born talent for magic. With swords instead of chopsticks, and spell books instead of the internet, can Rudeus redeem himself in this wondrous yet dangerous land?
The Croods: Family Tree Season 2 (April 5)
Synopsis: Grug, Eep and Sandy enjoy a Crood-ific Daddy Daughter Day while Thunk, bored with the window-TV viewing options, creates a bit of real life drama. Even Gran rocks the boat when she declares it's time to choose a new Thunder Sisters' Queen! Meanwhile, pushed to their limits and ready to relax, the parents set out on separate staycations. But with the kids in charge, only prehistoric time will tell if the treehouse will still be left standing.
The Hardy Boys Season 2 (April 6)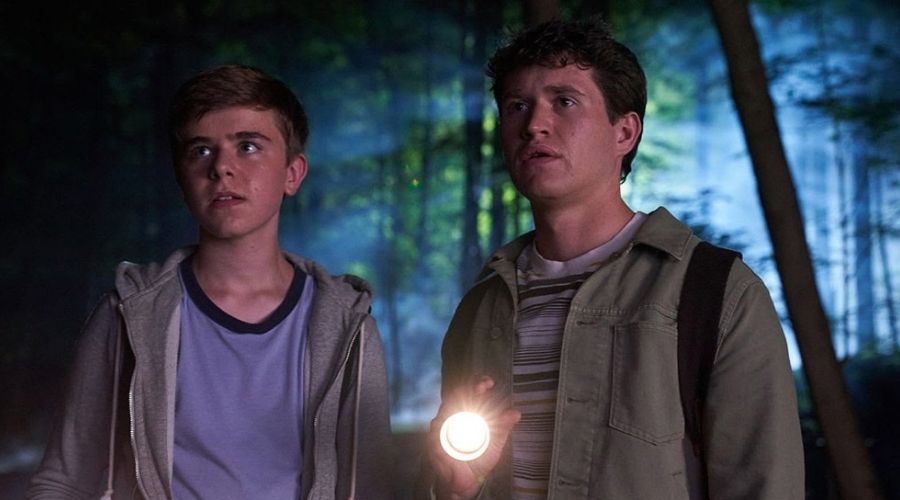 Synopsis: The second season picks up six months after the events of Season 1, building on the mystery and drama of the inaugural season and welcoming new friends and suspects. In Season 2, when a Bridgeport classmate mysteriously disappears, Frank (Rohan Campbell) and Joe Hardy (Alexander Elliot) drop their new normal routine to get back to detective work. But when they discover the mystical relic they destroyed last year is still in play, it becomes clear their simple missing person case is actually part of something far more sinister. The Hardy boys and their friends must quickly learn who they can and can't trust as they race against time to unravel the truth, and ultimately realize that no one is safe from their past.
Platinum End (April 7)
Synopsis: Mirai Kakehashi lost his family in an accident at a young age, and he grew up being abused by his relatives who took him in. After losing all hope in life, Mirai tries to commit suicide but is saved by the mysterious Guardian Angel Nasse. He is also graced with some special abilities: "Wings," which allows him to travel anywhere he pleases faster than anyone else; "Red Arrow," which allows him to charm someone for 33 days; and "White Arrow," which allows him to kill someone without fail. Thanks to the Guardian Angel's powers, Mirai is able to escape his relatives and rediscover the strength to live. However, he is told that he is one of 13 candidates who received the same abilities, and that "God" will be chosen from among them!
Woke Season 2 (April 8)
Synopsis: Cartoonist Keef Knight is now a popular activist on the rise, but he's facing a world where "woke" has become big business. Can Keef and his friends bring about real change, or is it just about the dollar$? And can Keef navigate this new world without destroying what he's become? Inspired by the life and work of artist Keith Knight, "Woke" continues to upend Black nerd and activist culture, deftly satirizing with a wink and a smile.
The Family Law Season 1 (April 13)
Synopsis: The Family Law gives a vivid glimpse inside the gloriously dysfunctional world of a hilarious and heart-warming Chinese- Australian family through the eyes of 14-year-old Benjamin.
Mayans M.C. Season 4 (April 20)
Synopsis: Mayans M.C. follows the life of Ezekiel "EZ" Reyes, a member of the Mayans M.C. charter on the Cali/Mexi border. EZ, his brother Angel and the rest of the Santo Padre M.C. face retaliation from other charters after a failed attempt to align under one King. Meanwhile, EZ and Angel have grown distant from their father Felipe (Edward James Olmos) after a heart wrenching betrayal.
Under the Banner of Heaven (April 28)
Synopsis: FX's Under the Banner of Heaven, the original limited series inspired by the true crime bestseller by Jon Krakauer, follows the events that led to the 1984 murder of Brenda Wright Lafferty (Daisy Edgar-Jones) and her baby daughter in a suburb in the Salt Lake Valley, Utah. As Detective Jeb Pyre (Andrew Garfield) investigates events which transpired within the Lafferty family, he uncovers buried truths about the origins of the LDS religion and the violent consequences of unyielding faith. What Pyre, a devout Mormon, unearths leads him to question his own faith.