Shudder is nothing if not a goldmine of content, with basically something to watch for everyone, and today we are making a list of the best 10 new movies on Shudder in June 2022 you can watch right now. The movies in this list are not ranked and we have also not included documentaries, because this list only has movies on it.
What Keeps You Alive (June 1)
Synopsis: On the eve of their one year wedding anniversary, Jules (Emmy Winner, Brittany Allen) and Jackie, played by Hannah Emily Anderson (JIGSAW, USA's THE PURGE), become embroiled in a merciless fight for their lives when they find themselves pitted against the most unexpected of adversaries: each other. As violence rains down upon their idyllic forest getaway, the women engage in a frenzied psychological and vicious battle that will test the very limits of their instinct to survive.
Poltergeist (June 1)
Synopsis: From acclaimed filmmaker Sam Raimi (Spider-Man, Evil Dead) comes this chilling take on a classic. After the Bowen family moves into a seemingly calm suburban house, inter-dimensional spirits terrorize them. And when the ghosts abduct their little girl, the Bowens must find a way to rescue her – or they'll lose her forever – in this terrifying thrill-ride starring Sam Rockwell and Rosemarie DeWitt!
---
---
The Wild Boys (June 6)
Synopsis: Five boys are ferried to sea by a Dutch Captain, charged with reforming their savage ways. They soon rebel against him and after a shipwreck, they are released into the wilds of a supernatural island. There, the wild boys act upon their sexual desires and undergo a mystical transformation.
A Lonely Place to Die (June 6)
Synopsis: A group of climbers have made a grim discovery high up in the mountains. They have found an eight year old girl buried amongst the peaks: buried alive. Terrified, de-hydrated and unable to speak a word of English, she is the victim of an elaborate kidnapping plot. Alison, the group leader, puts it to her party to rescue her. But more dangerous than the terrain, more dangerous than the kidnappers is the father of the girl himself, a ruthless Serbian war criminal who has hired mercenaries to guarantee her safe return: brutal professional killers who will destroy anything that gets in their way. Alison and her party are in for the fight of their lives to do the right thing and bring the girl down off the mountains to safety.
---
---
Backcountry (June 6)
Synopsis: Based on a true story, Backcountry follows a big city couple who go camping in the Canadian wilderness. Alex is a seasoned camper while Jenn, a corporate lawyer, is not. After much convincing, and against her better judgment, she agrees to let him take her deep into a Provincial Park to one of his favorite spots the secluded Blackfoot Trail. On their first night they have a very unsettling encounter with Brad, a strange alpha male with eyes for Jenn who may or may not be following them. Alex's desire to quickly reach Blackfoot Trail only intensifies. They push deeper and deeper into the forest, Alex stubbornly insisting that he remembers the way. After three days their path disappears; they are hopelessly lost. Without food or water, they struggle to find their way back, the harsh conditions bringing out the best and worst in them, pushing their already fragile relationship to the breaking point. When they realize they have entered a bear's territory, being lost suddenly becomes the least of their problems. Terror, horror, will, and survival become paramount.
Offseason (June 10)
Synopsis: Upon receiving a mysterious letter that her mother's grave site has been vandalized, Marie quickly returns to the isolated offshore island where her late mother is buried. When she arrives, she discovers that the island is closing for the offseason with the bridges raised until Spring, leaving her stranded. One strange interaction with the local townspeople after another, Marie soon realizes that something is not quite right in this small town. She must unveil the mystery behind her mother's troubled past in order to make it out alive.
---
---
The Clovehitch Killer (June 13)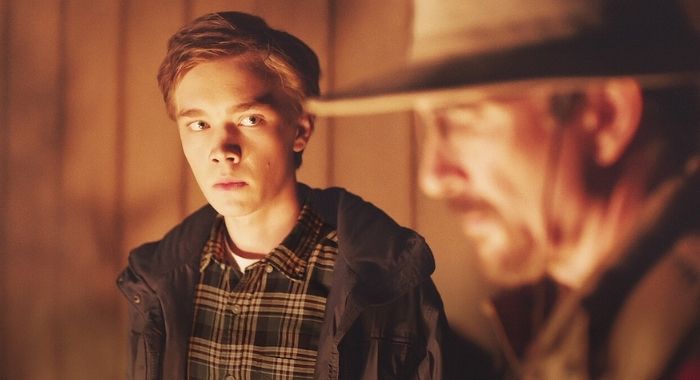 Synopsis: A shocking revelation turns a teenage boy's world upside down in this chilling look at the evil that can lurk below even the most wholesome surface. Tyler Burnside (Charlie Plummer) is a Boy Scout, a volunteer at his local church, and the dutiful son of an upstanding, community leader dad (Dylan McDermott). Only one thing troubles the quiet Kentucky town he lives in: the unsolved murders—in which ten women were brutally tortured and killed by a psychopath known as Clovehitch—that rocked the community more than a decade ago. When Tyler discovers a cache of disturbing images in his father's possession, he begins to suspect that the man he trusts most in the world may be Clovehitch—and that his deadly rampage may not be over. With unrelenting tension, director Duncan Skiles crafts a picture-perfect vision of the all-American family—and then piece by piece rips it to shreds.
Mad God (June 16)
Synopsis: Follow The Assassin through a forbidding world of tortured souls, decrepit bunkers, and wretched monstrosities forged from the most primordial horrors of the subconscious mind. Directed by Phil Tippett (Star Wars, Jurassic Park), the world's pre-eminent stop motion animator, every set, creature, and effigy in this macabre masterpiece is hand-crafted and painstakingly animated using traditional stop-motion techniques.
---
---
Revealer (June 23)
Synopsis: What started off as a typical Chicago work day in 1987 for Angie Pittarelli (Aase), a dancer at the Revealers Bookstore peep show booth, turns tragic when her annoying boss is suddenly killed in an uprising outside the store leaving her trapped in the booth, unable to escape. Soon she learns that hiding out in the booth next to hers is none other than Sally Mewbourne (Schrooten), an overzealous religious protester that seems to get a kick out of regularly harassing Angie. Sally is in a panic claiming that the rapture has occurred and the apocalypse has begun. With nowhere left to turn, Angie and Sally must separate their differences and come together to fight this unknown evil, navigating the treacherous bootlegger tunnels below the store to survive the unthinkable.
The Long Night (June 30)
Synopsis: While searching for the parents she's never known, New York transplant Grace (Scout Taylor-Compton) returns to her childhood southern stomping grounds with her boyfriend (Nolan Gerard Funk) to investigate a promising lead on her family's whereabouts. Upon arrival, the couple's weekend takes a bizarre, terrifying turn as a nightmarish cult and their maniacal leader terrorize the pair en route to fulfilling a twisted ancient apocalyptic prophecy.