Amazon Prime Video is nothing if not a goldmine of content, with basically something to watch for everyone, and today we are making a list of the best 13 new movies on Amazon Prime Video in May 2022 you can watch right now. The movies in this list are not ranked.
Independence Day (1996)
Streaming on: May 1
Synopsis: On July 2nd, communications systems worldwide are sent into chaos by a strange atmospheric interference. First thought to be meteors, they are later revealed to be gigantic spacecraft, piloted by a mysterious alien species who have set out to launch an attack throughout the globe. On July 3rd, the aliens all but obliterate New York, Los Angeles, and Washington when a band of survivors devise a plan to fight back against the enslaving aliens. On July 4th, humanity fights for its freedom.
Tombstone (1993)
Streaming on: May 1
Synopsis: A sizzling, star-studded cast brings to life the legendary battle to deliver justice to TOMBSTONE! Kurt Russell turns in a gripping performance as U.S. Marshall Wyatt Earp and Val Kilmer ignites the screen as the outrageous Doc Holliday. Together, they team up to bring law to the lawless in a notorious showdown with the ruthless outlaws at the O.K. Corral! Get ready for an explosive, action-packed adventure the Wild West would never forget!
Dodgeball: A True Underdog Story (2004)
Streaming on: May 1
Synopsis: Dodgeball: A True Underdog Story, is a film that grabs life by the ball. Peter LaFleur (Vince Vaughn), is a charismatic underachiever and proprietor of a rundown gym called Average JoeÍs. The facilityÍs clientele of decidedly less-than-average Joes is made up of a self-styled pirate, a scrawny nerd (Justin Long) who dreams of impressing an unattainable cheerleader, an obsessive aficionado of obscure sports, a dim-witted young man, and a cocky know-it-all who, of course, really knows nothing. PeterÍs humble gym catches the eye of White Goodman (Ben Stiller), the power-mullet-sporting, Fu-Manchu-d, egomaniacal owner of Globo Gym, a gleaming monolith of fitness. White intends to take over Average JoeÍs, and PeterÍs non-existent bookkeeping is making it all too easy for him. A foreclosing bank has stationed attorney Kate Veatch (Christine Taylor) inside Average JoeÍs to finalize GloboÍs takeover of the gym. PeterÍs boyish charm wins her over and Kate joins his team of social rejects to beat the odds.
Office Space (1999)
Streaming on: May 1
Synopsis: Unable to endure another mind-numbing day at Initech Corporation, cubicle slave Peter Gibbons (Ron Livingston) gets fired up and decides to get fired. Armed with a leisurely new attitude and a sexy new girlfriend (Jennifer Aniston), he soon masters the art of neglecting his work, which quickly propels him into the ranks of upper management! Now the stage is set for Peter to carry out a high-tech embezzling scheme that's sure to mean the end of his job and a one-way ticket to easy street. Can he pull it off before all corporate hell breaks loose?
Enemy Of The State (1998)
Streaming on: May 1
Synopsis: Will Smith (Men In Black, Independence Day) stars with two-time academy award tm winner* Gene Hackman in a high-powered suspense thriller where non-stop action meets cutting edge technology. Robert Clayton dean (Smith) is a successful Washington D.C. Attorney who – without his knowledge – is given a video that ties a top official of the national security agency (Oscar® winner** best actor Jon Voight) to a political murder. Instantly, every aspect of dean's once-normal life is targeted by a lethal team of skilled nsa surveillance operatives, who wage a relentless, ultra high-tech campaign to discredit him and retrieve the incriminating evidence! Also featuring Regina King (Jerry Macguire, Boyz In The Hood) in an impressive, star-studded cast – get ready for the action to explode as dean desperately races to reclaim his life and prove his innocence…
Taken (2008)
Streaming on: May 1
Synopsis: Prepare to get Taken for the ride of your life! "Liam Neeson is an unstoppable force" (Premiere) in this action-packed international thriller that will have you on the edge of your seat from start to finish. When his estranged teenage daughter (Maggie Grace) is kidnapped in Paris, a former spy (Neeson) sets out to find her at any cost. Relying on his special skills, he tracks down the ruthless gang that abducted her and launches a one-man war to bring them to justice and rescue his daughter.
Courage Under Fire (1996)
Streaming on: May 1
Synopsis: A soldier discovers how elusive the truth can be in this first major film about America's role in the Gulf War. Lt. Col. Nathaniel Serling (Denzel Washington) was the commander of a unit during Operation Desert Storm who mistakenly ordered the destruction of what he believed to be an enemy tank, only to discover that it actually held U.S. soldiers, including a close friend. Since then, Serling has been an emotional wreck, drinking heavily and allowing his marriage to teeter on the brink of collapse. As a means of redeeming himself, Serling is given a new assignment by his superior, Gen. Hershberg (Michael Moriarty). Capt. Karen Walden (Meg Ryan) was a helicopter pilot who died in battle during the Iraqi conflict, and the White House has proposed that Walden be posthumously awarded the Congressional Medal of Honor. Serling is asked to investigate Walden's actions on the field of battle, but he quickly discovers that no two stories about her are quite the same; Ilario (Matt Damon) says Walden acted heroically and sacrificed herself to save the others in her company, while Monfriez (Lou Diamond Phillps) claims she was a coward who was attempting to surrender to enemy troops. Meanwhile, reporter Tony Gartner (Scott Glenn) is hounding Serling, trying to get the inside story on Walden and on Serling's own difficulties. Matt Damon lost 40 pounds to prepare for his role in Courage Under Fire, which resulted in a potentially life-threatening illness for the young actor.
Bill & Ted 1 & 2
Streaming on: May 1
Bill & Ted's Excellent Adventure (Synopsis): Two slow-witted students face failing high school history until a force from the future takes them back in time to seek help from real history experts – like Socrates, Napoleon and Abraham Lincoln.
Bill & Ted's Bogus Journey (Synopsis): When evil doer De Nomolos (Joss Ackland) from the future sends eviler robot twins of Bill (Alex Winter) & Ted (Keanu Reeves) to assassinate and replace the non-robot Bill & Ted, the guys wind up face to face with the Grim Reaper (William Sadler)!
Crank (2006)
Streaming on: May 1
Synopsis: When the hitman Chev Chelios is poisoned by the criminal Verona, his friend and doctor Miles advises him that he must keep his adrenaline levels elevated to stay alive. Chev meets his girlfriend Eve and together they look for Verona to kill him.
Fargo (1996)
Streaming on: May 1
Synopsis: A reality-based crime drama set in Minnesota in 1987. Jerry Lundegaard (William H. Macy) is a car salesman in Minneapolis who has gotten himself into debt and is so desperate for money that he hires two thugs (Steve Buscemi), (Peter Stormare) to kidnap his own wife. Jerry will collect the ransom from her wealthy father (Harve Presnell), paying the thugs a small portion and keeping the rest to satisfy his debts. The scheme collapses when the thugs shoot a state trooper.
Valley Girl (1983)
Streaming on: May 1
Synopsis: Julie, a clean cut Valley girl, falls for Randy, a punker from the other side of the Hollywood Hills. Her friends disapprove of the leather-clad dude and push her into going to prom with her preppy Valley boyfriend, Tommy. Love-struck, Randy goes to the prom to find Julie. As she and Tommy are being crowned prom king and queen, Randy and his friend play some pranks that land Julie at last.
Zero Dark Thirty (2013)
Streaming on: May 1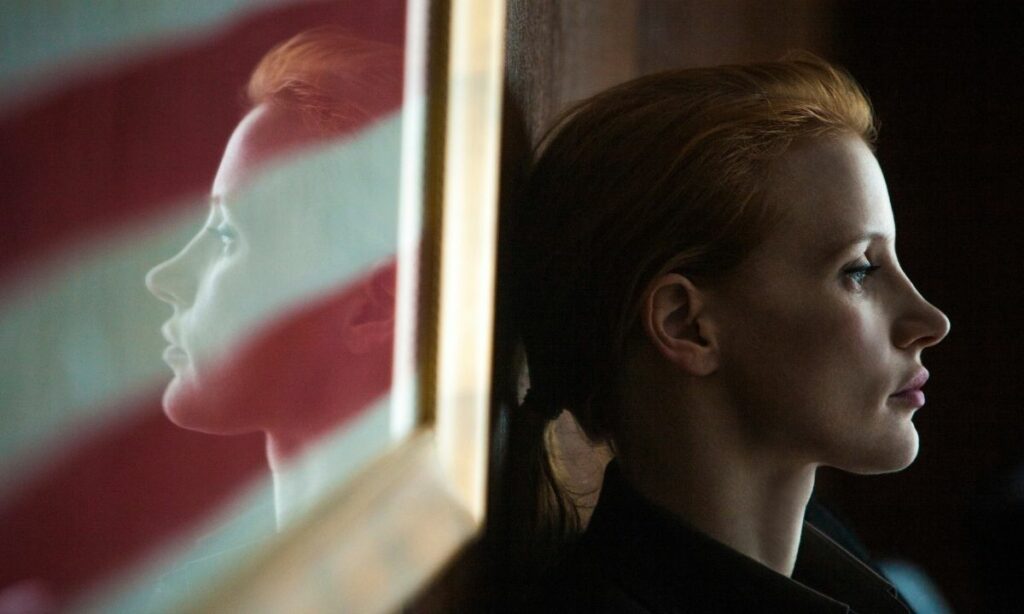 Synopsis: For a decade, an elite team of intelligence and military operatives, working in secret across the globe, devoted themselves to a single goal: to find and eliminate Osama bin Laden. Zero Dark Thirty reunites the Oscar-winning team of director-producer Kathryn Bigelow and writer-producer Mark Boal (2009, Best Picture, The Hurt Locker) for the story of history's greatest manhunt for the world's most dangerous man.
Emergency (2022)
Streaming on: May 27
Synopsis: Seniors Sean (RJ Cyler) and Kunle (Donald Elise Watkins) are trying to make Buchanan College history by becoming the first Black men to complete a Legendary tour, hitting all seven parties on campus that night. But when they discover a drunk, white girl they've never seen before passed out in their living room, they must get her help while weighing the pros and cons of calling the police.