Hulu has a vast library of content, with basically something to watch for everyone, and today we are making a list of the best new shows and movies coming to Hulu in August 2023 that you can watch right now. The shows and movies in this list are ranked according to their availability dates.
Breeders Season 4 (August 1)
Synopsis: Breeders Season 3 starts with Paul having moved out and staying at Leah's house. He should be lonely but the simpler life has its appeal. Meanwhile, Ally has her own problems with work, her early menopause and her increasingly strained relationship with her newly adolescent daughter. Gallows humor and large glasses of wine only go so far in quelling the angst…
Jurassic Park (August 1)
Synopsis: Director Steven Spielberg's Jurassic Park masterpiece is one of the most successful films in worldwide box office history and remains a compelling and spectacular experience. This thrilling adventure features Sam Neill, Laura Dern, Jeff Goldblum and Richard Attenborough. Featuring incredible special effects and action-packed drama, Jurassic Park takes you to a remote island where an amazing theme park with living dinosaurs is about to turn deadly, as five people must battle to survive among the prehistoric predators.
The Lost World: Jurassic Park (August 1)
Synopsis: Director Steven Spielberg takes us back to the scene of Jurassic Park in The Lost World, the blockbuster sequel with even more dinosaurs, more action and more breathtaking visual effects than its record-breaking predecessor. The Lost World remains among the most successful films of all time and features an all-star cast including Jeff Goldblum, Julianne Morre and Pete Postlethwaite. It has been four years since the disaster at Jurassic Park and two groups are in a race against time that will determine the fate of the remote island's prehistoric inhabitants.
Love & Other Drugs (August 1)
Synopsis: In this emotional comedy, Anne Hathaway portrays Maggie, an alluring free spirit who won't let anything, including a formidable personal challenge, tie her down. But she meets her match in Jamie (Jake Gyllenhaal), whose relentless and nearly infallible charm serve him well with women and in the cutthroat world of pharmaceutical sales. Maggie and Jamie's evolving relationship takes them both by surprise, as they find themselves under the influence of the ultimate drug: love. Most relationships proceed from love to sex. This one goes the opposite direction and thus makes an unexpected film from an unconventional love story.
Notting Hill (August 1)
Synopsis: Anna Scott (Julia Roberts) is the world's most famous movie star. William Thacker (Hugh grant) owns a travel bookstore in the quaint neighborhood of Notting Hill. When their paths cross, the couple comes to face the ultimate question: can two people fall in love with the whole world watching?
Only Lovers Left Alive (August 1)
Synopsis: The tale of two fragile and sensitive vampires, Adam (Tom Hiddleston) and Eve (Tilda Swinton), who have been lovers for centuries. Both are cultured intellectuals with an all-embracing passion for music, literature and science, who have evolved to a level where they no longer kill for sustenance, but still retain their innate wildness.Their love story has endured several centuries but their debauched idyll is threatened by the uninvited arrival of Eve's carefree little sister Ava (Mia Wasikowska) who hasn't yet learned to tame her wilder instincts.Driven by sensual photography, trance-like music, and droll humor, Jim Jarmusch's ONLY LOVERS LEFT ALIVE is a meditation on art, science, and the mysteries of everlasting love.
Hotel Transylvania (August 1)
Synopsis: Welcome to Hotel Transylvania, Dracula's lavish five-stake resort, where monsters and their families can live it up and no humans are allowed. One special weekend, Dracula (Adam Sandler) has invited all his best friends – Frankenstein and his wife, the Mummy, the Invisible Man, the Werewolf family, and more – to celebrate his beloved daughter Mavis's (Selena Gomez) 118th birthday. For Dracula catering to all of these legendary monsters is no problem but the party really starts when one ordinary guy stumbles into the hotel and changes everything!
Reservation Dogs Season 3 (August 2)
Synopsis: From Sterlin Harjo and Taika Waititi, Reservation Dogs is a half-hour comedy that follows the exploits of four Indigenous teenagers from rural Oklahoma. This season, the Rez Dogs find themselves stranded in Cali and have to figure out their way back home. Season three is full of road trips, bathroom wisdom, unexpected fathers, boarding schools, Bigfoot, rumors, revenge and healing.
Game Night (August 4)
Synopsis: Jason Bateman and Rachel McAdams star as Max and Annie, whose weekly couples Game Night gets kicked up a notch when Max's charismatic brother, Brooks (Kyle Chandler), arranges a murder mystery party, complete with fake thugs and faux federal agents. So, when Brooks gets kidnapped, it's all part of the game…right? But as the six uber-competitive gamers set out to solve the case and win, they begin to discover that neither this "game"— nor Brooks—are what they seem to be. Over the course of one chaotic night, the friends find themselves increasingly in over their heads as each twist leads to another unexpected turn. With no rules, no points, and no idea who all the players are, this could turn out to be the most fun they've ever had…or game over.
Skinamarink (August 4)
Synopsis: Two children wake up in the middle of the night to find their father is missing, and all the windows and doors in their home have vanished. To cope with the strange situation, the two bring pillows & blankets to the living room and settle into a quiet slumber party. They play well worn videotapes of cartoons to fill the silence of the house and distract from the frightening and inexplicable situation. All the while in the hopes that eventually some grown-ups will come to rescue them. However, after a while it becomes clear that something is watching over them.
Only Murders in the Building Season 3 (August 8)
Synopsis: From the minds of Steve Martin, Dan Fogelman and John Hoffman comes a comedic murder-mystery series for the ages. "Only Murders In The Building" follows three strangers (Steve Martin, Martin Short and Selena Gomez) who share an obsession with true crime and suddenly find themselves wrapped up in one. When a grisly death occurs inside their exclusive Upper West Side apartment building, the trio suspects murder and employs their precise knowledge of true crime to investigate the truth. As they record a podcast of their own to document the case, the three unravel the complex secrets of the building which stretch back years. Perhaps even more explosive are the lies they tell one another. Soon, the endangered trio comes to realize a killer might be living amongst them as they race to decipher the mounting clues before it's too late.
Solar Opposites Season 4 (August 14)
Synopsis: A team of four aliens escape their exploding home world only to crash land into a move-in ready home in suburban America. They are evenly split on whether Earth is awful or awesome. Korvo (Justin Roiland) and Yumyulack (Sean Giambrone) only see the pollution, crass consumerism, and human frailty while Terry (Thomas Middleditch) and Jesse (Mary Mack) love humans and all their TV, junk food and fun stuff. Their mission: protect the Pupa, a living super computer that will one day evolve into its true form, consume them and terraform the Earth.
How to Blow Up a Pipeline (August 24)
Synopsis: A crew of young environmental activists execute a daring mission to sabotage an oil pipeline in this taut and timely thriller that is part high-stakes heist, part radical exploration of the climate crisis.
A Murder at the End of the World Season 1 (August 29)
Synopsis: Gen Z amateur sleuth and tech-savvy hacker Darby Hart is invited to participate in a retreat at a remote location, but when one of the guests is found dead, Darby must use her skills to prove it was murder before the killer takes another life.
Archer Season 14 (August 31)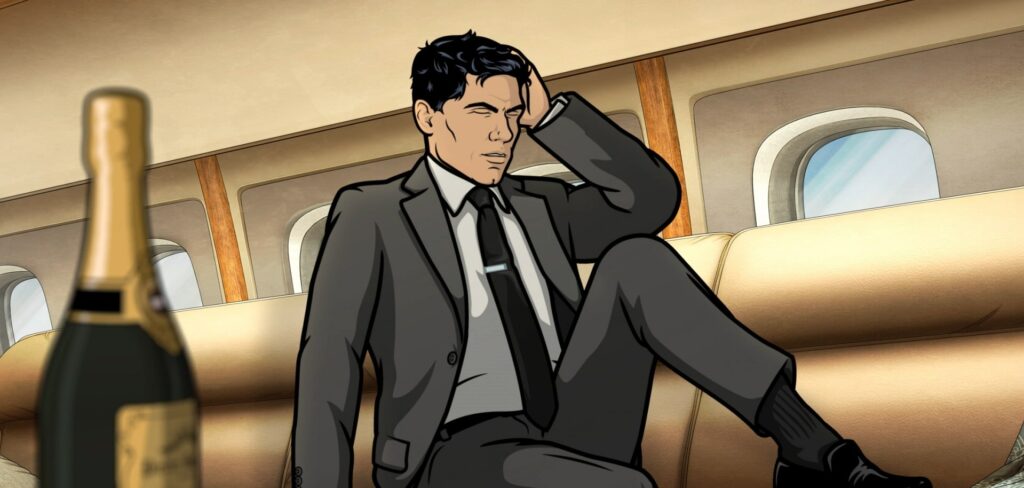 Synopsis: The suave, confident and devastatingly handsome Sterling Archer may be the world's greatest spy, but he still has issues with his friends and colleagues who live to undermine and betray one another. Whether set in 1940s Los Angeles, the jungles of South America or the dangerous islands of the South Pacific, "Archer," this animated comedy spans time and place to navigate Sterling, Lana, Malory, Cheryl/Carol/Charlotte, Cyril, Pam, Ray and Krieger's misguided misadventures that range from attempting to save the world from nuclear disaster to selling illegal narcotics to Colombian cartels.