Netflix's Global fan event TUDUM is finally here and it has brought us a list of some very exciting upcoming movies. Netflix's YouTube channel was the home for the fan event TUDUM and which lasted for nearly 2 and a half hours it brought us stars like Millie Bobby Brown, Charlize Theron, Chris Hemsworth, and Gal Gadot. So, here is every original movie that was announced by Netflix during TUDUM.
The School for Good and Evil
Release Date: October 19, 2022
Synopsis: In the village of Gavaldon, two misfits and best friends, Sophie (Sophia Anne Caruso) and Agatha (Sofia Wylie), share the unlikeliest of bonds. Sophie, a golden-haired seamstress, dreams of escaping her dreary life to become a princess, while Agatha, with her grim aesthetic and offbeat mother, has the makings of a real witch. One night under a blood red moon, a powerful force sweeps them away to the School for Good and Evil — where the true stories behind every great fairy tale begin. Yet something is amiss from the start: Sophie is dropped into the School for Evil, run by the glamourous and acid-tongued Lady Lesso (Charlize Theron), and Agatha in the School for Good, overseen by the sunny and kind Professor Dovey (Kerry Washington). As if navigating classes with the offspring of the Wicked Witch (Freya Parks), Captain Hook (Earl Cave), and the dashing son of King Arthur (Jamie Flatters) wasn't hard enough, according to the Schoolmaster (Laurence Fishburne), only true love's kiss can change the rules and send the girls to their rightful schools and destiny. But when a dark and dangerous figure (Kit Young) with mysterious ties to Sophie reemerges and threatens to destroy the school and the world beyond entirely — the only way to a happy ending is to survive their real life fairytale first.
Based on the epic international best-selling series by Soman Chainani, THE SCHOOL FOR GOOD AND EVIL is directed by Paul Feig, stars Sophia Anne Caruso, Sofia Wylie, Laurence Fishburne, Michelle Yeoh, Jamie Flatters, Kit Young, Peter Serafinowicz, Rob Delaney, Mark Heap, Patti LuPone and Rachel Bloom, with Kerry Washington and Charlize Theron. Also starring Earl Cave, Demi Isaac Oviawe, Freya Parks, Kaitlyn Akinpelumi, Holly Sturton, Emma Lau, Briony Scarlett, Ally Cubb, Rosie Graham, Joelle, Chinenye Ezeudu, Oliver Watson, Ali Khan, Myles Kamwendo and Misia Butler.
Release Date: November 4, 2022
Synopsis: Fresh off the triumph of solving her first case, Enola Holmes (Millie Bobby Brown) follows in the footsteps of her famous brother, Sherlock (Henry Cavill), and opens her own agency — only to find that life as a female detective-for-hire isn't as easy as it seems. Resigned to accepting the cold realities of adulthood, she is about to close shop when a penniless matchstick girl offers Enola her first official job: to find her missing sister. But this case proves to be far more puzzling than expected, as Enola is thrown into a dangerous new world — from London's sinister factories and colorful music halls, to the highest echelons of society and 221B Baker Street itself. As the sparks of a deadly conspiracy ignite, Enola must call upon the help of friends — and Sherlock himself — to unravel her mystery. The game, it seems, has found its feet again!
ENOLA HOLMES 2 is directed by Harry Bradbeer, with a screenplay by Jack Thorne and story by Harry Bradbeer & Jack Thorne. Along with new friends and foes, it stars Millie Bobby Brown, Henry Cavill, David Thewlis, Louis Partridge, Susan Wokoma, Adeel Akhtar, Sharon Duncan-Brewster, and Helena Bonham Carter.
Release Date: December 23, 2022
Synopsis: Benoit Blanc returns to peel back the layers in a new Rian Johnson whodunit. This fresh adventure finds the intrepid detective at a lavish private estate on a Greek island, but how and why he comes to be there is only the first of many puzzles. Blanc soon meets a distinctly disparate group of friends gathering at the invitation of billionaire Miles Bron for their yearly reunion. Among those on the guest list are Miles' former business partner Andi Brand, current Connecticut governor Claire Debella, cutting-edge scientist Lionel Toussaint, fashion designer and former model Birdie Jay and her conscientious assistant Peg, and influencer Duke Cody and his sidekick girlfriend Whiskey. As in all the best murder mysteries, each character harbors their own secrets, lies and motivations. When someone turns up dead, everyone is a suspect. Returning to the franchise he began, Academy Award-nominated filmmaker Rian Johnson writes and directs Glass Onion: A Knives Out Mystery and assembles another all-star cast that includes a returning Daniel Craig alongside Edward Norton, Janelle Monáe, Kathryn Hahn, Leslie Odom Jr., Jessica Henwick, Madelyn Cline with Kate Hudson and Dave Bautista.
Guillermo del Toro's Pinocchio
Release Date: December 2022
Synopsis: Academy Award®-winning filmmaker Guillermo del Toro reinvents Carlo Collodi's classic tale of the wooden marionette who is magically brought to life in order to mend the heart of a grieving woodcarver named Geppetto. This whimsical, stop-motion film directed by Guillermo del Toro and Mark Gustafson follows the mischievous and disobedient adventures of Pinocchio in his pursuit of a place in the world.
Release Date: December 2022
Synopsis: Slumberland takes audiences to a magical new place, a dreamworld where precocious Nemo (Marlow Barkley) and her eccentric companion Flip (Jason Momoa) embark on the adventure of a lifetime. After her father Peter (Kyle Chandler) is unexpectedly lost at sea, young Nemo's idyllic Pacific Northwest existence is completely upended when she is sent to live in the city with her well-meaning but deeply awkward uncle Phillip (Chris O'Dowd). Her new school and new routine are challenging by day but at night, a secret map to the fantastical world of Slumberland connects Nemo to Flip, a rough-around-the-edges but lovable outlaw who quickly becomes her partner and guide. She and Flip soon find themselves on an incredible journey traversing dreams and fleeing nightmares, where Nemo begins to hope that she will be reunited with her father once again.
Slumberland is directed by Francis Lawrence (I Am Legend, The Hunger Games: Catching Fire & Mockingjay), written by David Guion and Michael Handelman (Night at the Museum; Secret of the Tomb) and produced by Peter Chernin, Jenno Topping, David Ready and Francis Lawrence. The film also stars Weruche Opia, India De Beaufort, and Humberly Gonzalez.
Release Date: 2023
Heart of Stone is Directed by Tom Harper and screenplay by Greg Rucka and Allison Schroeder. This film was co-produced by Skydance Media, Mockingbird Pictures, and Pilot Wave and will be released on Netflix. Heart of Stone is an American spy thriller starring Gal Gadot as Rachel Stone, Jamie Dornan as Parker, Sophie Okonedo, Matthias Schweighöfer, Alia Bhatt as Keya Dhawan, Jing Lusi, Paul Ready, Jon Kortajarena, Matteo Cicconi and Angela Esposito.
The Old Guard 2
Release Date: TBD
Description By Netflix: The Old Guard lives forever, so it's no surprise that we're getting a sequel. The story of Andromache of Scythia, aka Andy (Charlize Theron), and her team of immortal mercenaries stormed up the Netflix charts in the summer of 2020, and now production is underway on a follow-up that will reunite the undying crew on an all-new mission. Below, we've broken down everything you need to know before you see The Old Guard return to Netflix.
A logline for the new film hasn't been released yet, but the first Old Guard ended on an unresolved note. After Booker betrayed the group, he was exiled for a century — only to find the long-lost Quynh lurking in his apartment. What does she want?
In Greg Rucka's Old Guard graphic novels, Noriko, the character on which Quynh is based, becomes a criminal kingpin. She goes on to seek out Booker and tracks down Andy, bitter at being abandoned. Whether or not Quynh follows a similar trajectory remains to be seen, but we do know that Theron, who's a producer on the movie, is eager to unpack that connection a bit more.
"There's obviously a relationship there that we didn't really explore in this film," Theron told Seth Meyers in 2020. "So I'm excited if we get the chance to make another one, to explore that, because then we're just adding another female into the mix, which I think will make it really interesting." With Andy's immortality apparently running out, it could be a difficult reunion.
Release Date: 2023
Synopsis: The first Extraction film premiered on Netflix in 2020 and became one of the most-watched Netflix original films. Extraction tells the story of Tyler Rake as a mercenary, who is hired to rescue the kidnapped son of an Indian drug lord. At the end of the first film, the fate of Tyler Rake was unclear as he was shot and was believed to be dead, but that may not be the case. Extraction 2 is going to make some memorable action scenes and a lot of inventive set pieces with stunt veteran Sam Hargrave returning to the director's chair and Joe Russo will pen the script. Chris Hemsworth is returning as Tyler Rake and the director Sam Hargreeves will also be returning to direct the sequel.
The Mother
Release Date: May 2023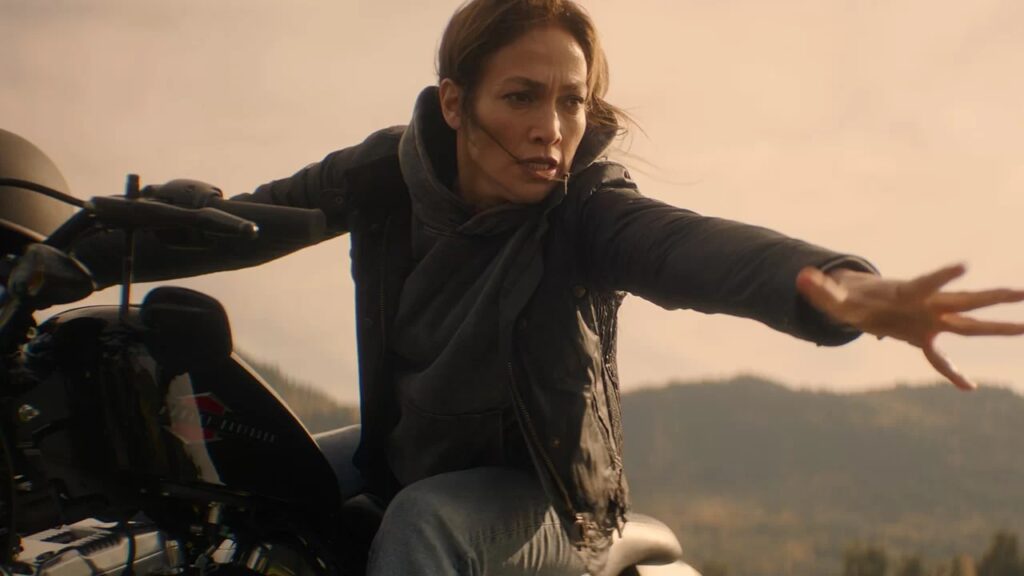 Synopsis: The Mother casts Lopez as an assassin who's forced to come out of hiding to protect the daughter she left earlier in life. They're both fleeing from dangerous assailants, and, as we see in the teaser, their circumstances look pretty dire. Directed by Niki Caro, the movie also stars Joseph Fiennes, Gael García Bernal, Omari Hardwick and Lucy Paez.