Triangle of Sadness is one of the most interesting dark comedy films of this year, and there is a reason for it. The Ruben Östlund directed film takes shots at the rich in a hilarious way. The film follows a group of super-rich a**holes, a celebrity couple, and an unhinged ship captain on a luxurious yacht, but everything goes to hell and they get trapped on a deserted island. So, if you liked this dark comedy here are some more movies like it, you should watch.
Parasite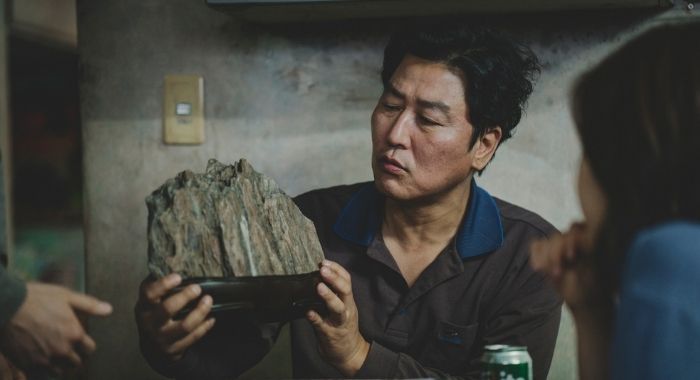 Synopsis: Bong Joon Ho brings his singular mastery home to Korea in this pitch-black modern fairytale. Meet the Park Family: the picture of aspirational wealth. And the Kim Family, rich in street smarts but not much else. Be it chance or fate, these two houses are brought together and the Kims sense a golden opportunity. Masterminded by college-aged Ki-woo, the Kim children expediently install themselves as tutor and art therapist, to the Parks. Soon, a symbiotic relationship forms between the two families. The Kims provide "indispensable" luxury services while the Parks obliviously bankroll their entire household. When a parasitic interloper threatens the Kims' newfound comfort, a savage, underhanded battle for dominance breaks out, threatening to destroy the fragile ecosystem between the Kims and the Parks. By turns darkly hilarious and heart-wrenching, PARASITE showcases a modern master at the top of his game.
Ready or Not
Synopsis: "Ready or Not" follows a young bride (Samara Weaving) as she joins her new husband's (Mark O'Brien) rich, eccentric family (Adam Brody, Henry Czerny, Andie MacDowell) in a time-honored tradition that turns into a lethal game with everyone fighting for their survival.
Sorry to Bother You
Synopsis: In an alternate reality of present-day Oakland, Calif., telemarketer Cassius Green finds himself in a macabre universe after he discovers a magical key that leads to material glory. As Green's career begins to take off, his friends and co-workers organize a protest against corporate oppression. Cassius soon falls under the spell of Steve Lift, a cocaine-snorting CEO who offers him a salary beyond his wildest dreams.
American Psycho
Synopsis: Patrick Bateman (Christian Bale) is a wall street yuppie, obsessed with success, status, and style, with a stunning fiancée (Reese Witherspoon). He is also a psychotic killer who rapes, murders, and dismembers both strangers and acquaintances without provocation or purpose. Based on the controversial novel, the film offers a sharp satire to the dark side of yuppie culture in the '80s, while setting forth a vision that is both terrifying and chilling.
High-Rise
Synopsis: Adapted from J.G. Ballard's visionary novel by screenwriter Amy Jump, HIGH – RISE stars Tom Hiddleston, Jeremy Irons, Sienna Miller, Luke Evans, Elisabeth Moss. 1975. Two miles west of London, Dr. Robert Laing moves into his new apartment seeking soulless anonymity, only to find that the building's residents have no intention of leaving him alone. Resigned to the complex social dynamics unfolding around him, Laing bites the bullet and becomes neighbourly. As he struggles to establish his position, Laing's good manners and sanity disintegrate along with the building. The lights go out and the lifts fail but the party goes on. People are the problem. Booze is the currency. Sex is the panacea. Only much later, as he sits on his balcony eating the architect's dog, does Dr. Robert Laing finally feel at home…..
Mayhem
Synopsis: Derek Cho (Steven Yeun, "The Walking Dead") is having a really bad day. After being unjustly fired from his job, he discovers that the law firm's building is under quarantine for a mysterious and dangerous virus. Chaos erupts throughout the office as the victims of the disease begin acting out their wildest impulses. Joining forces with a former client (Samara Weaving, "Ash vs Evil Dead") who has a grudge of her own, Derek savagely fights tooth and nail to get to the executives on the top floor and settle the score once and for all.
The Menu
Synopsis: A couple (Anya Taylor-Joy and Nicholas Hoult) travels to a coastal island to eat at an exclusive restaurant where the chef (Ralph Fiennes) has prepared a lavish menu, with some shocking surprises.