Totally Killer is a comedy horror film directed by Nahnatchka Khan, from a screenplay by David Matalon, Sasha Perl-Raver, and Jen D'Angelo. The Prime Video film follows the story of Jamie, who goes back in time to 1987 in order to stop the killer who killed her mother's friends on Halloween. Totally Killer stars Kiernan Shipka in the lead role with Julie Bowen and Olivia Holt in supporting roles. So, if you loved the Prime Video film here are some similar shows you could watch next.
Synopsis: Blumhouse (Split, Get Out, Whiplash) produces an original and inventive rewinding thriller in HAPPY DEATH DAY, in which a college student (Jessica Rothe, La La Land) relives the day of her murder with both its unexceptional details and terrifying end until she discovers her killer's identity.
Synopsis: Starring Neve Campbell, Courteney Cox, and Drew Barrymore, 'Scream' follows an offbeat group of friends led by Sidney Prescott who become the target of a masked killer. As the body count begins to rise, Sidney and her friends find themselves contemplating the 'Rules' of horror films as they find themselves living in a real-life one.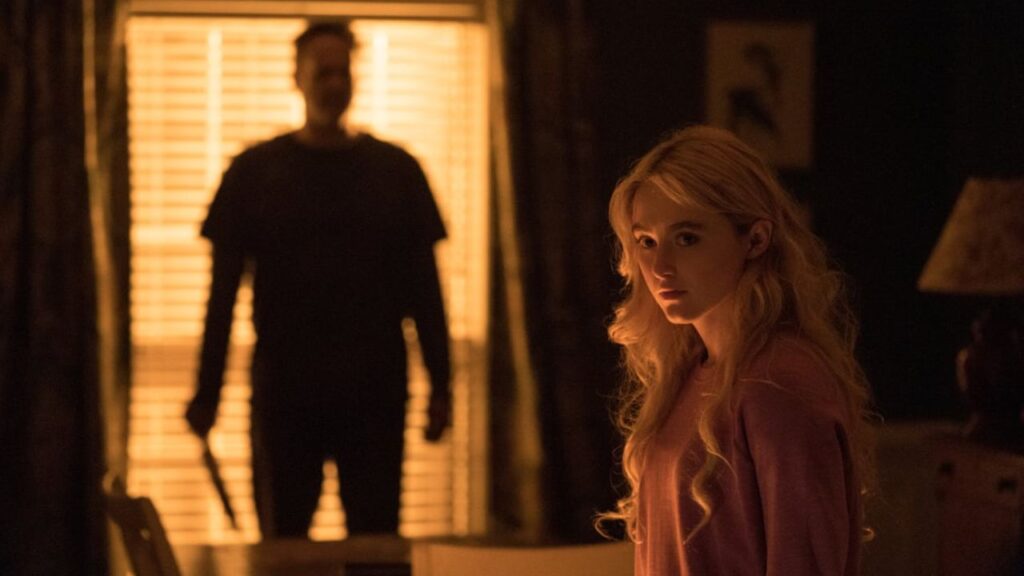 Synopsis: Prepare for a Freaky take on the body-swap movie which only Blumhouse (makers of Happy Death Day & The Purge Franchises) could bring: a teenage girl switches bodies with a relentless serial killer! High school senior Millie (Kathryn Newton, Blockers, HBO's Big Little Lies) is just trying to survive being the unpopular kid when she becomes The Butcher's (Vince Vaughn) next target. Their fateful encounter gets twisted and they wake up in each other's bodies. Now looking like a towering psychopath, Millie learns she only has 24 hours to reverse the curse and get her body back before the switch becomes permanent and she's trapped in the form of a middle-aged maniac forever.
Truth or Dare (Prime Video, Pluto TV & Tubi)
Synopsis: Lucy Hale (Pretty Little Liars) and Tyler Posey (Teen Wolf) lead the cast of Blumhouse's Truth or Dare, a supernatural thriller from Blumhouse Productions (Happy Death Day, Get Out). A harmless game of "Truth or Dare" among friends turns deadly when someone—or something—begins to punish those who tell a lie—or refuse the dare…
The Babysitter (Netflix)
Synopsis: The Babysitter follows a lonely, 12-year-old boy who falls in love with his hot babysitter only to discover that she's part of a satanic cult that wants to kill him. Starring Bella Thorne, Robbie Amell, Samara Weaving, Andrew Bachelor, Hana Mae Lee, and Judah Lewis.
Synopsis: It's déjà vu all over again for Tree Gelbman, the snarky sorority sister who solved her own murder by repeatedly reliving her death. When the masked campus killer mysteriously returns to terrorize new targets, Tree cycles through another time loop of clever chills and suspense in Happy Death Day 2U, the inventive follow-up to Blumhouse's hit thriller Happy Death Day.
Synopsis: Here is the murderously funny movie based on the world-famous Clue board game. Was it Colonel Mustard in the study with a gun? Miss Scarlet in the billiard room with the rope? Or was it Wadsworth the butler? Meet all the notorious suspects and discover all their foul play things. You'll love their dastardly doings as the bodies and the laughs pile up before your eyes.
Heathers (Prime Video, Pluto TV & Tubi)
Synopsis: Winona Ryder, Christian Slater and Shannen Doherty star in this cruelly hilarious dark comedy. which became one of the biggest cult classics of the 80.
Synopsis: When Max (Taissa Farmiga) and her friends reluctantly attend a screening of "Camp Bloodbath," an infamous '80s cult horror film that starred Max's late mother (Malin Akerman), they are accidentally sucked into the silver screen. They soon realize they're trapped inside the movie and must team up with the horny, Reagan-era idiot "Camp bloodbath" counselors – including Max's mom as the shy scream queen – to battle the film's machete-wielding killer Billy Murphy. Face to face with her mother for the first time in years, Max has a second chance not only to see her, but to save her, and with the help of her friends, get back home before Billy kills them all. Also starring Adam DeVine, Thomas Middleditch, Alia Shawkat, Angela Trimbur, with Alexander Ludwig and Nina Dobrev.
Synopsis: When a group of rich 20-somethings plan a hurricane party at a remote family mansion, a party game goes awry in this fresh and funny look at backstabbing, fake friends, and one party gone very, very wrong.