The Other Zoey is a romantic comedy film directed by Sara Zandieh from a screenplay by Matt Tabak. The Prime Video film follows the story of a brilliant college girl Zoey, who wants to date someone smart and sensible but her life gets turned upside down when she causes the accident of a popular boy from college. The boy gets amnesia and starts to believe that Zoey is his girlfriend but more drama is on its way as Zoey starts to like the guy's cousin. The Other Zoey stars Josephine Langford, Drew Starkey, Archie Renaux, Andie MacDowell, and Heather Graham. So, if you loved the Prime Video film here are some similar movies you could watch next.
Synopsis: In a splashy new twist, Overboard focuses on "Leonardo" (EUGENIO DERBEZ), a selfish, spoiled, rich playboy from Mexico's richest family and "Kate" (ANNA FARIS), a working class single mom of three hired to clean Leonardo's luxury yacht. After unjustly firing Kate and refusing to pay her, Leonardo falls overboard when partying too hard and wakes up on the Oregon coast with amnesia. Kate shows up at the hospital and, to get payback, convinces Leonardo he is her husband and puts him to work – for the first time in his life. At first miserable and inept, Leonardo slowly settles in. Eventually he earns the respect of his new "family" and co-workers. But, with Leonardo's billionaire family hot on their trail and the possibility of his memory returning at any moment, will their new family last or will Leonardo finally put the clues together and leave them for good?
Synopsis: Inspired by a true story, The Vow is the tale of a love that refuses to be forgotten. Leo (Channing Tatum, Dear John ) is devastated when a car accident plunges his wife Paige (Rachel McAdams, The Notebook ) into a deep coma. She miraculously recovers – but the last five years of her memories have vanished. Suddenly, Leo finds himself married to a stranger who can't remember anything about him. Naively, Paige falls back under the influence of her controlling parents (Sam Neill and Jessica Lange) and reconnects with her ex-fiancé (Scott Speedman). Desperately, Leo tries to recreate the moments that shaped their romance. Can he rekindle the passion before he loses Paige forever?
Love Hard (Netflix)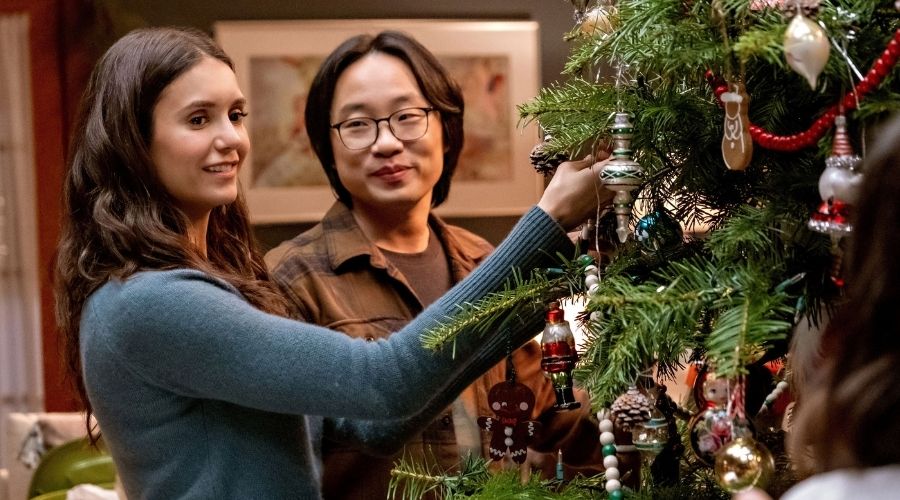 Synopsis: An LA girl, unlucky in love, falls for an East Coast guy on a dating app and decides to surprise him for the holidays, only to discover that she's been catfished. This lighthearted romantic comedy chronicles her attempt to reel in love.
The Kissing Booth (Netflix)
Synopsis: Elle Evans (Joey King) just had the most romantic summer of her life with her reformed bad-boy boyfriend Noah Flynn (Jacob Elordi). But now Noah is off to Harvard, and Elle heads back to high school for her senior year. She'll have to juggle a long-distance relationship, getting into her dream college with her best friend Lee (Joel Courtney), and the complications brought on by a close friendship with a handsome, charismatic new classmate named Marco (Taylor Perez). When Noah grows close to a seemingly-perfect college girl (Maisie Richardson-Sellers), Elle will have to decide how much she trusts him and to whom her heart truly belongs.
Synopsis: This romantic comedy begins in an excited frenzy of anticipation as we watch hopeless romantics Margot (Emma Roberts) and Griffin (Thomas Mann) prepare for their proposals. Griffin is nervously preparing to pop the question to his beautiful model/influencer girlfriend, Clementine (Madelaine Petsch), while Margot's hoping for a surprise overture from her new chiseled jock of a boyfriend, Kip (Lewis Tan). When both proposals become a bust, a series of crazy and magical coincidences bring Griffin and Margot together on a stormy New Year's Eve. Believing in true love, they set out on a comedic journey only to realize that the love they've been searching for might be found with the stranger right in front of them. Supported by a hilarious cast including Britt Robertson, Wendy Malick and Cheryl Hines, "About Fate" explores the age-old question: Is love about the choices one makes along the way or is it about fate?
When We First Met (Netflix)
Synopsis: Noah (Adam Devine) spends the perfect first night with Avery, the girl of his dreams, but gets relegated to the friend zone. He spends the next three years wondering what went wrong – until he gets the unexpected chance to travel back in time and alter that night – and his fate – over and over again. Will Noah ever get it right?
Holidate (Netflix)
Synopsis: Sloane (Emma Roberts) and Jackson (Luke Bracey) hate the holidays. They constantly find themselves single, sitting at the kids table, or stuck with awkward dates. But when these two strangers meet one particularly bad Christmas, they make a pact to be each other's "holidate" for every festive occasion throughout the next year. With a mutual disdain for the holidays, and assuring themselves that they have no romantic interest in the other, they make the perfect team. However, as a year of absurd celebrations come to an end, Sloane and Jackson find that sharing everything they hate may just prove to be something they unexpectedly love.
Synopsis: Meet Nancy: 34, single, hung-over, and exhausted by her well-meaning but clueless friends continual matchmaking. Nancy is done with dating. She's reached the end of her rope, and is more than happy to hole up, seal up, and resign herself to a life alone. That is until Jack mistakes Nancy for his blind date at Waterloo Station, and she does the unthinkable and just goes with it. Because what if pretending to be someone else finally makes her man up, and become her painfully honest, awesomely unconventional, and slightly unstable true self?
The Perfect Date (Netflix)
Synopsis: Brooks Rattigan (Noah Centineo) has the academic chops to get into his dream Ivy League school, but what he's missing is an outstanding extracurricular — and the money. When he seizes on an opportunity to make some extra cash by posing as the boyfriend of a self-assured, combat boot-loving girl named Celia Lieberman (Laura Marano), he finds he has a knack for being the perfect stand-in. Together with his programmer friend Murph (Odiseas Georgiadis), Brooks launches an app selling himself as a plus-one for all occasions. Along the way, he meets the girl of his dreams (Camila Mendes). But when business starts to boom, Brooks must reassess everything he was once sure of.
Synopsis: Bianca (Mae Whitman) is a content high school senior whose world is shattered when she learns the student body refers to her as 'The DUFF' (Designated Ugly Fat Friend) to her prettier, more popular friends (Skyler Samuels & Bianca Santos). With her universe turned upside down, she ignores words of wisdom from her favorite teacher (Ken Jeong) and enlists Wesley (Robbie Amell), a slick but charming jock, to help set her apart from the pack and erase her label forever. In doing so, she hopes to land her crush Toby (Nick Eversman), and find the confidence to overthrow the school's ruthless label maker Madison (Bella Thorne) by reminding everyone that no matter what people look or act like, we are all someone's DUFF…and that's totally fine.