The Menu is definitely one of the most horrifying comedic movies of this year. The Mark Mylod directed film takes a shot at food critics, but it would work on any kind of critic. The Menu follows a young couple who are visiting an exclusive restaurant on a remote island, but things get really bad really fast. The film has one of the best ensemble casts of this year with Anya Taylor-Joy and Nicholas Hoult giving their best performances, but still, The Menu is the Ralph Fiennes show and he deserves it. So, if you liked horror dark comedy here are some more movies like it.
Boiling Point
Synopsis: Enter the relentless pressure of a restaurant kitchen as a head chef (Stephen Graham) wrangles his team on the year's busiest day.
The Lobster
Synopsis: In this highly imaginative, delightfully absurdist comedy from visionary director Yorgos Lanthimos (Dogtooth), Colin Farrell stars as David, a man who has just been dumped by his wife. To make matters worse, David lives in a society where single people have 45 days to find true love, or else they are turned into the animal of their choice and released into the woods. David is kept at the mysterious HOTEL while he searches for a new partner, and after several romantic misadventures decides to make a daring escape to abandon this world. He ultimately joins up with a rebel faction known as The Loners, a group founded on a complete rejection of romance. But once there David meets an enigmatic stranger (Rachel Weisz) who stirs up unexpected and strong feelings within him…
At once a full immersion into a strange and surreal world, and a witty and clever reflection of our own society, The Lobster is a thrillingly audacious vision fully brought to life by Lanthimos and his terrific cast.
Parasite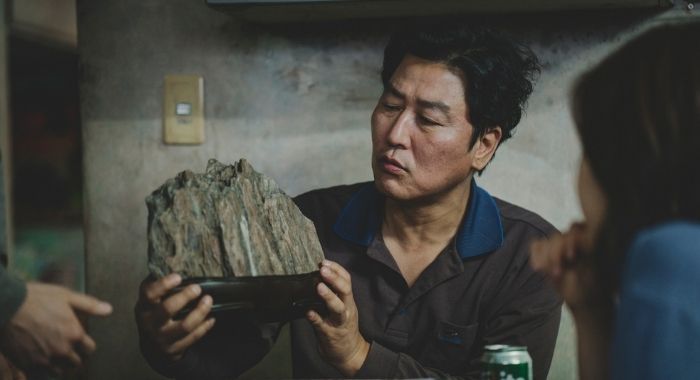 Synopsis: Bong Joon Ho brings his singular mastery home to Korea in this pitch-black modern fairytale. Meet the Park Family: the picture of aspirational wealth. And the Kim Family, rich in street smarts but not much else. Be it chance or fate, these two houses are brought together and the Kims sense a golden opportunity. Masterminded by college-aged Ki-woo, the Kim children expediently install themselves as tutor and art therapist, to the Parks. Soon, a symbiotic relationship forms between the two families. The Kims provide "indispensable" luxury services while the Parks obliviously bankroll their entire household. When a parasitic interloper threatens the Kims' newfound comfort, a savage, underhanded battle for dominance breaks out, threatening to destroy the fragile ecosystem between the Kims and the Parks. By turns darkly hilarious and heart-wrenching, PARASITE showcases a modern master at the top of his game.
---
Also Read: Movies Like 'Triangle of Sadness' To Watch If You Liked the Dark Comedy
---
Triangle of Sadness
Synopsis: In Ruben Östlund's wickedly funny Palme d'Or winner, social hierarchy is turned upside down, revealing the tawdry relationship between power and beauty. Celebrity model couple, Carl (Harris Dickinson) and Yaya (Charlbi Dean), are invited on a luxury cruise for the uber-rich, helmed by an unhinged boat captain (Woody Harrelson). What first appeared instagrammable ends catastrophically, leaving the survivors stranded on a desert island and fighting for survival.
Ready or Not
Synopsis: "Ready or Not" follows a young bride (Samara Weaving) as she joins her new husband's (Mark O'Brien) rich, eccentric family (Adam Brody, Henry Czerny, Andie MacDowell) in a time-honored tradition that turns into a lethal game with everyone fighting for their survival.
Get Out
Synopsis: When Chris (Daniel Kaluuya), a young African-American man, visits his white girlfriend's (Allison Williams) family estate, he becomes ensnared in the more sinister, real reason for the invitation. At first, Chris reads the family's overly accommodating behavior as nervous attempts to deal with their daughter's interracial relationship, but as the weekend progresses, a series of increasingly disturbing discoveries lead him to a truth that he could have never imagined. This speculative thriller from Blumhouse (producers of The Visit, Insidious series and The Gift) and the mind of Jordan Peele (Key & Peele) is equal parts gripping thriller and provocative commentary.
The Killing of a Sacred Deer
Synopsis: Dr. Steven Murphy (Colin Farrell) is a renowned cardiovascular surgeon presiding over a spotless household with his ophthalmologist wife Anna (Nicole Kidman) and their two exemplary children, 12-year-old Bob (Sunny Suljic) and 14-year-old Kim (Raffey Cassidy). Lurking at the margins of his idyllic suburban existence is Martin (Barry Keoghan), a fatherless teen who Steven has covertly taken under his wing. As Martin begins insinuating himself into the family's life in ever-more unsettling displays, the full scope of his intent becomes menacingly clear when he confronts Steven with a long-forgotten transgression that will shatter the Murphy family's domestic bliss. Lanthimos has crafted a sensational thriller brimming with unsettling humor and creeping dread, steeped in Greek tragedy, existential horror, Hitchcockian psychodrama, and riveting suspense. Darting confidently between genres to subvert our expectations at every turn, The Killing of a Sacred Deer firmly cements Lanthimos in the pantheon of world-class auteurs and marks him as a cinematic provocateur without precedent.
Chup: Revenge of the Artist
A mysterious serial killer is on the hunt in Mumbai, committing brutal murders of film critics, who give dishonest and biased reviews of films. Inspector General of Mumbai, Arvind Mathur is one the case and he is trying everything he can to catch this killer.