Adam Sandler and Jennifer Aniston are back as amateur detectives who are always in danger of dying but never smart enough to know that they are not cut out for this but who likes smart people anyways. The sequel to the hit Netflix film Murder Mystery recently came out and people seem to be loving it. While Murder Mystery 2 didn't win any favors from the critics but fans of the film are enjoying it. So, if you also like Murder Mystery 2 here are some movies like it you can watch next.
Murder Mystery (Netflix)
Synopsis: When an NYC cop (Adam Sandler) finally takes his wife (Jennifer Aniston) on a long promised European trip, a chance meeting on the flight gets them invited to an intimate family gathering on the Super Yacht of elderly billionaire Malcolm Quince. When Quince is murdered, they become the prime suspects in a modern day whodunit. MURDER MYSTERY reunites Adam Sandler and Jennifer Aniston along with an ensemble cast of global talent.
Synopsis: Susan Cooper (Melissa McCarthy) is an unassuming, deskbound CIA analyst, and the unsung hero behind the Agency's most dangerous missions. But when her partner (Jude Law) falls off the grid and another top agent (Jason Statham) is compromised, she volunteers to go deep undercover to infiltrate the world of a deadly arms dealer, and prevent a global disaster.
Synopsis: Edgar Wright's HOT FUZZ is the action-packed new comedy from the makers of SHAUN OF THE DEAD. Nicholas Angel (Simon Pegg) is the finest cop London has to offer. He's so good, he makes everyone else look bad. As a result, Angel's superiors send him to a place where his talents won't be quite so embarrassing — the sleepy and seemingly crime-free village of Sandford where they team him up with the inexperienced, puppy-like policeman Danny Butterman (Nick Frost). Together the two find trouble where no one imagined it could be. Also starring Jim Broadbent, Paddy Considine, and Timothy Dalton
Fletch (Netflix)
Synopsis: Chevy Chase is at his hilarious best in this suspense-packed comedy thriller based on Gregory McDonald's best-seller. Irwin Fletch, a.k.a. Fletch (Chase), is an investigative reporter who's constantly changing his identity. While working on a drug expose, Fletch attracts the attention of a strange businessman (Tim Matheson) who wants to be killed so his wife will inherit more insurance. The wily Fletch senses a scam, and soon he's up to his byline in frame-ups, murder, police corruption and forbidden romance. It'll be the story of the year, if he can stay alive to meet his deadline!
The Nice Guys (Netflix)
Synopsis: Set in 1970s Los Angeles, down-on-his-luck private eye Holland March (Ryan Gosling) and hired leg-breaker Jackson Healy (Russell Crowe) must work together to solve the case of a missing girl and the seemingly unrelated death of a porn star. During their investigation, they uncover a shocking conspiracy that reaches up to the highest circles of power.
See How They Run (HBO Max)
Synopsis: In the West End of 1950s London, plans for a movie version of a smash-hit play come to an abrupt halt after a pivotal member of the crew is murdered. When world-weary Inspector Stoppard (Sam Rockwell) and eager rookie Constable Stalker (Saoirse Ronan) take on the case, the two find themselves thrown into a puzzling whodunit within the glamorously sordid theater underground, investigating the mysterious homicide at their own peril.
Glass Onion: A Knives Out Story (Netflix)
Synopsis: Benoit Blanc returns to peel back the layers in a new Rian Johnson whodunit. This fresh adventure finds the intrepid detective at a lavish private estate on a Greek island, but how and why he comes to be there is only the first of many puzzles. Blanc soon meets a distinctly disparate group of friends gathering at the invitation of billionaire Miles Bron for their yearly reunion. Among those on the guest list are Miles' former business partner Andi Brand, current Connecticut governor Claire Debella, cutting-edge scientist Lionel Toussaint, fashion designer and former model Birdie Jay and her conscientious assistant Peg, and influencer Duke Cody and his sidekick girlfriend Whiskey. As in all the best murder mysteries, each character harbors their own secrets, lies and motivations. When someone turns up dead, everyone is a suspect. Returning to the franchise he began, Academy Award-nominated filmmaker Rian Johnson writes and directs Glass Onion: A Knives Out Mystery and assembles another all-star cast that includes a returning Daniel Craig alongside Edward Norton, Janelle Monáe, Kathryn Hahn, Leslie Odom Jr., Jessica Henwick, Madelyn Cline with Kate Hudson and Dave Bautista.
The Lovebirds (Netflix)
Synopsis: A couple (Issa Rae & Kumail Nanjiani) experiences a defining moment in their relationship when they are unintentionally embroiled in a murder mystery. As their journey to clear their names takes them from one extreme – and hilarious – circumstance to the next, they must figure out how they, and their relationship, can survive the night.
Synopsis: Jason Bateman and Rachel McAdams star as Max and Annie, whose weekly couples Game Night gets kicked up a notch when Max's charismatic brother, Brooks (Kyle Chandler), arranges a murder mystery party, complete with fake thugs and faux federal agents. So, when Brooks gets kidnapped, it's all part of the game…right? But as the six uber-competitive gamers set out to solve the case and win, they begin to discover that neither this "game"— nor Brooks—are what they seem to be. Over the course of one chaotic night, the friends find themselves increasingly in over their heads as each twist leads to another unexpected turn. With no rules, no points, and no idea who all the players are, this could turn out to be the most fun they've ever had…or game over.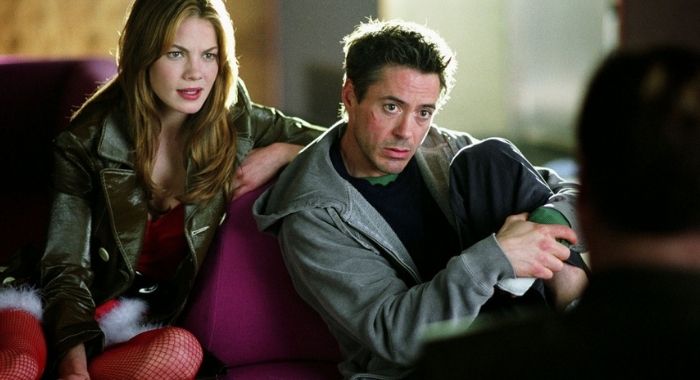 Synopsis: From producer Joel Silver and screenwriter Shane Black, both of Lethal Weapon fame comes an action-comedy spoof of rough-and-tumble buddy films–Kiss Kiss, Bang Bang. A private detective (Val Kilmer – Alexander), a thief posing as a struggling actor (Robert Downey Jr. – Gothika) and an actual struggling actress (Michelle Monaghan – The Bourne Supremacy) become entangled in a murder mystery filled with twists, turns, betrayal and, most importantly, romance.