Medusa Deluxe is a genre-bending movie written and directed by Thomas Hardiman. The A24 film shows us a murder mystery set in a competitive hairdressing contest. Medusa Deluxe is a very visual film with some brilliant performances by Clare Perkins, Anita-Joy Uwajeh, Kayla Meikle, Kae Alexander, and Harriet Webb. So, if you loved Medusa Deluxe here are some similar movies you should check out next.
Synopsis: Here is the murderously funny movie based on the world-famous Clue board game. Was it Colonel Mustard in the study with a gun? Miss Scarlet in the billiard room with the rope? Or was it Wadsworth the butler? Meet all the notorious suspects and discover all their foul play things. You'll love their dastardly doings as the bodies and the laughs pile up before your eyes.
Synopsis: As William Randolph Hearst and his lover, Marion Davies, set sail one Saturday morning, hosting a group that includes Charlie Chaplin, Thomas Ince, Louella Parsons and Elinor Glyn, it becomes clear that although witty repartee is the order of the day, deceit and deception are also on the menu.
A Simple Favor (Prime Video & MGM+)
Synopsis: A SIMPLE FAVOR, directed by Paul Feig, centers around Stephanie (Anna Kendrick), a mommy vlogger who seeks to uncover the truth behind her best friend Emily's (Blake Lively) sudden disappearance from their small town. Stephanie is joined by Emily's husband Sean (Henry Golding) in this stylish thriller filled with twists and betrayals, secrets and revelations, love and loyalty, murder and revenge.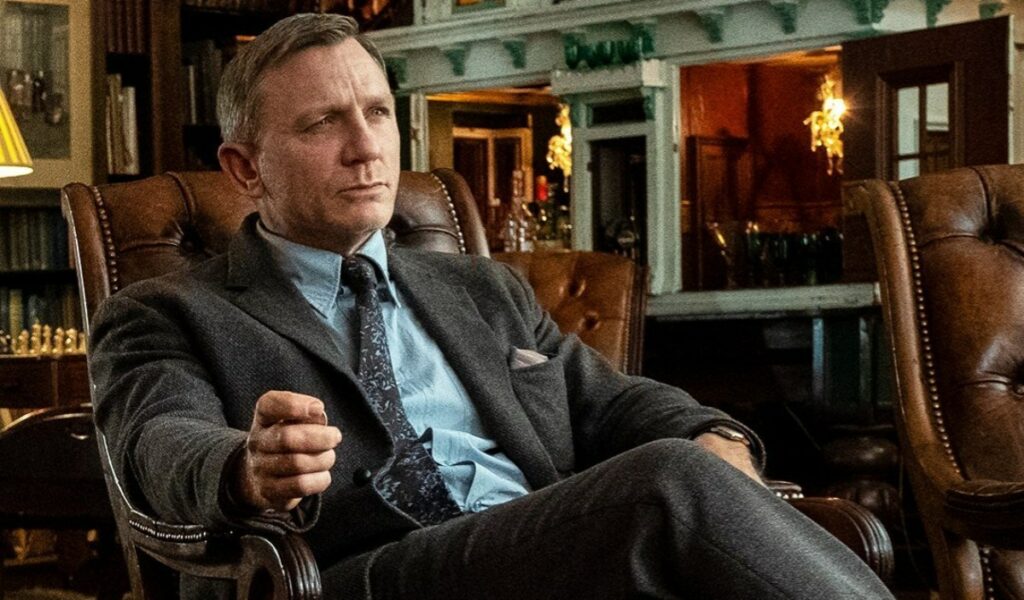 Synopsis: The circumstances surrounding the death of crime novelist Harlan Thrombey are mysterious, but there's one thing that renowned Detective Benoit Blanc knows for sure-everyone in the wildly dysfunctional Thrombey family is a suspect. Now, Blanc must sift through a web of lies and red herrings to uncover the truth. From acclaimed writer-director Rian Johnson comes this suspenseful, twist-filled whodunnit with an all-star ensemble cast including Daniel Craig, Chris Evans, Ana de Armas, Jamie Lee Curtis, Michael Shannon, Don Johnson, Toni Collette, La Keith Stanfield, Katherine Langford, Jaeden Martell, Christopher Plummer, and more.
Glass Onion: A Knives Out Mystery (Netflix)
Synopsis: Benoit Blanc returns to peel back the layers in a new Rian Johnson whodunit. This fresh adventure finds the intrepid detective at a lavish private estate on a Greek island, but how and why he comes to be there is only the first of many puzzles. Blanc soon meets a distinctly disparate group of friends gathering at the invitation of billionaire Miles Bron for their yearly reunion. Among those on the guest list are Miles' former business partner Andi Brand, current Connecticut governor Claire Debella, cutting-edge scientist Lionel Toussaint, fashion designer and former model Birdie Jay and her conscientious assistant Peg, and influencer Duke Cody and his sidekick girlfriend Whiskey. As in all the best murder mysteries, each character harbors their own secrets, lies and motivations. When someone turns up dead, everyone is a suspect. Returning to the franchise he began, Academy Award-nominated filmmaker Rian Johnson writes and directs Glass Onion: A Knives Out Mystery and assembles another all-star cast that includes a returning Daniel Craig alongside Edward Norton, Janelle Monáe, Kathryn Hahn, Leslie Odom Jr., Jessica Henwick, Madelyn Cline with Kate Hudson and Dave Bautista.
Synopsis: Belgian sleuth Hercule Poirot's Egyptian vacation aboard a glamorous river steamer turns into a terrifying search for a murderer when a picture-perfect couple's idyllic honeymoon is tragically cut short. Set against an epic landscape of sweeping desert vistas and the majestic Giza pyramids, this tale of unbridled passion and incapacitating jealousy features a cosmopolitan group of impeccably dressed travelers, and enough wicked twists and turns to leave audiences guessing until the final, shocking denouement. "Death on the Nile" reunites the filmmaking team behind 2017's global hit "Murder on the Orient Express," and stars five-time Academy Award® nominee Kenneth Branagh as the iconic detective Hercule Poirot. He is joined by an all-star cast of suspects, including: Tom Bateman, four-time Oscar® nominee Annette Bening, Russell Brand, Ali Fazal, Dawn French, Gal Gadot, Armie Hammer, Rose Leslie, Emma Mackey, Sophie Okonedo, Jennifer Saunders and Letitia Wright. "Death on the Nile" is written by Michael Green, adapted from Christie's novel, and is produced by Kenneth Branagh, p.g.a., Judy Hofflund, p.g.a., Ridley Scott, Mark Gordon, Simon Kinberg and Kevin J. Walsh, with Matthew Jenkins, James Prichard and Matthew Prichard serving as executive producers.
The Girl with the Dragon Tattoo (Prime Video Add-On & MGM+)
Synopsis: Disgraced journalist Mikael Blomkvist (Daniel Craig) accepts an invitation to surreptitiously investigate a forty year old unsolved murder on behalf of the victim's uncle, Swedish industrialist Henrik Vanger (Christopher Plummer). Meanwhile, tattooed hacker Lisbeth Salander (Rooney Mara), hired to investigate Blomkvist, discovers the truth behind the conspiracy that led to his fall from grace. Thrown together by fate, the unlikely duo uncovers a secret history of murder and sexual abuse festering beneath the veneer of Sweden's industrial past, all the while drawing closer to a quiet evil waiting to engulf them both.
Synopsis: Set in the 1930s, the story takes place in an old-fashioned English country house where a weekend shooting party is underway. The story centers on the McCordle family, particularly the man of the house, Sir William McCordle (Sir Michael Gambon). Getting on in years, William has become a benefactor to many of his relatives and friends. As the weekend goes on, secrets are revealed, and it seems that everyone, above stairs and below, wants a piece of William and his money, but how far will they go to get it?
Usual Suspects (Prime Video & Pluto TV)
Synopsis: Five career criminals are caught up in the film's labyrinthine plot that involves an intriguing, seldom-seen, almost legendary criminal mastermind named Keyser Soze. When the men reluctantly agree to pull off a heist for Soze, the caper appears to be both airtight and routine…or is it?
Synopsis: In the West End of 1950s London, plans for a movie version of a smash-hit play come to an abrupt halt after a pivotal member of the crew is murdered. When world-weary Inspector Stoppard (Sam Rockwell) and eager rookie Constable Stalker (Saoirse Ronan) take on the case, the two find themselves thrown into a puzzling whodunit within the glamorously sordid theater underground, investigating the mysterious homicide at their own peril.