Killers of the Flower Moon is the latest Martin Scorsese film and as expected it's brilliant. The revisionist western crime drama film is co-written by Eric Roth and it is based on a book of the same name by David Grann. The crime drama film revolves around a series of Oklahoma murders in the Osage Nation during the 1920s after oil was found on tribal land. Killers of the Flower Moon stars Leonardo DiCaprio, Robert De Niro, and Lily Gladstone. So, if you also loved Killers of the Flower Moon here are the 10 best similar movies you could watch next.
The Assassination of Jesse James by the Coward Robert Ford (Rent on Prime Video)
Synopsis: The names ricochet through Western lore. Jesse James (Brad Pitt) was the most notorious outlaw of his time, wanted by the law in ten states yet celebrated as a Robin Hood in newspapers and dime novels. Teenaged Robert Ford (Casey Affleck) idolized Jesse, sought his friendship, rode with him. It wasn't enough. The up-and-comer wanted his shot at fame. And when he got it, he took it.
Pitt gives a volcanic, charismatic performance as Jesse in this saga of celebrity and obsession adapted from Ron Hansen's historical novel by director Andrew Dominik (Chopper). "They're all lies," Jesse says of the stories surrounding him. A deeper, more human truth awaits in this ambitious and stirring epic film.
Synopsis: Set in 1892, HOSTILES tells the story of a legendary Army Captain Christian Bale, who, after stern resistance, reluctantly agrees to escort a dying Cheyenne war chief Wes Studi and his family back to tribal lands. Making the harrowing and perilous journey from Fort Berringer, an isolated Army outpost in New Mexico, to the grasslands of Montana, the former rivals encounter a young widow Rosamund Pike whose family was murdered on the plains. Together, they must join forces to overcome the punishing landscape, hostile Comanche, and vicious outliers that they encounter along the way.
No Country For Old Men (Showtime & Prime Vide Add-On)
Synopsis: Acclaimed filmmakers Joel and Ethan Coen deliver their most gripping and ambitious film yet in this sizzling and supercharged action-thriller. When a man stumbles on a bloody crime scene, a pickup truck loaded with heroin, and two million dollars in irresistible cash, his decision to take the money sets off an unstoppable chain reaction of violence. Not even west Texas law can contain it. Based on the novel by Pulitzer Prize-winning author Cormac McCarthy, and featuring an acclaimed cast led by Tommy Lee Jones, this gritty game of cat and mouse will take you to the edge of your seat and beyond right up to its heart-stopping final act.
Synopsis: There Will Be Blood is set on the incendiary frontier of California's turn-of-the-century petroleum boom and chronicles the life and times of one Daniel Plainview (Daniel Day-Lewis), who transforms himself from a down-and-out silver miner raising a son on his own into a self-made oil tycoon. When Plainview gets a mysterious tip-off that there's a little town out West where an ocean of oil is oozing out of the ground, he heads with his son, H.W. (Dillon Freasier), to take their chances in dust-worn Little Boston. In this hardscrabble town, where the main excitement centers around the holy roller church of charismatic preacher Eli Sunday (Paul Dano), Plainview and H.W. make their lucky strike. But even as the well raises all of their fortunes, nothing will remain the same as conflicts escalate and every human value – love, hope, community, belief, ambition and even the bond between father and son – is imperiled by corruption, deception and the flow of oil.
Synopsis: Martin Scorsese's SILENCE tells the story of two Christian missionaries (Andrew Garfield and Adam Driver) who face the ultimate test of faith when they travel to Japan in search of their missing mentor (Liam Neeson) – at a time when Christianity was outlawed and their presence forbidden. The celebrated director's 28-year journey to bring Shusaku Endo's 1966 acclaimed novel to life will be in theaters this Christmas.
Synopsis: Memories of Murder tells the harrowing true story of the hunt for a sadistic serial rapist and murderer terrorizing a small province in 1980s South Korea. Marking the first of many successful collaborations between four-time Oscar winner Bong Joon Ho and leading man Song Kang Ho, the film follows the paths of three increasingly desperate detectives as they attempt to decipher the violent mind of a killer in a futile effort to solve the case. Now, seventeen years after its initial release, and a year after the real culprit was identified, this cult classic takes its place as a modern masterpiece.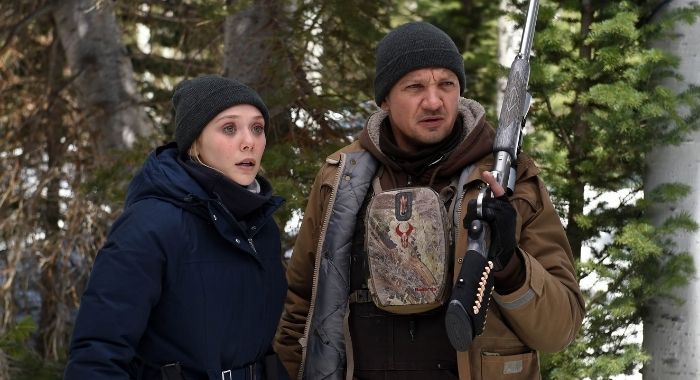 Synopsis: WIND RIVER is a chilling thriller that follows a rookie FBI agent (Elizabeth Olsen) who teams up with a local game tracker with deep community ties and a haunted past (Jeremy Renner) to investigate the murder of a local girl on a remote Native American Reservation in the hopes of solving her mysterious death.
Synopsis: Academy Award® nominees Leonardo DiCaprio and Djimon Hounsou join Academy Award® winner Jennifer Connelly in this action drama from Ed Zwick, the filmmaker behind The Last Samurai. DiCaprio stars as Danny Archer, a mercenary smuggler searching for a priceless diamond amid the chaos of Sierra Leone's civil war; Hounsou (Gladiator), as a desperate father searching for his lost son; and Connelly (A Beautiful Mind), as a reporter searching for the truth behind the trade in 'conflict diamonds.' Forced to confront the brutal human cost of the diamond trade, Archer changes his search for financial reward to a quest for redemption.
Synopsis: Nominated for 3 Academy Awards®. Quentin Tarantino's eighth film takes place six or eight or twelve years after the Civil War. Bounty hunter John Ruth (Kurt Russell) is racing through a blizzard toward Red Rock to have captured fugitive Daisy Domergue (Academy Award®-Nominee Jennifer Jason Leigh) hanged when he comes across another bounty hunter (Samuel L. Jackson) and a man claiming to be the sheriff (Walton Goggins). When the blizzard worsens, the four take refuge in a mountain stopover where they encounter four more strangers. Soon the tension from the close quarters and the bounty on Daisy's head lead some to wonder if any of them will make it to Red Rock.
Dances with Wolves (Prime Video & MGM+)
Synopsis: Rewarded for his heroism in the Civil War, Lt. John Dunbar (Kevin Costner) wants to see the American frontier before it is gone. He is assigned to an abandoned fort, where a Sioux tribe is his only neighbor. Overcoming the language barrier and their mutual fear and distrust, Dunbar and the proud Indians gradually become friends. Eventually, he falls in love with the beautiful Stands With a Fist (Mary McDonnell) a white woman raised by the tribe.