Freelance is an action comedy film directed by Pierre Morel, from a screenplay by Jacob Lentz. The film revolves around Mason Pettits, a retired Special Forces operator who takes on the job of providing protection to Claire Wellington as she interviews the president of Paldonia Juan Venegas. But things go awry when a military coup breaks out in the middle of the interview and all three of them have to run for their lives. Freelance stars John Cena and Alison Brie in the lead roles with Juan Pablo Raba, Christian Slater, and Alice Eve starring in leading roles. So, if you love the action comedy film here are some similar movies you could watch next.
Synopsis: The world's top protection agent [Ryan Reynolds] is called upon to guard the life of his mortal enemy, one of the world's most notorious hitmen [Samuel L. Jackson]. The relentless bodyguard and manipulative assassin have been on the opposite end of the bullet for years and are thrown together for a wildly outrageous 24 hours. During their raucous and hilarious adventure from England to the Hague, they encounter high-speed car chases, outlandish boat escapades and a merciless Eastern European dictator [Gary Oldman] who is out for blood. Salma Hayek joins the mayhem as Jackson's equally notorious wife.
Hidden Strike (Netflix)
Synopsis: Two ex-special forces soldiers must escort a group of civilians along Baghdad's "Highway of Death" to the safety of the Green Zone.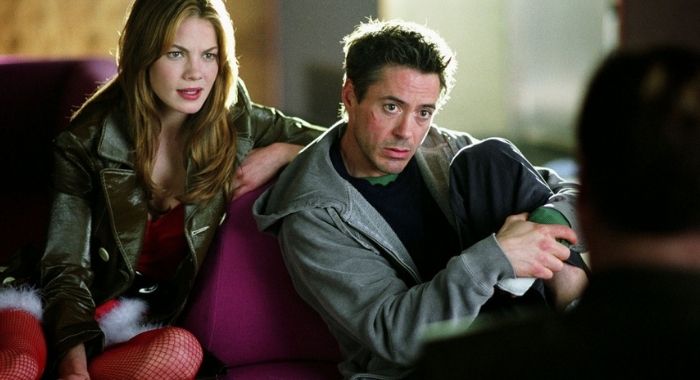 Synopsis: From producer Joel Silver and screenwriter Shane Black, both of Lethal Weapon fame comes an action-comedy spoof of rough-and-tumble buddy films–Kiss Kiss, Bang Bang. A private detective (Val Kilmer – Alexander), a thief posing as a struggling actor (Robert Downey Jr. – Gothika) and an actual struggling actress (Michelle Monaghan – The Bourne Supremacy) become entangled in a murder mystery filled with twists, turns, betrayal and, most importantly, romance
Synopsis: Misfit NYPD detectives Gamble and Hoitz (Will Ferrell and Mark Wahlberg) are sentenced to life behind the desk. They hate each other and the monotony of their meaningless jobs, as they're forced to live in the shadow of the two biggest and most badass cops on the force (Samuel L. Jackson and Dwayne Johnson). But when those guys go down for the count, opportunity knocks for Gamble and Hoitz. Stumbling onto what could be one of the biggest crimes in years, can The Other Guys step up their game to solve the case without killing each other and destroying NYC in the process? From the director of Step Brothers and Talladega Nights: The Ballad of Ricky Bobby.
Synopsis: Robert Vaughn and David McCallum star as a team of secret agents battling the global crime organization THRUSH. Under the aegis of the United Network Command for Law and Enforcement– U.N.C.L.E.–the dapper, suave Napoleon Solo (Vaughn) and the equally dashing Illya Kuryakin (McCallum) jet to exotic locations, defending the world from evil, chaos and bad taste in this hit spoof on the espionage genre.
Synopsis: Susan Cooper (Melissa McCarthy) is an unassuming, deskbound CIA analyst, and the unsung hero behind the Agency's most dangerous missions. But when her partner (Jude Law) falls off the grid and another top agent (Jason Statham) is compromised, she volunteers to go deep undercover to infiltrate the world of a deadly arms dealer, and prevent a global disaster.
Synopsis: Set in 1970s Los Angeles, down-on-his-luck private eye Holland March (Ryan Gosling) and hired leg-breaker Jackson Healy (Russell Crowe) must work together to solve the case of a missing girl and the seemingly unrelated death of a porn star. During their investigation, they uncover a shocking conspiracy that reaches up to the highest circles of power.
Synopsis: The creators and star of Borat bring you the jaw-dropping comedy about what happens when the world's worst dictator comes to America. Stuck in New York and stripped of his power, Aladeen (Sacha Baron Cohen) is finally forced to live his ultimate nightmare…the American dream. Get ready to laugh ʻtil it hurts with this outrageous and shamefully funny comedy!.
Synopsis: Ben Stiller, Jack Black and Robert Downey Jr. lead an ensemble cast in 'Tropic Thunder,' an action comedy about a group of self-absorbed actors who set out to make the most expensive war film. After ballooning costs force the studio to cancel the movie, the frustrated director refuses to stop shooting, leading his cast into the jungles of Southeast Asia, where they encounter real bad guys.
The Spy Who Dumped Me (Prime Video)
Synopsis: Audrey (Mila Kunis) and Morgan (Kate McKinnon), two thirty-year-old best friends in Los Angeles, are thrust unexpectedly into an international conspiracy when Audrey's ex-boyfriend shows up at their apartment with a team of deadly assassins on his trail. Surprising even themselves, the duo jump into action, on the run throughout Europe from assassins and a suspicious-but-charming British agent, as they hatch a plan to save the world.
Synopsis: Dave Skylark (James Franco) and his producer Aaron Rapaport (Seth Rogen) run the popular celebrity tabloid TV show 'Skylark Tonight.' When they discover that North Korean leader Kim Jong-un is a fan of the show, they land an interview with him in an attempt to legitimize themselves as journalists. As Dave and Aaron prepare to travel to Pyongyang, their plans change when the CIA recruits them, perhaps the most unlikely candidates, to "take out" Kim Jong-un.
Operation Fortune: Ruse de Guerre (Starz & Prime Video Add-On)
Synopsis: Super spy Orson Fortune (Jason Statham) must track down and stop the sale of a deadly new weapons technology wielded by billionaire arms broker Greg Simmonds (Hugh Grant). Reluctantly teamed with some of the world's best operatives (Aubrey Plaza, Cary Elwes, Bugzy Malone), Fortune and his crew recruit Hollywood's biggest movie star Danny Francesco (Josh Hartnett) to help them on their globe-trotting undercover mission to save the world.
Ghosted (Apple TV+)
Synopsis: Salt-of-the-earth Cole falls head over heels for enigmatic Sadie — but then makes the shocking discovery that she's a secret agent. Before they can decide on a second date, Cole and Sadie are swept away on an international adventure to save the world.