Kevin Hart's Die Hart is finally here and it's not short on laughs. The action-comedy film originally aired as a series on Quibi but after the streaming service got shut down, the series was bought by Prime Video and turned into a film. Die Hart follows an exaggerated version of Kevin Hart as he tries to shed the persona of the funny guy and try his in action movies. But to do that he has to be trained and who better to train him than John Travolta? So, if you liked the action comedy here are some more fun movies you could watch next.
The Unbearable Weight of Massive Talent (Starz)
Synopsis: In this wildly entertaining, action-packed comedy, Oscar® winner* Nicolas Cage plays…Nick Cage! Creatively unfulfilled and facing financial ruin, the fictionalized version of Cage accepts a million-dollar offer to attend the birthday of a dangerous superfan (Pedro Pascal). Things take an unexpected turn when Cage is recruited by a CIA operative (Tiffany Haddish) and he must use his legendary acting skills, channeling his most iconic and beloved characters to become a real-life action hero. *1995, Actor in a Leading Role, Leaving Las Vegas. Oscar® is the registered trademark and service mark of the Academy of Motion Picture Arts and Sciences.
Synopsis: Dwayne Johnson (Get Smart) and Kevin Hart (Get Hard) star in this action comedy from the filmmaker behind We're the Millers and Dodgeball. The story follows a one-time bullied geek, Bob, who grew up to be a lethal CIA agent (Johnson), coming home for his high school reunion. Claiming to be on a top-secret case, he enlists the help of the former "big man on campus" Calvin, (Hart), now an accountant who misses his glory days. But before the staid numbers cruncher realizes what he's getting into, it's too late to get out, as his increasingly unpredictable new friend drags him through a world of shootouts, double-crosses and espionage that could get the both killed in more ways than he can count.
Synopsis: Clear the runway for Derek Zoolander (Ben Stiller), VH1's three-time male model of the year. His face falls when hippie-chic Hansel (Owen Wilson) scooters in to steal this year's award. The evil fashion guru Mugatu (Will Ferrell) seizes the opportunity to turn Derek into a killing machine. It's a well-designed conspiracy and only with the help of Hansel and a few well-chosen accessories like Matilda (Christine Taylor) can Derek make the world safe for male models everywhere.
Synopsis: Craig Schwartz (John Cusack) is a struggling street puppeteer. In order to make some money, Craig takes a job as a filing clerk. One day he accidentally discovers a door… a portal into the mind of John Malkovich (played by John Malkovich)! For 15 minutes, he experiences the ultimate head trip – HE is John Malkovich! Then he's dumped out onto the New Jersey turnpike! With his beautiful office mate Maxine (Catherine Keener) and his pet-obsessed wife (Cameron Diaz), they hatch a plan to let others into John's brain for just $200 a trip.
The Interview (Netflix)
Synopsis: Dave Skylark (James Franco) and his producer Aaron Rapaport (Seth Rogen) run the popular celebrity tabloid TV show 'Skylark Tonight.' When they discover that North Korean leader Kim Jong-un is a fan of the show, they land an interview with him in an attempt to legitimize themselves as journalists. As Dave and Aaron prepare to travel to Pyongyang, their plans change when the CIA recruits them, perhaps the most unlikely candidates, to "take out" Kim Jong-un.
Red (HBO Max)
Synopsis: Frank, Joe, Marvin and Victoria used to be the CIA's top agents, but the secrets they know just made them the agency's top targets. Framed for an assassination, they must use cunning, experience and teamwork to stay one step ahead of their deadly pursuers.
Die Hard, Why Not? (Starz)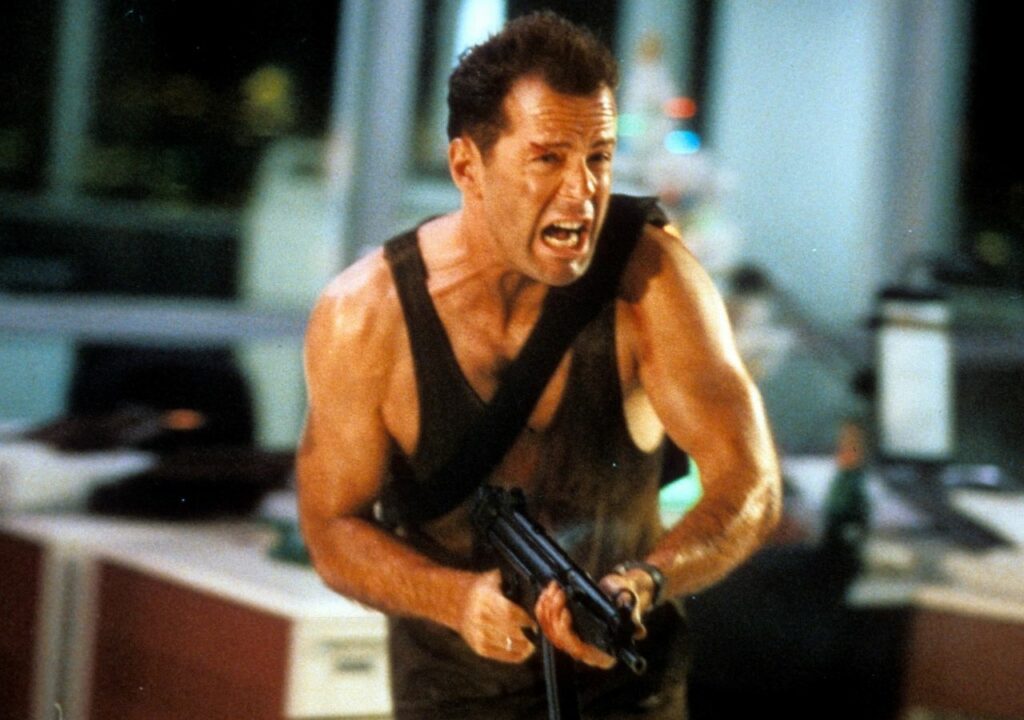 Synopsis: A New York City cop faces overwhelming odds when his Christmas visit to California is interrupted by a terrorist invasion of his estranged wife's office building.
Ride Along (HBO Max)
Synopsis: Ice Cube and Kevin Hart lead the lineup in Ride Along. When a fast-talking guy joins his girlfriend's brother—a hot-tempered cop—to patrol the streets of Atlanta, he gets entangled in the officer's latest case. Now, in order to prove that he deserves his future bride, he must survive the most insane 24 hours of his life.
The Man from Toronto (Netflix)
Synopsis: A case of mistaken identity arises after a screw-up sales consultant and the world's deadliest assassin—known only as The Man from Toronto—run into each other at a holiday rental.
Synopsis: Nerdy video game developer (Daniel Radcliffe) is a little too fond of stirring things up on the internet with his caustic, prodding, and antagonizing comments. One night, he makes the mistake of drunkenly dropping an inflammatory barb on a broadcast of Skizm, an illegal death-match fight club streamed live to the public. In response, Riktor (Ned Dennehy), the maniacal mastermind behind the channel, decides to force Miles' hand (or hands, as it were) and have him join the "fun." Miles wakes to find heavy pistols bolted into his bones, and learns Nix (Samara Weaving), the trigger-happy star of Skizm, is his first opponent. Gleefully echoing elements of Edgar Wright's Scott Pilgrim vs. the World, the Purge franchise, and videogames like Mortal Kombat, Guns Akimbo is hilariously dark, viciously violent, and potentially — chillingly — prescient. Director Jason Lei Howden (Deathgasm) foretells of a future that may soon await us: drone-captured live feeds, UFC-like competitions pushed to an extreme, and online streaming platforms used for gladiatorial entertainment all around the world. As Miles navigates the underworld of Skizm, the stakes — and the ratings — have never been higher.