The Other Black Girl is a mystery drama series created by Zakiya Dalila Harris and Rashida Jones. The Hulu series is based on a 2021 novel of the same name by Zakiya Dalila Harris a workplace drama and it follows an African-American editorial assistant working in a NYC publishing firm which is largely populated by white people. When another black co-worker arrives she gets excited but is her new colleague a friend or a foe? So, if you loved the Hulu series here are some similar shows and movies you could watch next.
Synopsis: In an alternate reality of present-day Oakland, Calif., telemarketer Cassius Green finds himself in a macabre universe after he discovers a magical key that leads to material glory. As Green's career begins to take off, his friends and co-workers organize a protest against corporate oppression. Cassius soon falls under the spell of Steve Lift, a cocaine-snorting CEO who offers him a salary beyond his wildest dreams.
Severance (Apple TV+)
Synopsis: In Severance, Mark Scout (Adam Scott) leads a team at Lumon Industries, whose employees have undergone a severance procedure, which surgically divides their memories between their work and personal lives. This daring experiment in 'work-life balance' is called into question as Mark finds himself at the center of an unraveling mystery that will force him to confront the true nature of his work… and of himself.
They Cloned Tyrone (Netflix)
Synopsis: A series of eerie events thrusts an unlikely trio (Boyega, Foxx and Parris) onto the trail of a nefarious government conspiracy in this pulpy mystery caper.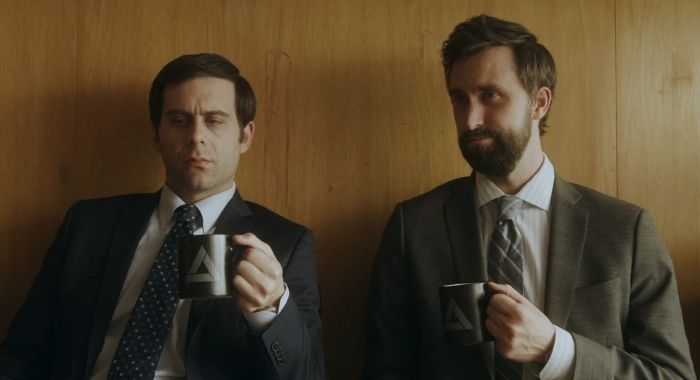 Synopsis: As Hampton DeVille throws its resources into government arms deals and useless mobile devices, employees Matt and Jake struggle to separate their personal and working lives, and just try to make it through each day.
Synopsis: When Chris (Daniel Kaluuya), a young African-American man, visits his white girlfriend's (Allison Williams) family estate, he becomes ensnared in the more sinister, real reason for the invitation. At first, Chris reads the family's overly accommodating behavior as nervous attempts to deal with their daughter's interracial relationship, but as the weekend progresses, a series of increasingly disturbing discoveries lead him to a truth that he could have never imagined. This speculative thriller from Blumhouse (producers of The Visit, Insidious series and The Gift) and the mind of Jordan Peele (Key & Peele) is equal parts gripping thriller and provocative commentary.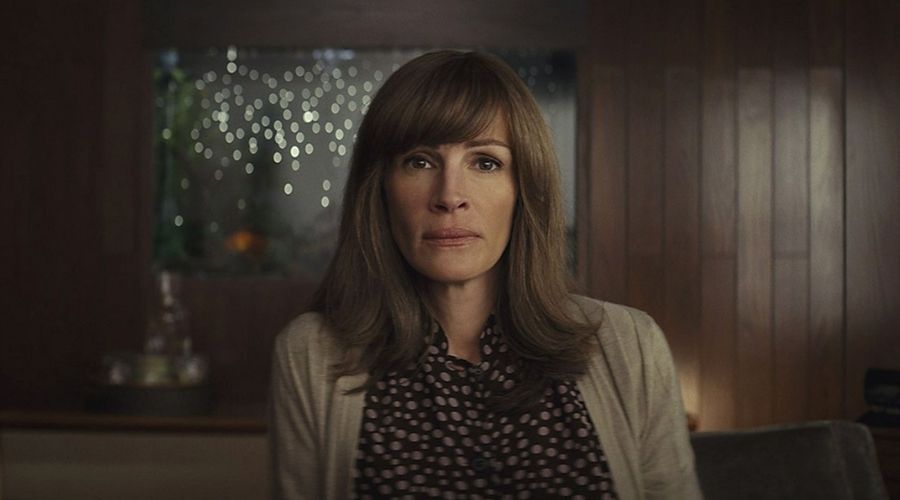 Synopsis: Heidi Bergman (Julia Roberts) is a caseworker at Homecoming, a Geist Group facility helping soldiers transition to civilian life. Years later she has started a new life, living with her mother and working as a waitress, when a Department of Defense auditor questions why she left the Homecoming facility. Heidi quickly realizes that there's a whole other story behind the story she's been telling herself.
The Double (Prime Video, Peacock, Tubi & Pluto TV)
Synopsis: A clerk in a government agency finds his unenviable life takes a turn for the horrific with the arrival of a new co-worker who is both his exact physical double and his opposite – confident, charismatic and seductive with women.
Synopsis: Made for Love is a darkly absurd and cynically poignant story of love and divorce. It follows Hazel Green (Cristin Milioti), a thirty-something woman on the run after 10 years in a suffocating marriage to Byron Gogol (Billy Magnussen), a controlling tech billionaire. Soon she discovers that her husband has implanted a monitoring device – the Made for Love chip – in her brain, allowing him to track her, watch her, and know her "emotional data" as she tries to regain her independence. Through the chip, Byron's able to watch Hazel's every move as she flees to her desert hometown to take refuge with her aging widower father Herbert (Ray Romano) and his synthetic partner, Diane.
Synopsis: From visionary filmmaker Spike Lee comes the incredible true story of an American hero. It's the early 1970s, and Ron Stallworth (John David Washington) is the first African-American detective to serve in the Colorado Springs Police Department. Determined to make a name for himself, Stallworth bravely sets out on a dangerous mission: infiltrate and expose the Ku Klux Klan. The young detective soon recruits a more seasoned colleague, Flip Zimmerman (Adam Driver), into the undercover investigation of a lifetime. Together, they team up to take down the extremist hate group as the organization aims to sanitize its violent rhetoric to appeal to the mainstream. Produced by the team behind the Academy-Award® winning Get Out.
Synopsis: The Twilight Zone was the brainchild of Emmy Award-winner Rod Serling, who served as host and wrote over 80 episodes of the original show's 150-plus episode run. It's a strange mix of horror, science-fiction, drama, comedy and superstition. Serling introduced each episode, and many of the black and white hours concluded with a surprise ending. Actors such as Burt Reynolds, Roddy McDowell and Robert Redford made appearances in some of the more well-known stories.