Firefly is one of the few shows that are alive still only because the fans of the series love it so much. The Josh Weadon series is set five hundred years in the future and it's a whole new frontier, and it follows the crew of a spaceship called Serenity as they take any job legal or illegal, but everything gets rocky when a mysterious girl and her brother a doctor come aboard the ship. Firefly was sadly canceled just after one season by Fox, but the fans loved it so much that Firefly became the only series that launched a whole franchise without any connection from the network it aired on. So, if you miss the series here are some shows and movies you could watch to pass the time and wait for a Firefly reboot.
Serenity
Synopsis: A passenger with a deadly secret. Six rebels on the run. An assassin in pursuit. When the renegade crew of Serenity agrees to hide a fugitive on their ship, they find themselves in an action-packed battle between the relentless military might of a totalitarian regime who will destroy anything – or anyone – to get the girl back and the bloodthirsty creatures who roam the uncharted areas of space. But, the greatest danger of all may be on their ship. From the mind of Joss Whedon (Buffy the Vampire Slayer, Angel) comes a new edge-of-your-seat adventure loaded with explosive battles, gripping special effects and fantastic new worlds!
Dr. Horrible's Sing Along Blog
Synopsis: Dr. Horrible's Sing-Along Blog is a 2008 musical comedy-drama miniseries in three acts, produced exclusively for Internet distribution. Filmed and set in Los Angeles, the show tells the story of Dr. Horrible, an aspiring supervillain; Captain Hammer, his superheroic nemesis; and Penny, a charity worker and their shared love interest.
Dark Matter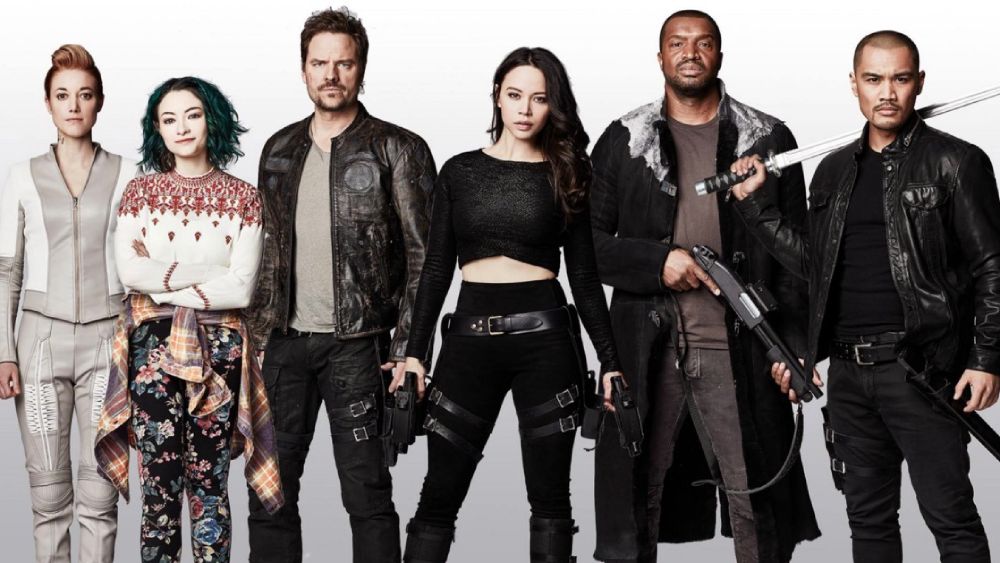 Synopsis: The crew of a derelict ship awakens from stasis with no memories of who they are or how they got onboard. Their search for answers only leads to more questions, as they discover how their own sordid pasts inform an increasingly dangerous future.
Red Dwarf
Synopsis: Chicken soup machine repairman and intergalactic loser Dave Lister awakesuspended animation to discover he is the lone survivor of a radiation lis now three million years into deep space and the last surviving memberhuman race. Dave is soon joined by a hologram of his dead bunkmate, a liform who's evolved from his pet cat, and a neurotic sanitation mechanoid. Together this unlikely bunch of heroes attempt to find their way back tounder the guidance of Holly, the ship's senile computer, encountering a heap of smeg on the way.
---
Also Read: Best Sci-Fi Shows Like 'Westworld' To Watch While Waiting For Season 4
---
Westworld
Synopsis: Have you ever questioned the nature of your reality? In this dark odyssey about the dawn of artificial consciousness and the future of sin, a malfunction creates havoc and terror for vacationers at a futuristic adult-themed amusement park for forbidden fantasies. Oscar winner Anthony Hopkins (The Silence of the Lambs, Amistad, Nixon) plays Dr. Robert Ford, the brilliant, taciturn and complex creative director, chief programmer and chairman of the board of Westworld, who has an uncompromising creative vision — and unorthodox methods of achieving it. Four-time Oscar nominee Ed Harris (Apollo 13, A Beautiful Mind) portrays The Man in Black, the distillation of pure villainy into one man. And Emmy Award winner Evan Rachel Wood (The Wrestler, True Blood) appears as Dolores Abernathy, the quintessential Western farm girl, who is about to discover that her entire idyllic existence is an elaborately constructed lie. Westworld is inspired by the film of the same name written and directed by Michael Crichton.
Cowboy Bebop
Synopsis: The Bebop crew is just trying to make a buck. This motley lot of intergalactic loners teams up to track down fugitives and turn them in for cold hard cash. Spike is a hero whose cool façade hides a dark and deadly past. The pilot Jet is a bruiser of a brute who can't wait to collect the next bounty. Faye Valentine is a femme fatale prone to breaking hearts and separating fools from their money. Along for the ride are the brilliant, but weird, hacker Ed and a super-genius Welsh Corgi named Ein.
Snowpiercer
Synopsis: Now in theaters! A post-apocalyptic ice age forces humanity's last survivors aboard a globe-spanning super train. One man (Chris Evans) will risk everything to lead a revolt for control of the engine and the future of the world.
Blade Runner
Synopsis: Harrison Ford stars in this fascinating, dark vision of the near future as a policeman who tracks engineered humans–a Blade Runner. In the year 2019, the police department forces Rick Deckard (Ford) out of retirement to hunt four genetically engineered humans who have come to earth. Designed to do difficult, hazardous work, the manufactured humans are stronger, faster and smarter than non engineered humans. They feel no pain or remorse; they are almost indistinguishable from other humans … and they are killing people. Now Deckard must stop them before they kill again.
The Orville
Synopsis: From Emmy Award-winning executive producer and creator Seth MacFarlane, THE ORVILLE is a live-action, one-hour space adventure series set 400 years in the future that follows The Orville, a mid-level exploratory spaceship. Its crew, both human and alien, face the wonders and dangers of outer space, while also dealing with the familiar, often humorous problems of everyday life.
---
Also Read: Best Shows Like 'Final Space' To Watch If You Miss the Series
---
Final Space
Synopsis: Final Space is an animated series created by Olan Rogers for TBS. Jam Filled is thrilled to have been a part of this epic, 220 minutes of planet-destroying, cookie-eating, awkward-video-messaging madness. What started as a YouTube short, was soon swept up by the likes of Conan O'Brien and Fred Armisen, and it's taken the world's eyeballs by storm. Final Space introduces us to a rag-tag cast, including Gary Goodspeed and his alien pal, Mooncake, and focuses on their adventures as they try to solve the ultimate question: What is Final Space?
Star Wars
Synopsis: Nineteen years after the formation of the Empire, Luke Skywalker is thrust into the struggle of the Rebel Alliance when he meets Obi-Wan Kenobi, who has lived for years in seclusion on the desert planet of Tatooine. Obi-Wan begins Luke's Jedi training as Luke joins him on a daring mission to rescue the beautiful Rebel leader Princess Leia from the clutches of the evil Empire. Although Obi-Wan sacrifices himself in a lightsaber duel with Darth Vader, his former apprentice, Luke proves that the Force is with him by destroying the Empire's dreaded Death Star.