BEEF is the series to watch this year. The brilliant A24 Netflix series is in league with superhit shows of this year such as The Last of Us and Succession Season 4. BEEF stars Steven Yeun and Ali Wong in the lead roles of Danny Cho and Amy Lau, two people who lead very different lives but one incident of road rage connects them with each other and thrusts them into a very toxic revenge frenzy which is tragic but at the same time very hilarious. So, if you like BEEF here are some movies and shows you could watch next.
The Glory (Netflix)
Synopsis: Years after surviving horrific abuse in high school, a woman puts an elaborate revenge scheme in motion to make the perpetrators pay for their crimes.
Synopsis: Steven Spielberg directs Duel, a high-velocity thriller about a motorist terrorized by an evil truck. As Spielberg's first full-length movie, Duel helped jumpstart the director's big-screen career, with a gripping, action-packed story hailed by critics as a film that "belongs on the classics shelf reserved for top suspensers" (Dailey Variety). Dennis Weaver stars as the traveling salesman waging a desperate battle for survival after he is mysteriously singled out. Praised for its deft use of relentlessly mounting psychological tension, Duel features one of the most uniquely terrifying "characters" in movie history: a massive, roaring, 40-ton truck with sheer menace.
---
Also Read: Shows Like 'Killing Eve' To Watch If You Miss the Series
---
Killing Eve (Hulu)
Synopsis: Based on the novellas by Luke Jennings Killing Eve centers on two women; Eve is a bored, whip-smart, pay-grade MI5 security officer whose desk-bound job doesn't fulfil her fantasies of being a spy. Villanelle is a mercurial, talented killer who clings to the luxuries her violent job affords her. Killing Eve topples the typical spy-action thriller as these two fiercely intelligent women, equally obsessed with each other, go head to head in an epic game of cat and mouse.
Synopsis: Academy Award winner Russell Crowe stars in Unhinged, a timely psychological thriller that explores the fragile balance of a society pushed to the edge, taking something we've all experienced- road rage – to an unpredictable and terrifying conclusion. Rachel (Caren Pistorius) is running late to work when she has an altercation at a traffic light with a stranger (Crowe) whose life has left him feeling powerless and invisible. Soon, Rachel finds herself and everyone she loves the target of a man who decides to make one last mark upon the world by teaching her a series of deadly lessons. What follows is a dangerous game of cat and mouse that proves you never know just how close you are to someone who is about to become unhinged.
---
Also Read: Shows Like 'Barry' To Watch While Waiting For Season 4
---
Barry (HBO Max)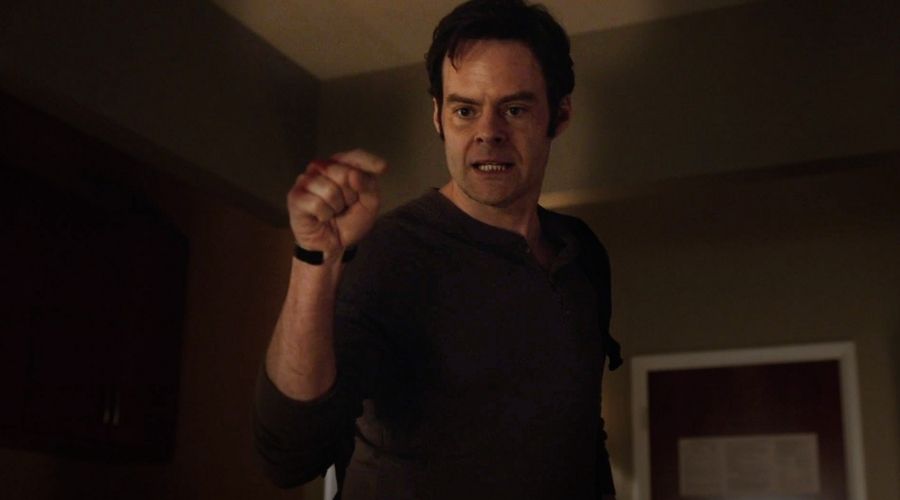 Synopsis: A cold-blooded hitman has a career epiphany when he's thrust into the intoxicating world of LA theatre in this dark comedy series starring Bill Hader ('Saturday Night Live'). In Season 1, Barry's handler (Stephen Root) hires him out to the deeply violent Chechen mob in Los Angeles. Barry's target: an aspiring actor whom Barry follows into an acting class taught by beloved teacher/guru Gene Cousineau (Henry Winkler). Instantly drawn to the craft and its students, particularly Sally (Sarah Goldberg), Barry wants to start a new life in this community of eager hopefuls. There's only one problem: his criminal past won't let him walk away.
---
Also Read: Shows Like 'Hannibal' To Watch If You Miss the Series
---
Hannibal (Hulu)
Synopsis: FBI Agent Will Graham (Hugh Dancy) hunts the most notorious serial killers. Graham is both gifted and cursed with an extraordinary ability: he can think like his prey, seeing what they see and feeling what they feel. While pursuing an especially troubling, cannibalistic murderer, Special Agent Jack Crawford (Laurence Fishburne) teams Graham with a highly respected psychiatrist – a man with a taste for the criminally minded: Dr. Hannibal Lecter (Mads Mikkelsen).
---
Also Read: Shows Like 'Fleabag' To Watch If You Miss the Series
---
Synopsis: Fleabag is a hilarious and poignant window into the mind of a dry-witted, sexual, angry, grief-riddled woman, as she hurls herself at modern living in London. Award-winning playwright Phoebe Waller-Bridge writes and stars as Fleabag, an unfiltered woman trying to heal, while rejecting anyone who tries to help her and keeping up her bravado all along.
Run (HBO Max)
Synopsis: One text can change everything. Ruby (Merritt Wever) and her former boyfriend Billy (Domhnall Gleeson) made a pact more than 15 years earlier: if either of them texted "RUN" and the other replied with the same, they would both drop everything and meet in Grand Central Station to travel across America. This wildly unconventional series follows the pair on their epic journey.
---
Also Read: Shows Like 'The End of the F***ing World' To Watch If You Miss the Series
---
The End of the F**king World (Netflix)
Synopsis: The End of the F***ing World has been adapted from Charles Forsman's award-winning comic books of the same name, written by Charlie Covell, with Alex Lawther and Jessica Barden leading the cast. They are joined by BAFTA award-winning Wunmi Mosaku and Gemma Whelan. James and Alyssa are rebel teenagers running away from home. On a weird and wonderful journey across a diverse British netherworld… From dreary suburbia and rundown shopping malls to lush landscapes and big vistas, they're on a quest to find a better life.