Movies about gambling and casino are inherently interesting because all of the games that are associated with them are games of skill, experience, and the most fun of all blind luck. So, we decided to make a list of the movies that feature a lot of gambling and take place in casinos. This means we won't be including films like Casino Royale as it features gambling in the background.
21
Synopsis: Inspired by the true story of MIT students who mastered the art of card counting and took Vegas casinos for millions in winnings. Looking for a way to pay for tuition, Ben Campbell (Jim Sturgess) finds himself quietly recruited by MIT's most gifted students in a daring plot to break Vegas. With the help of a brilliant statistics professor (Kevin Spacey) and armed with fake IDs, intelligence and a complicated system of counting cards, Ben and his friends succeed in breaking the impenetrable casinos. Now, his challenge is keeping the numbers straight and staying one step ahead of the casinos before it all spirals out of control.
The Cooler
Synopsis: The Cooler is Bernie Lootz (William H. Macy), the unluckiest man in Vegas. His bad luck is so contagious that Shelly Kaplow (Alec Baldwin), the last of the old time mobsters, uses Bernie to kill the high rollers' action at his casino. But when Bernie meets Natalie (Maria Bello) and falls in love, he gives a whole new meaning to being "unlucky in love."
Casino
Synopsis: Robert DeNiro, Sharon Stone and Joe Pesci star in director Martin Scorsese's riveting look at how blind ambition, white-hot passion and 24-karat greed toppled an empire. Las Vegas 1973 is the setting for this fact-based story about the Mob's multi-million dollar casino operation – where fortunes and lives were made and lost with a roll of the dice.
Molly's Game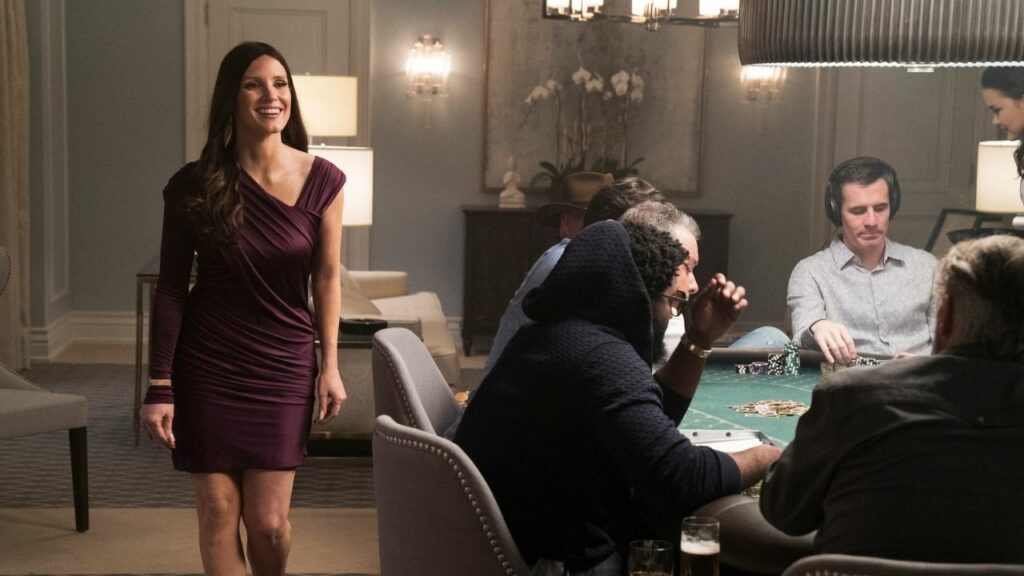 Synopsis: Molly's Game is based on the true story of Molly Bloom, an Olympic-class skier who ran the world's most exclusive high-stakes poker game for a decade before being arrested in the middle of the night by 17 FBI agents wielding automatic weapons. Her players included Hollywood royalty, sports stars, business titans and finally, unbeknownst to her, the Russian mob. Her only ally was her criminal defense lawyer Charlie Jaffey, who learned that there was much more to Molly than the tabloids led us to believe.
The Gambler (1974)
Synopsis: James Caan portrays a compulsive gambler who can't quit or win. He falls into debt to the mob for $40,000 but seems to relish the thrill of gambling against the long shot. As a professor of literature at a New York University, he is in over his head, until his mother gives him some money which he quickly tries to increase in Las Vegas. Unfortunately, the odds never allow him to win or fully recover, so his future is in the mob's hands. Caan and girlfriend Lauren Hutton are a sexy duo, and Caan aptly plays the risk-taker as a man with no future.
The Card Counter
Synopsis: Redemption is the long game in Paul Schrader's The Card Counter. Told with Schrader's trademark cinematic intensity, the revenge thriller tells the story of an ex-military interrogator turned gambler haunted by the ghosts of his past decisions, and features riveting performances from stars Oscar Isaac, Tiffany Haddish, Tye Sheridan and Willem Dafoe.
California Split
Synopsis: Bill Denny (George Segal) and Charlie Walters (Elliott Gould) are two compulsive gamblers with nothing in common except incredibly bad luck. But after a chance meeting at an LA card parlor, these twolosers find that together, they make an unbeatable team. Embarking on a once-in-a-lifetime winning streak, Bill and Charlie bet their way from the tacky racetracks and bars of Los Angeles to the plush casino tables of Reno, where they end up staking their good fortune on a "friendly" little game ofpoker with the legendary world champion, Amarillo Slim. A high-rolling comedy about two friends with an uncontrollable urge to score.
The Cincinnati Kid
Synopsis: Oscar-nominees and Golden Globe-winners Steve McQueen and Ann-Margret and Oscar-honoree Edward G. Robinson star in this suspenseful drama about a brash new poker player who takes on a hardcore veteran in a high stakes game in New Orleans. Co-starring Oscar-winner Karl Malden, Oscar-nominee and Emmy-winner Rip Torn, and Oscar-nominees Joan Blondell and Tuesday Weld. Blondell received a Golden Globe nomination for her performance. Directed by Academy Award-winner Norman Jewison.
Lock, Stock and Two Smoking Barrels
Synopsis: Four Jack-the-lads find themselves heavily – seriously heavily – in debt to an East End hard man and his enforcers after a crooked card game. Overhearing their neighbours in the next flat plotting to hold up a group of out-of-their-depth drug growers, our heroes decide to stitch up the robbers in turn. In a way the confusion really starts when a pair of antique double-barrelled shotguns go missing in a completely different scam.
Mississippi Grind
Synopsis: In this lively, freewheeling road movie, Emmy Award-nominee Ben Mendelsohn plays Gerry, a talented but down-on-his-luck gambler whose fortunes begins to change when he meets Curtis (Ryan Reynolds), a younger, highly charismatic poker player. The two strike up an immediate friendship and Gerry quickly persuades his new friend to accompany him on a road trip to a legendary high stakes poker game in New Orleans. As they make their way down the Mississippi River, Gerry and Curtis manage to find themselves in just about every bar, racetrack, casino, and pool hall they can find, experiencing both incredible highs and dispiriting lows, but ultimately forging a deep and genuine bond that will stay with them long after their adventure is over. Reminiscent of classic 1970s American Cinema, Mississippi Grind is an unforgettable journey featuring two characters who—flawed as they may be—are always worth rooting for. It's a film about friendship, addiction, regret, family, and the paths we sometimes unexpectedly find ourselves on—told with empathy, humor, and a remarkable light touch by acclaimed filmmakers Ryan Fleck and Anna Boden (Half Nelson, It's Kind of A Funny Story).