Netflix is a brilliant streaming service to watch prestige shows and while it is a bit behind in the movie scene, it is catching up with more and more brilliant original movies like Apostle, Enola Holmes, The Irishman, tick, tick…Boom!, and The Trial of the Chicago 7. Netflix is, without doubt, the best streaming service out there and today we are going to list the 10 most expensive Netflix original movies ever made.
10. Army of the Dead (Budget: $90 Million)
Synopsis: From filmmaker Zack Snyder (300, Watchmen, Zack Snyder's Justice League), Army of the Dead takes place following a zombie outbreak that has left Las Vegas in ruins and walled off from the rest of the world. When Scott Ward (Dave Bautista), a former zombie war hero who's now flipping burgers on the outskirts of the town he now calls home, is approached by casino boss Bly Tanaka (Hiroyuki Sanada), it's with the ultimate proposition: break into the zombie-infested quarantine zone to retrieve $200 million sitting in a vault beneath the strip before the city is nuked by the government in 32 hours. With little left to lose, Ward takes on the challenge, assembling a ragtag team of experts for the heist. With a ticking clock, a notoriously impenetrable vault, and a smarter, faster horde of Alpha zombies closing in, only one thing's for certain in the greatest heist ever attempted: survivors take all.
9. The Midnight Sky (Budget: $100 Million)
Synopsis: This post-apocalyptic tale follows Augustine (George Clooney), a lonely scientist in the Arctic, as he races to stop Sully (Felicity Jones) and her fellow astronauts from returning home to a mysterious global catastrophe. Clooney directs the adaptation of Lily Brooks-Dalton's acclaimed novel Good Morning, Midnight, co-starring David Oyelowo, Kyle Chandler, Demián Bichir and Tiffany Boone.
---
---
8. Bright (Budget: $106 Million)
Synopsis: Set in an alternate present-day, this action-thriller directed by David Ayer (Suicide Squad, End of Watch, writer of Training Day) follows two cops from very different backgrounds (Ward, a human played by Will Smith, and Jakoby, an orc played by Joel Edgerton) who embark on a routine patrol night that will ultimately alter the future as their world knows it. Battling both their own personal differences as well as an onslaught of enemies, they must work together to protect a thought-to-be-forgotten relic, which in the wrong hands could destroy everything. The Netflix original film stars Will Smith, Joel Edgerton, Noomi Rapace, Lucy Fry, Edgar Ramirez, Ike Barinholtz, Enrique Murciano, Jay Hernandez, Andrea Navedo, Veronica Ngo, Alex Meraz, Margaret Cho, Brad William Henke, Dawn Oliveri, and Kenneth Choi. The film is directed by David Ayer and written by Max Landis. David Ayer, Eric Newman, and Bryan Unkeless serve as producers.
7. The Mitchells vs. The Machines (Budget: $110 Million)
Synopsis: From the humans who brought you the Academy Award-winning Spider-Man: Into the Spider-Verse and The LEGO Movie comes The Mitchells vs. The Machines, an animated action-comedy about an ordinary family who find themselves in the middle of their biggest family challenge yet…saving the world from the robot apocalypse. No big deal, right? It all starts when creative outsider Katie Mitchell is accepted into the film school of her dreams and is eager to leave home and find "her people," when her nature-loving dad insists on having the whole family drive her to school and bond during one last totally-not-awkward-or-forced road trip. But just when the trip can't get any worse, the family suddenly finds itself in the middle of the robot uprising! Everything from smart phones, to roombas, to evil Furbys are employed to capture every human on the planet. Now it's up to the Mitchells, including upbeat mom Linda, quirky little brother Aaron, their squishy pug, Monchi, and two friendly, but simple-minded robots to save humanity. Directed by Michael Rianda (Gravity Falls), produced by Oscar winners Phil Lord and Chris Miller, and Kurt Albrecht, and featuring the voices of Abbi Jacobson, Danny McBride, Maya Rudolph, Beck Bennett, Fred Armisen, Eric Andre, and Oscar winner Olivia Colman, The Mitchells vs. The Machines is about embracing the things that make us unique, learning what it means to be human in a world increasingly filled with technology, and holding tight to the people most important to you when the unexpected hits.
6. Triple Frontier (Budget: $115 Million)
Synopsis: A group of former Special Forces operatives (Ben Affleck, Oscar Isaac, Charlie Hunnam, Garrett Hedlund and Pedro Pascal) reunite to plan a heist in a sparsely populated multi-border zone of South America. For the first time in their prestigious careers these unsung heroes undertake this dangerous mission for self instead of country. But when events take an unexpected turn and threaten to spiral out of control, their skills, their loyalties and their morals are pushed to a breaking point in an epic battle for survival. Directed by Academy Award® nominee J.C. CHANDOR (Margin Call, All Is Lost, A Most Violent Year) and co-written by Chandor and Academy Award® winner MARK BOAL (The Hurt Locker, Zero Dark Thirty).
5. Outlaw King (Budget: $120 Million)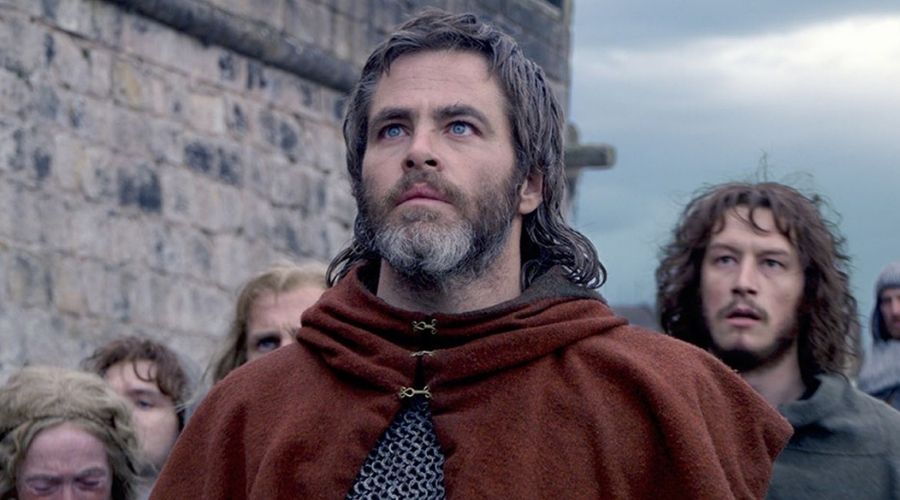 Synopsis: The untold, true story of Robert the Bruce who transforms from defeated nobleman to outlaw hero during the oppressive occupation of medieval Scotland by Edward I of England. Despite grave consequences, Robert seizes the Scottish crown and rallies an impassioned group of men to fight back against the mighty army of the tyrannical King and his volatile son, the Prince of Wales. Filmed in Scotland, Outlaw King reunites director David Mackenzie (Hell or High Water) with star Chris Pine alongside Aaron Taylor-Johnson, Florence Pugh and Billy Howle.
---
---
4. 6 Underground (Budget: $150 Million)
Synopsis: What's the best part of being dead? It isn't escaping your boss, your ex, or even erasing your criminal record. The best part about being dead…is the freedom. The freedom to fight the injustice and evil that lurk in our world without anyone or anything to slow you down or tell you "no." 6 Underground introduces a new kind of action hero. Six individuals from all around the globe, each the very best at what they do, have been chosen not only for their skill, but for a unique desire to delete their pasts to change the future. The team is brought together by an enigmatic leader (Ryan Reynolds), whose sole mission in life is to ensure that, while he and his fellow operatives will never be remembered, their actions damn sure will.
3. The Irishman (Budget: $160 Million)
Synopsis: Robert De Niro, Al Pacino and Joe Pesci star in Martin Scorsese's THE IRISHMAN, an epic saga of organized crime in post-war America told through the eyes of World War II veteran Frank Sheeran, a hustler and hitman who worked alongside some of the most notorious figures of the 20th century. Spanning decades, the film chronicles one of the greatest unsolved mysteries in American history, the disappearance of legendary union boss Jimmy Hoffa, and offers a monumental journey through the hidden corridors of organized crime: its inner workings, rivalries and connections to mainstream politics.
2. The Gray Man (Budget: $200 Million)
Synopsis: The Gray Man is based on Mark Greaney's spy thriller book series of the same name. The Netflix original stars is one of the most expensive Netflix has ever made and it stars an impressive cast including Chris Evans, Ryan Gosling, Ana de Armas, and Regé-Jean Page. The Gray Man follows Court Gentry (Gosling), who is a CIA black ops mercenary who goes on a worldwide hunt when he finds out that someone in his own agency is a criminal.
1. Red Notice (Budget: $200 Million)
Synopsis: When an Interpol-issued Red Notice — the highest level warrant to hunt and capture the world's most wanted— goes out, the FBI's top profiler John Hartley (Dwayne Johnson) is on the case. His global pursuit finds him smack dab in the middle of a daring heist where he's forced to partner with the world's greatest art thief Nolan Booth (Ryan Reynolds) in order to catch the world's most wanted art thief, "The Bishop" (Gal Gadot). The high-flying adventure that ensues takes the trio around the world, across the dance floor, trapped in a secluded prison, into the jungle and, worst of all for them, constantly into each other's company. The all star cast is joined by Ritu Arya and Chris Diamantopolous. Directed and written by Rawson Marshall Thurber (Central Intelligence, Skyscraper) and produced by Hiram Garcia, Dwayne Johnson and Dany Garcia of Seven Bucks Productions, Beau Flynn's Flynn Picture Co. and Thurber's Bad Version, Inc., Red Notice is a stylish globe-trotting game of cat-and-mouse (and cat).