Halloween is upon us and it's time to watch something spooky. Horror is the best genre for this season as it has the most awesome horror-based holiday. So, hollow out the pumpkin, get some candy, and see these horror films on HBO Max for Halloween.
Annabelle
Synopsis: Before The Conjuring, there was Annabelle. Capable of unspeakable evil, the actual Annabelle doll exists locked up in an occult museum in Connecticut — visited only by a priest who blesses her twice a month. In this supernatural thriller from producer James Wan, Annabelle's story begins before the evil was unleashed. John Form (Ward Horton — The Wolf of Wall Street) has found the perfect gift for his expectant wife, Mia (Annabelle Wallis — X Men: First Class) — a beautiful, rare vintage doll in a pure white wedding dress. But Mia's delight with Annabelle doesn't last long. On one horrific night, their home is invaded by members of a satanic cult, who violently attack the couple. Spilled blood and terror are not all they leave behind. The cultists have conjured an entity so malevolent that nothing they did will compare to the sinister conduit to the damned that is now…Annabelle.​
Freaky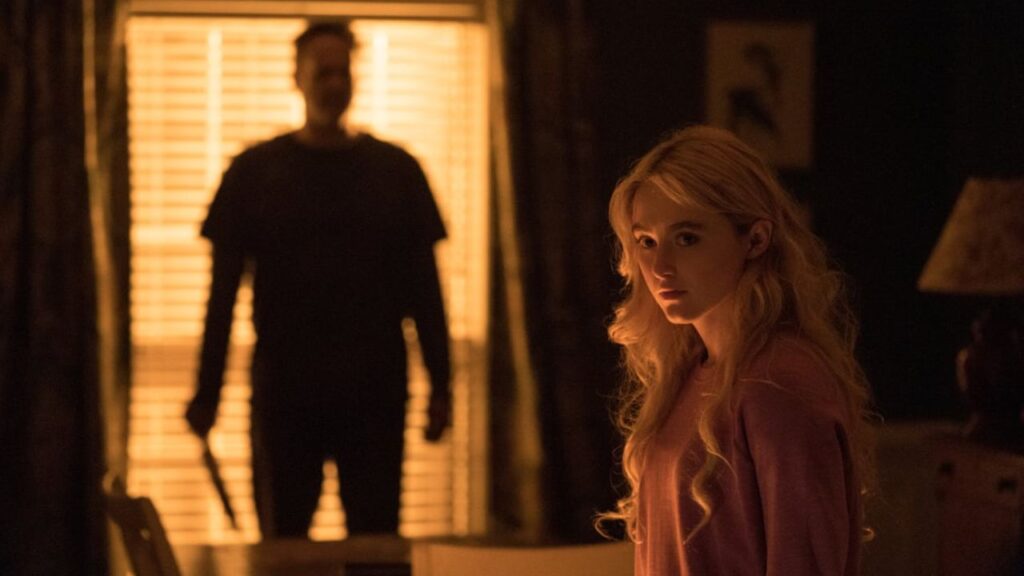 Synopsis: A teen who magically swaps bodies with a serial killer finds that she has less than 24 hours before the switch becomes permanent in this entertaining, genre-bending horror comedy. Vince Vaughn, Kathryn Newton, Katie Finneran, Celeste O'Connor, and Alan Ruck star. Directed by Christopher Landon; written by Michael Kennedy & Christopher Landon.
Final Destination
Synopsis: Alex Browning is among a group of high school students readying themselves for a trip to Europe. When he suddenly has a premonition their airplane will crash, he screams out in panic to warn the others but instead he is thrown off of the plane. Alex is luckily one of seven students who skip the flight getting off the aircraft moments before an explosion rips through the cabin, destroying the plane in midair. However, the seven students soon find out that the Grim Reaper doesn't like to be cheated when the surviving students start dying mysteriously one by one.
The Night House
Synopsis: Reeling from the unexpected death of her husband, Beth (Rebecca Hall) is left alone in the lakeside home he built for her. She tries as best she can to keep it together – but then nightmares come. Disturbing visions of a presence in the house calling to her, beckoning her with a ghostly allure. Against the advice of her friends, she begins digging into her husband's belongings, yearning for answers. What she finds are secrets both strange and disturbing – a mystery she's determined to unravel. THE NIGHT HOUSE stars Rebecca Hall (HOLMES & WATSON, CHRISTINE), Sarah Goldberg (Barry, Elementary), Vondie Curtis Hall (DIE HARD 2, EVE'S BAYOU), Evan Jonigkeit (Togetherish, Sweetbitter), and Stacy Martin (VOX LUX, NYMPHOMANIAC).
The Witch
Synopsis: New England, 1630. Upon threat of banishment by the church, an English farmer leaves his colonial plantation, relocating his wife and five children to a remote plot of land on the edge of an ominous forest—within which lurks an unknown evil. Strange and unsettling things begin to happen almost immediately—animals turn malevolent, crops fail, and one child disappears as another becomes seemingly possessed by an evil spirit. With suspicion and paranoia mounting, family members accuse teenage daughter Thomasin of witchcraft, charges she adamantly denies. As circumstances grow more treacherous, each family member's faith, loyalty and love become tested in shocking and unforgettable ways.
In this exquisitely made and terrifying new horror film, the age-old concepts of witchcraft, black magic and possession are innovatively brought together to tell the intimate and riveting story of one family's frightful unraveling in the New England wilderness.
The Conjuring
Synopsis: In 1970, paranormal investigators and demonologists Lorraine and Ed Warren are summoned to the home of Carolyn and Roger Perron. The Perrons and their five daughters have recently moved into a secluded farmhouse, where a supernatural presence has made itself known. Though the manifestations are relatively benign at first, events soon escalate in horrifying fashion, especially after the Warrens discover the house's macabre history.
Malignant
Synopsis: Director James Wan, architect of The Conjuring universe, Insidious, and Saw, returns to his original horror roots with Malignant. Madison is paralyzed by shocking visions of grisly murders, and her torment worsens when she discovers that these waking dreams are really terrifying realities.
Old
Synopsis: Visionary filmmaker M. Night Shyamalan unveils a chilling, mysterious thriller about a family on a tropical holiday who discover that the secluded beach where they are relaxing for a few hours is somehow causing them to age rapidly…reducing their entire lives into a single day.
Halloween Kills
Synopsis: The Halloween night when Michael Myers returned isn't over yet. Michael manages to free himself from Laurie Strode's (Jamie Lee Curtis) trap to resume his ritual bloodbath. As Laurie fights for her life from injuries from her last encounter with Michael, she inspires her daughter Karen (Judy Greer), granddaughter Allyson (Andi Matichak), and all of Haddonfield to rise up against their unstoppable monster. The vigilante mob then sets out to hunt Michael down, once and for all. Evil dies tonight.
The Blair Witch Project
Synopsis: Found video footage tells the tale of three film students who traveled to a small town to collect documentary footage about the Blair Witch, a legendary local murderer. The project takes a frightening turn when they lose their way in the woods and begin hearing horrific noises.
It
Synopsis: Every 27 years, an ancient evil awakens in the town of Derry, Maine…and it has an insatiable appetite for children. From the terrifying bestseller by Stephen King comes this blockbuster that follows a group of bullied kids who are forced to face the murderous, shape-shifting creature that appears in the form of a malevolent clown named Pennywise.
A Nightmare on Elm Street
Synopsis: A group of teenagers are terrorized by Freddy Krueger, an evil being from another world who gets to his victims by entering their dreams and killing them with gloves that have knife blades attached to each finger.
Poltergeist
Synopsis: In her family's suburban home, ghosts begin communicating with five-year-old Carol Anne through the static on the television screen. At first the spirits seem to be friendly, but using the television as their portal to enter the house, they kidnap Carol Anne. As her desperate family tries to rescue the little girl, they are terrorized by the ghosts and their demonic leader, The Beast.
Night of the Living Dead
Synopsis: A disparate group of individuals takes refuge in an abandoned house when corpses begin to leave the graveyard in search of fresh human bodies to devour. The pragmatic Ben does his best to control the situation, but when the murderous zombies surround the house, the other survivors begin to panic.
Little Shop of Horrors
Synopsis: A skid-row florist's "mean green mother" of a monster plant is the center of "the looniest, nuttiest, most outrageous movie musical comedy in years" (Jeffrey Lyons, Sneak Preview). Rick Moranis, Steve Martin, Ellen Green, Billy Murray and other comedy greats star.
American Psycho
Synopsis: Patrick Bateman (Christian Bale) is a wall street yuppie, obsessed with success, status, and style, with a stunning fiancée (Reese Witherspoon). He is also a psychotic killer who rapes, murders, and dismembers both strangers and acquaintances without provocation or purpose. Based on the controversial novel, the film offers a sharp satire to the dark side of yuppie culture in the '80s, while setting forth a vision that is both terrifying and chilling.