Florence Pugh is one of the most talked about and talented actor working in Hollywood right now. In only six years the English actress has made a name for herself as a powerhouse performer. Pugh has worked in both indie films as well big-budget spectacles like Marvel films. Pugh's breakout role came through her haunting performance in Lady Macbeth, and then she has worked in some of the most celebrated films since then. So, if you also love Pugh's performances here are the best movies and shows starring Florence Pugh you should watch.
11. Black Widow (Disney+)
Synopsis: In Marvel Studios' action-packed spy thriller "Black Widow," Natasha Romanoff aka Black Widow confronts the darker parts of her ledger when a dangerous conspiracy with ties to her past arises. Pursued by a force that will stop at nothing to bring her down, Natasha must deal with her history as a spy and the broken relationships left in her wake long before she became an Avenger. Scarlett Johansson reprises her role as Natasha/Black Widow, Florence Pugh stars as Yelena, David Harbour portrays Alexei/The Red Guardian, and Rachel Weisz is Melina. "Black Widow"-the first film in Phase Four of the Marvel Cinematic Universe-is directed by Cate Shortland and produced by Kevin Feige.
10. Outlaw King (Netflix)
Synopsis: The untold, true story of Robert the Bruce who transforms from defeated nobleman to outlaw hero during the oppressive occupation of medieval Scotland by Edward I of England. Despite grave consequences, Robert seizes the Scottish crown and rallies an impassioned group of men to fight back against the mighty army of the tyrannical King and his volatile son, the Prince of Wales. Filmed in Scotland, Outlaw King reunites director David Mackenzie (Hell or High Water) with star Chris Pine alongside Aaron Taylor-Johnson, Florence Pugh and Billy Howle.
9. The Falling (Prime Video & Pluto TV)
Synopsis: It's 1969 at a strict English girls' school where charismatic Abbie and intense and troubled Lydia are best friends. After a tragedy occurs at the school, a mysterious fainting epidemic breaks out, threatening the stability of all involved.
---
Also Read: Shows Like 'Hawkeye' To Watch If You Like the Series
---
8. Hawkeye (Disney+)
Synopsis: Marvel Studios' "Hawkeye" stars Jeremy Renner as Hawkeye, who teams up with another well-known archer from the Marvel comics, Kate Bishop, played by Hailee Steinfeld. The cast also includes Vera Farmiga, Fra Fee, Tony Dalton, Zahn McClarnon, Brian d'Arcy James and newcomer Alaqua Cox as Maya Lopez. "Hawkeye" is helmed by Rhys Thomas and directing duo Bert and Bertie.
7. The Wonder (Netflix)
Synopsis: 1862, 13 years after the Great Famine. An English Nightingale Nurse Lib Wright (Florence Pugh) is called to the Irish Midlands by a devout community to conduct a 15-day examination over one of their own. Anna O'Donnell (Kíla Lord Cassidy) is an 11-year-old girl who claims not to have eaten for four months, surviving miraculously on "manna from heaven". As Anna's health rapidly deteriorates, Lib is determined to unearth the truth, challenging the faith of a community that would prefer to stay believing.
6. Fighting With My Family (Prime Video)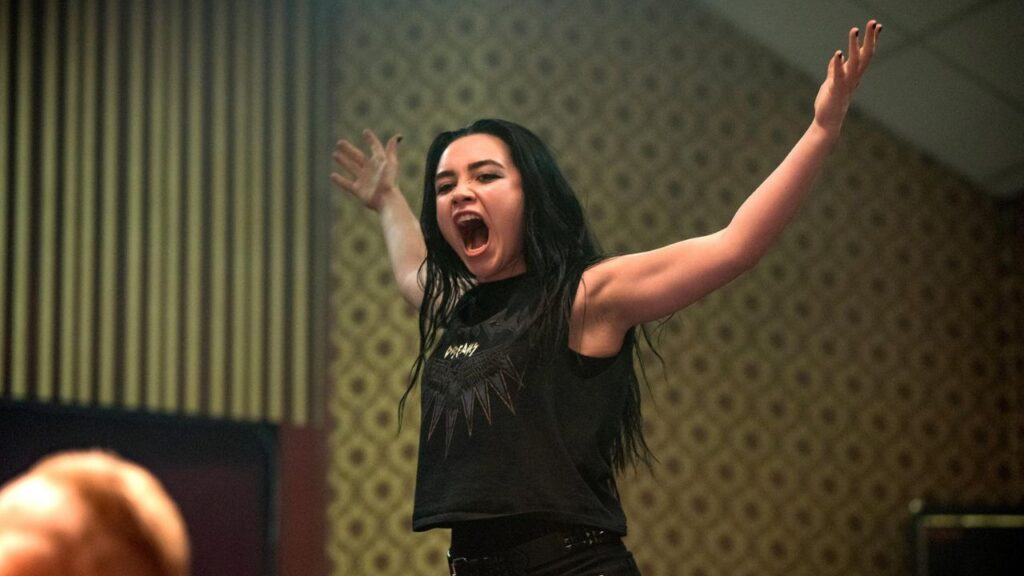 Synopsis: Based on a true story, Fighting With My Family follows reformed gangster Ricky, wife Julia, daughter Paige and son Zak as they make a living wrestling together in tiny venues. When Paige and Zak get the opportunity to try out for WWE, the family grabs a once-in-a-lifetime chance to turn their wildest dreams into a dazzling future. However, brother and sister quickly discover that to become superstars, both their talent and their relationship will be put to the test. Fighting With My Family is a heartwarming and smart comedy that proves everything is worth fighting for when it comes to family.
Synopsis: Set in the fictional present and starring Anthony Hopkins, the 80 year-old King Lear divides his kingdom among his daughters, Goneril, Regan and Cordelia, according to their affection for him. When his youngest daughter, Cordelia, refuses to flatter him, hurt and angry Lear banishes her. With that fateful decision, family and state collapse into chaos and warfare.
4. The Little Drummer Girl (AMC+)
Synopsis: Based on John le Carré's best-selling literary masterpiece of the same name, The Little Drummer Girl is a passionate love story and a deeply immersive thriller. As audacious now as when the book was first published, it portrays a world in which the lines between hero and villain, and between love and hate, are dangerously in flux. The six-part miniseries stars Emmy® and Golden Globe® Award winner Alexander Skarsgård (Big Little Lies) as Becker, twice Academy Award-nominated Michael Shannon (The Shape of Water) as Kurtz and BAFTA-nominated Florence Pugh (Lady Macbeth) as Charlie. Set in the late 1970s, the pulsating thriller follows Charlie (Pugh), a young, fiery but unfulfilled British actress and idealist whose resolve is tested after she meets the mysterious Becker (Skarsgård) while on holiday in Greece. It quickly becomes apparent that his intentions are not what they seem, and her encounter with him entangles her in a complex plot devised by the spy mastermind Kurtz (Shannon). Charlie takes on the role of a lifetime as a double agent in the 'Theatre of the Real', but despite her natural mastery of the task at hand, she increasingly finds herself inexorably drawn into a dangerous world of duplicity and compromised humanity. Blurring the fine lines between love and hate; truth and fiction; and right and wrong; The Little Drummer Girl weaves a suspenseful and explosive story of espionage and high-stakes international intrigue.
3. Lady Macbeth (Prime Video & Tubi)
Synopsis: Rural England, 1865. Katherine (Florence Pugh) is stifled by her loveless marriage to a bitter man twice her age, and his cold, unforgiving family. When she embarks on a passionate affair with a young worker on her husband's estate, a force is unleashed inside her so powerful that she will stop at nothing to get what she wants.
2. Little Women (Starz)
Synopsis: Writer-director Greta Gerwig (Lady Bird) has crafted a Little Women that draws on both the classic novel and the writings of Louisa May Alcott, and unfolds as the author's alter ego, Jo March, reflects back and forth on her fictional life. In Gerwig's take, the beloved story of the March sisters – four young women each determined to live life on her own terms — is both timeless and timely. Portraying Jo, Meg, Amy, and Beth March, the film stars Saoirse Ronan, Emma Watson, Florence Pugh, Eliza Scanlen, with Timothée Chalamet as their neighbor Laurie, Laura Dern as Marmee, and Meryl Streep as Aunt March.
Synopsis: Dani and Christian are a young American couple with a relationship on the brink of falling apart. But after a family tragedy keeps them together, a grieving Dani invites herself to join Christian and his friends on a trip to a once-in-a-lifetime midsummer festival in a remote Swedish village. What begins as a carefree summer holiday in a land of eternal sunlight takes a sinister turn when the insular villagers invite their guests to partake in festivities that render the pastoral paradise increasingly unnerving and viscerally disturbing. From the visionary mind of Ari Aster comes a dread-soaked cinematic fairytale where a world of darkness unfolds in broad daylight.