The Wheel of Time is Prime Video's attempt at making a sweeping epic fantasy adventure series and for the most part, they are pretty successful in making The Wheel of Time a brilliant series that is an honest interpretation of the source material. The fantasy series has everything working for it from a brilliant cast to great creators and a storyline containing a story about a world-ending threat and a fight between good and evil. The Wheel of Time recently concluded its second season, so while you wait for any updates to come out on Season 3. Here are some similar shows you could watch until then.
The Witcher (Netflix)
Synopsis: Netflix, "The Witcher" is an epic tale of fate and family. Geralt of Rivia, a solitary monster hunter, struggles to find his place in a world where people often prove more wicked than beasts. But when destiny hurtles him toward a powerful sorceress, and a young princess with a dangerous secret, the three must learn to navigate the increasingly volatile Continent together."
A Discovery of Witches (Max, AMC+ & Prime Video Add-On)
Synopsis: Historian Diana Bishop is a witch denying her own heritage. When she unexpectedly calls up an ancient, bewitched manuscript from Oxford's library, she finds herself thrown into the heart of a dangerous mystery – and into the path of the enigmatic vampire Matthew Clairmont. Matthew is driven to solve the looming threat of the creatures' decline and extinction. But their unlikely alliance to find the book before it falls into the wrong hands – and their deepening relationship – threatens to violate age-old taboos and shake the fragile peace that exists between the species.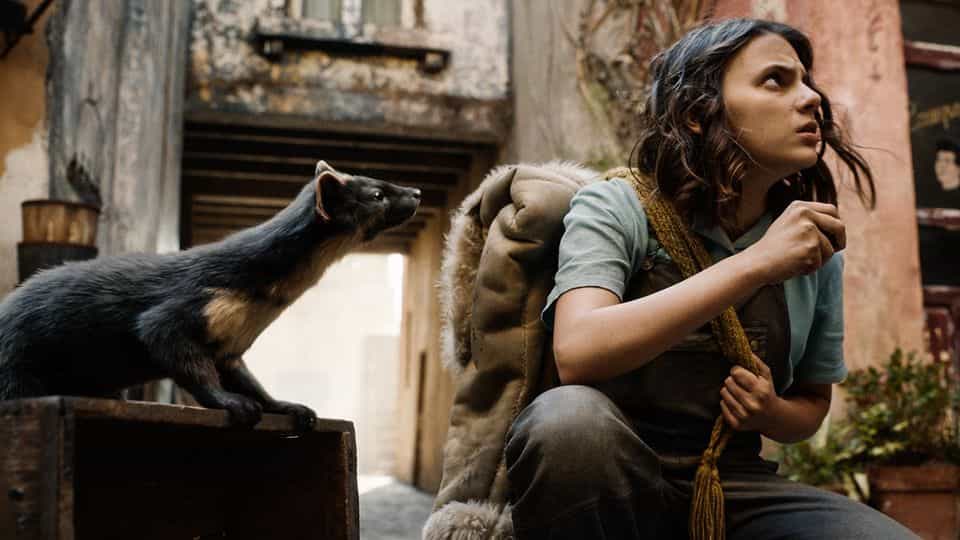 Synopsis: His Dark Materials stars Dafne Keen, James McAvoy, Ruth Wilson and Lin-Manuel Miranda. Adapting Philip Pullman's award-winning trilogy of the same name, which is considered a modern masterpiece of imaginative fiction, the first season follows Lyra, a seemingly ordinary but brave young woman from another world. Her search for a kidnapped friend uncovers a sinister plot involving stolen children, and becomes a quest to understand a mysterious phenomenon called Dust. As she journeys through the worlds, including our own, Lyra meets Will, a determined and courageous boy. Together, they encounter extraordinary beings and dangerous secrets, with the fate of both the living — and the dead — in their hands.
Loki (Disney+)
Synopsis: Marvel Studios' "Loki" features the God of Mischief as he steps out of his brother's shadow in a new Disney+ series that takes place after the events of "Avengers: Endgame." Tom Hiddleston returns as the title character, joined by Owen Wilson, Gugu Mbatha-Raw, Sophia Di Martino, Wunmi Mosaku and Richard E. Grant. Kate Herron directs "Loki," and Michael Waldron is head writer.
Synopsis: Set thousands of years in our future, the story follows three heroes, Amberle, an Elvin Princess, Eretria, a Human Rover, and Wil, a Half-Elf, Half-Human, as they embark on a quest to stop an evil Demon army.
Synopsis: With a serial killer loose on Carnival Row, and a government that turns a blind eye to the deaths of its lower class citizens, Rycroft Philostrate, a war-hardened investigator, is the only person willing to stop the murders and maintain the fragile peace. But when Vignette Stonemoss, a faerie refugee, turns up in the Burgue, she forces Philo to reckon with a past he's tried to forget.
Synopsis: Trouble is brewing in Westeros. For the inhabitants of this world, control of the Iron Throne holds the lure of great power. But in a land where seasons can last a lifetime, winter is coming…and beyond the Great Wall that protects them, a forgotten evil has returned. HBO presents this epic series based on the book series 'A Song of Ice and Fire' by George R.R. Martin.
Shadow and Bone (Netflix)
Synopsis: Based on Leigh Bardugo's worldwide bestselling Grishaverse novels, Shadow and Bone finds us in a war-torn world where lowly soldier and orphan Alina Starkov has just unleashed an extraordinary power that could be the key to setting her country free. With the monstrous threat of the Shadow Fold looming, Alina is torn from everything she knows to train as part of an elite army of magical soldiers known as Grisha. But as she struggles to hone her power, she finds that allies and enemies can be one and the same and that nothing in this lavish world is what it seems. There are dangerous forces at play, including a crew of charismatic criminals, and it will take more than magic to survive. Shadow and Bone is a Netflix production from 21 Laps Entertainment, starring Jessie Mei Li (Alina Starkov), Archie Renaux (Malyen Oretsev), Freddy Carter (Kaz Brekker), Amita Suman (Inej), Kit Young (Jesper Fahey), and Ben Barnes (General Kirigan).
Synopsis: Merlin will one day be the greatest wizard that the world will ever know, but for now, he is just a young man, geeky and awkward, who must keep his talent hidden in a kingdom where magic is banned or face certain death. In this ambitious and action-packed drama, the myths, monsters and magic of the legends are revitalized and given a modern twist in preparation for their inevitable destinies.
Synopsis: In the Nevers, Victorian London is rocked to its foundations by a supernatural event that gives certain people — mostly women — abnormal abilities, from the wondrous to the disturbing. But no matter their particular "turns," all who belong to this new underclass are in grave danger. It falls to mysterious, quick-fisted widow Amalia True (Laura Donnelly) and brilliant young inventor Penance Adair (Ann Skelly) to protect and shelter these gifted "orphans." To do so, they will have to face the brutal forces determined to annihilate their kind.