Netflix's fantasy series Locke & Key is based on a comic series by Joe Hill and Gabriel Rodriguez. Locke & Key is coming back for its third season on Netflix in some time, and until we get to see the third season we have 10 similar shows that are like the aforementioned fantasy series in some of their aspects be it the kids banding together to save their family or the world, or the fantasy and mystery side of the Netflix series.
---
Also Read: Shows Like 'Shadowhunters' To Watch If You Miss the Series
---
Shadowhunters (Hulu & Apple TV)
Synopsis: Based on the bestselling young adult fantasy book series The Mortal Instruments by Cassandra Clare, "Shadowhunters" follows 18-year-old Clary Fray, who finds out on her birthday that she is not who she thinks she is but rather comes from a long line of Shadowhunters – human-angel hybrids who hunt down demons. When her mother, Jocelyn, is kidnapped, Clary is thrown into the world of demon hunting with mysterious Shadowhunter Jace and her best friend, Simon. Now living among faeries, warlocks, vampires and werewolves, Clary begins a journey of self-discovery as she learns more about her past and what her future may hold.
---
Also Read: Supernatural Shows Like 'Chilling Adventures of Sabrina' To Watch If You Miss the Series
---
Chilling Adventures of Sabrina (Netflix)
Synopsis: Chilling Adventures of Sabrina imagines the origin and adventures of Sabrina the Teenage Witch as a dark coming-of-age story that traffics in horror, the occult and, of course, witchcraft. This adaptation finds Sabrina wrestling to reconcile her dual nature —half-witch, half-mortal —while standing against the evil forces that threaten her, her family and the daylight world humans inhabit.
---
Also Read: Shows Like 'The Order' To Watch If You Miss the Series
---
The Order (Netflix)
Synopsis: Out to avenge his mother's death, a college student pledges a secret order and lands in a war between werewolves and practitioners of dark magic.
Ragnarok (Netflix)
Synopsis: In Norse Mythology, the world will end with Ragnarok, the final clash between the Gods and the Giants. The Giants won the battle and have reigned over the Earth ever since. They have wrought havoc and exploited the Earth and made themselves its rulers – causing so much damage that the world is on the brink of collapse. But now, in modern-day Norway, destiny has finally chosen to reincarnate one of the old Gods. He is destined to be the one to take up arms against injustice, evil and the supremacy of the Giants. Only problem: he just wants to be an ordinary teenager, living with his mom and little brother in the Norwegian town of Edda. Not some God.
Mortel (Netflix)
Synopsis: After making a deal with a supernatural figure, two high schoolers emerge with extraordinary powers and join forces to solve a murder.
---
Also Read: Shows Like 'The Umbrella Academy' To Watch While Waiting For Season 4
---
The Umbrella Academy (Netflix)
Synopsis: On the same day in 1989, forty-three infants are inexplicably born to random, unconnected women who showed no signs of pregnancy the day before. Seven are adopted by a billionaire who creates The Umbrella Academy and prepares his "children" to save the world. Now, the six surviving members reunite upon the news of their father's passing and must work together to solve a mystery surrounding his death. But the estranged family begins to come apart due to their divergent personalities and abilities, not to mention the imminent threat of a global apocalypse. The Umbrella Academy is based on the comic book series created and written by Gerard Way, illustrated by Gabriel Bá, and published by Dark Horse Comics.
---
Also Read: Shows Like 'The Hardy Boys' To Watch While Waiting For the Final Season
---
The Hardy Boys (Hulu)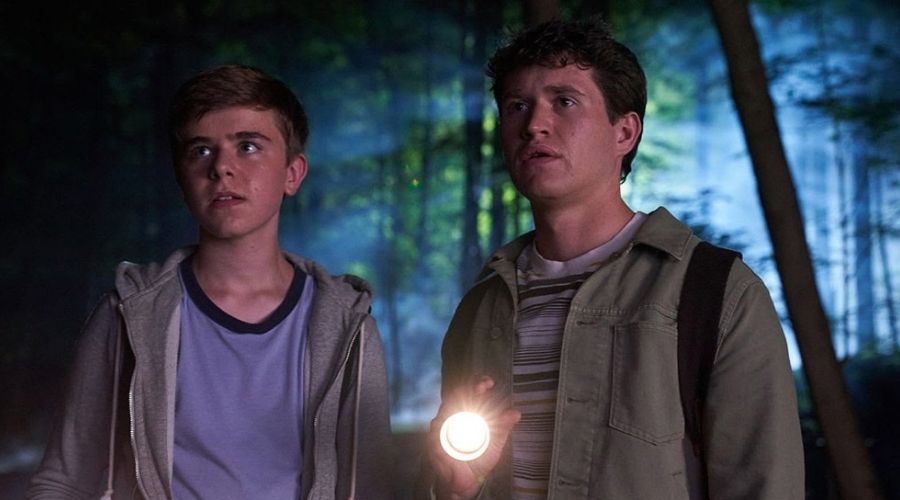 Synopsis: After a family tragedy strikes, Frank Hardy and his brother Joe are forced to move from the big city to their parent's hometown of Bridgeport for the summer. Staying with their Aunt Trudy, Frank and Joe's quiet summer quickly comes to a halt when they discover their Dad, detective Fenton Hardy has taken on a secret investigation. Realizing that their Dad may be onto something the boys take it upon themselves to start an investigation of their own, and suddenly everyone in town is a suspect.
---
Also Read: Best Shows Like 'Stranger Things' To Watch After Season 4
---
Stranger Things (Netflix)
Synopsis: A love letter to the supernatural classics of the 80's, Stranger Things is the story of a young boy who vanishes into thin air. As friends, family and local police search for answers, they are drawn into an extraordinary mystery involving top-secret government experiments, terrifying supernatural forces and one very strange little girl.
---
Also Read: Mind-Bending Shows Like 'Dark' To Watch If You Miss the Series
---
Dark (Netflix)
Netflix's mind-bending German thriller series Dark is the best sci-fi and time-travel series of all time and that is a statement that millions of people will agree with. Dark begins with the disappearance of two children which later on evolves into a sinister conspiracy that involves time travel and connections that tie the whole town together. Dark ran for three seasons and with every new season, the series got better and better, which seemed impossible because every season of the series was so perfect.
A Series of Unfortunate Events (Netflix)
Synopsis: Based on the internationally best-selling series of books by Lemony Snicket (aka Daniel Handler) and starring Emmy and Tony Award winner Neil Patrick Harris, Lemony Snicket's A Series of Unfortunate Events recounts the tragic tale of the Baudelaire orphans — Violet, Klaus, and Sunny – whose evil guardian Count Olaf will stop at nothing to get his hands on their inheritance. The siblings must outsmart Olaf at every turn, foiling his many devious plans and disguises, in order to discover clues to their parents' mysterious death. The eight-episode series is a Netflix original production, executive produced by Emmy Award winner Barry Sonnenfeld and Daniel Handler, and also stars Patrick Warburton (Lemony Snicket), Joan Cusack (Justice Strauss), Malina Weissman (Violet Baudelaire) and Louis Hynes (Klaus Baudelaire).