Netflix has always been the streaming service that has everything for everyone, and its the same case for all the fantasy and sci-fi fans out there, because even if we talk about just the Netflix originals, they have made brilliant shows like Stranger Things and Shadow and Bones, but there are also shows that are streaming on Netflix, which are also some of the most popular fantasy and sci-fi shows like The Flash and Outlander.
So, we have made a list of the 20 best fantasy and sci-fi shows on Netflix right now, the shows on this list are not ranked.
iZombie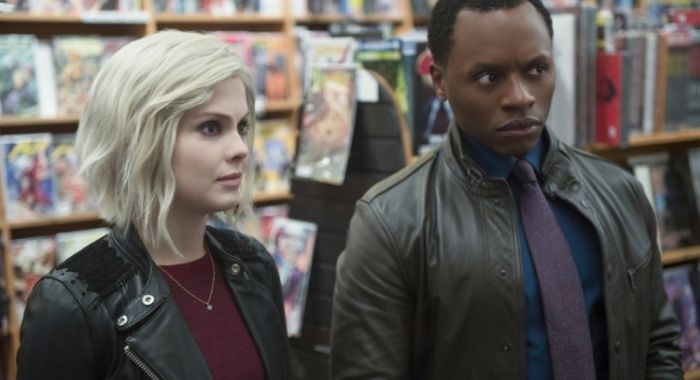 Synopsis: From the executive producers of Veronica Mars, iZombie stars Rose McIver (Masters of Sex, Once Upon a Time) as Olivia "Liv" Moore, a medical resident on the fast track to a perfect life … until she's turned into a zombie. Now stuck between half-alive and undead, Liv transfers to the city morgue to reluctantly access the only thing that allows her to maintain her humanity — human brains. But there are side effects to Liv's new diet. With each brain she consumes, she experiences flashes of the corpse's memories — including, at times, clues as to how they were killed. Her brilliant and eccentric boss encourages her to embrace this gift and to work with an eager, unproven homicide detective to help solve these murders … and quiet the voices in her head. iZombie is based upon characters published by DC Entertainment's Vertigo imprint.
---
---
Chilling Adventures of Sabrina
Synopsis: In the town of Greendale, where it always feels like Halloween, sixteen-year-old Sabrina Spellman faces a daunting decision. Born half-witch, half-mortal, she must choose between two worlds: the supernatural world of her family and the human world of her friends – while standing against the evil forces that threaten her, her family, and the daylight world humans inhabit. Raised by stern Aunt Zelda and maternal Aunt Hilda, Sabrina finds comfort in best friends Harvey, Roz, and Theo, as well as Ambrose, her warlock cousin, and partner in crime. Proving herself a powerful adversary as she hones her sorcery skills at the Academy of Unseen Arts, Sabrina soon learns the Dark Lord's true intentions and ultimate plan for her future. Tonally in the vein of Rosemary's Baby and The Exorcist, this dark coming-of-age story, based on the Archie Comics graphic novel, is a fiendishly enticing reimagining of the beloved comic book characters.
Lost in Space
Synopsis: Lost in Space is a Netflix Original based on Irwin Allen's classic 1960's science fiction series. In this modern update from Legendary Television, the Robinson family, part of a highly trained mission to establish a new colony in space, is unexpectedly pulled off course forcing them to crash land on a lost planet.
Disenchantment
Synopsis: In Disenchantment, viewers will be whisked away to the crumbling medieval kingdom of Dreamland, where they will follow the misadventures of hard-drinking young princess Bean, her feisty elf companion Elfo, and her personal demon Luci. Along the way, the oddball trio will encounter ogres, sprites, harpies, imps, trolls, walruses, and lots of human fools. The series will feature the voice talents of Abbi Jacobson ("Bean"), Eric Andre ("Luci"), and Nat Faxon ("Elfo") along with John DiMaggio, Billy West, Maurice LaMarche, Tress MacNeille, David Herman, Matt Berry, Jeny Batten, Rich Fulcher, Noel Fielding, and Lucy Montgomery.
Trollhunters: Tales of Arcadia
Synopsis: From the limitless imagination of acclaimed filmmaker Guillermo del Toro comes a tale of two worlds set to collide in the epic saga DreamWorks Trollhunters. When ordinary teenager Jim Lake Jr. stumbles upon a mystical amulet on his way to school one morning, he inadvertently discovers an extraordinary secret civilization of mighty trolls beneath his small town of Arcadia. Suddenly destined to play a crucial role in an ancient battle of good and evil, Jim is determined to save the world – right after gym class.
---
---
Locke & Key
Synopsis: After their father is murdered under mysterious circumstances, the three Locke siblings and their mother move into their ancestral home, Keyhouse, which they discover is full of magical keys that may be connected to their father's death. As the Locke children explore the different keys and their unique powers, a mysterious demon awakens — and will stop at nothing to steal them. From Carlton Cuse (Lost, Bates Motel) and Meredith Averill (The Haunting of Hill House), the series is a coming-of-age mystery about love, loss, and the unshakable bonds that define family.
The Dark Crystal: Age of Resistance
Synopsis: The Dark Crystal: Age of Resistance returns to the world of Thra, with an all new adventure. When three young Gelfling discover the horrifying secret behind the Skeksis' power, they set out on an epic journey to ignite the fires of rebellion and save their world.
Sense8
Synopsis: One moment links 8 minds in disparate parts of the world, putting 8 strangers in each other's lives, each other's secrets, and in terrible danger. From the unparalleled creative minds of The Wachowskis ("The Matrix" trilogy, "Cloud Atlas") and J. Michael Straczynski (Clint Eastwood's "Changeling," "World War Z"), as well as Grant Hill ("The Matrix" trilogy, "Cloud Atlas").
Black Lightning
Synopsis: Jefferson Pierce is a man wrestling with a secret. As the father of two daughters and principal of a charter high school that also serves as a safe haven for young people in a New Orleans neighborhood overrun by gang violence, he is a hero to his community. Nine years ago, Pierce was a hero of a different sort. Gifted with the superhuman power to harness and control electricity, he used those powers to keep his hometown streets safe as the masked vigilante Black Lightning. However, after too many nights of his life on the line, and seeing the effects of the damage and loss that his alter ego was inflicting on his family, he left his Super Hero days behind and settled into being a principal and a dad. Choosing to help his city without using his superpowers, he watched his daughters Anissa and Jennifer grow into strong young women, even though his marriage to their mother, Lynn, suffered. Almost a decade later, Pierce's crime-fighting days are long behind him…or so he thought. But with crime and corruption spreading like wildfire, and those he cares about in the crosshairs of the menacing local gang The One Hundred, Black Lightning returns—to save not only his famil but also the soul of his community. Salim Akil & Mara Brock Akil (Being Mary Jane, The Game, Girlfriends), Greg Berlanti and Sarah Schechter (Arrow, DC's Legends of Tomorrow, The Flash, Supergirl) serve as executive producers. The first African-American DC Super Hero to have his own stand-alone comic title, Black Lightning is based on the character created by Tony Isabella with Trevor von Eeden.
---
---
Legends of Tomorrow
Synopsis: When heroes alone are not enough…the world needs legends. Having seen the future, time-traveling rogue Rip Hunter assembles a ragtag group of heroes and villains to confront the immortal threat of Vandal Savage. From the creators of The Flash and Arrow comes this super hero team-up that combines characters from both shows — in addition to new heroes from the DC Comics pantheon.
The Flash
Synopsis: CSI investigator Barry Allen is endearingly book-smart, somewhat awkward late and—as a result of a scientific experiment gone awry—the fastest man alive! He's The Flash, zigzagging through the action-packed new series from the creative team behind Arrow and based on the supersonic DC Comics character. With his life shadowed by his mother's murder and his father wrongly convicted of the crime, Barry finds that his newfound power of super speed grants him the ability to move through Central City like an unseen guardian angel. Barry quickly discovers he's not the only "metahuman" created by the explosive disaster, however—and not everyone is using their new power for good. Now, to protect the innocent, Barry and the close friends who know his secret race to combat evildoers in one astonishing adventure after another that come at you like lightning in this fantastic set.
---
---
Lucifer
Synopsis: Bored and unhappy as the Lord of Hell, Lucifer has resigned his throne and retired to the City of Angels, where he is indulging in a few of his favorite things — wine, women, song. When a beautiful pop star is brutally murdered before his eyes, he feels something awaken deep within him – for the first time in roughly 10 billion years. Is he actually capable of feelings for a human being? The very thought disturbs him — as well as his best friend and confidante, Mazikeen (aka Maze), a fierce demon in the form of a beautiful young woman. The murder attracts the attention of LAPD homicide detective Chloe Dancer, who finds herself both repulsed and fascinated by Lucifer. As they work together to solve the murder, Lucifer is struck by Chloe's inherent goodness. Used to dealing with the absolute worst of humanity, he begins to wonder if there's hope yet. Maybe everyone's got a chance for redemption. Even the Devil.
---
---
The Magicians
Synopsis: Based upon Lev Grossman's best-selling books, The Magicians centers around Brakebills University, a secret institution specializing in magic. There, amidst an unorthodox education of spellcasting, a group of twenty-something friends soon discover that a magical fantasy world they read about as children is all too real— and poses grave danger to humanity.
---
---
Shadow and Bone
Synopsis: Based on Leigh Bardugo's worldwide bestselling Grishaverse novels, Shadow and Bone finds us in a war-torn world where lowly soldier and orphan Alina Starkov has just unleashed an extraordinary power that could be the key to setting her country free. With the monstrous threat of the Shadow Fold looming, Alina is torn from everything she knows to train as part of an elite army of magical soldiers known as Grisha. But as she struggles to hone her power, she finds that allies and enemies can be one and the same and that nothing in this lavish world is what it seems. There are dangerous forces at play, including a crew of charismatic criminals, and it will take more than magic to survive. Shadow and Bone is a Netflix production from 21 Laps Entertainment, starring Jessie Mei Li (Alina Starkov), Archie Renaux (Malyen Oretsev), Freddy Carter (Kaz Brekker), Amita Suman (Inej), Kit Young (Jesper Fahey), and Ben Barnes (General Kirigan).
---
---
Outlander
Synopsis: Based on Diana Gabaldon's best-selling book series and Executive Produced by Ronald D. Moore, OUTLANDER spans the genres of romance, science fiction, history and adventure as it follows Claire Randall, a married World War II combat nurse who mistakenly falls back in time to 1743. Forced by circumstance to marry Jamie Fraser, an outlawed Highlander, she finds herself falling in love and torn by her loyalties to two men in vastly different times. Claire must reconcile her modern mindset with this 18th Century world amidst threats from ruthless Redcoats, volatile clan politics and a brutal witch trial – and ultimately discovers that there is a fate worse than death as she must struggle to save Jamie's heart, as well as his soul.
Black Mirror
Synopsis: Black Mirror is an anthology series that taps into our collective unease with the modern world, with each stand-alone episode a sharp, suspenseful tale exploring themes of contemporary techno-paranoia. Without questioning it, technology has transformed all aspects of our lives; in every home; on every desk; in every palm – a plasma screen; a monitor; a Smartphone – a Black Mirror reflecting our 21st Century existence back at us. The series is created and written by Charlie Brooker, and executive produced by Brooker and Annabel Jones.
Love, Death & Robots
Synopsis: Emmy-winning animated anthology Love, Death + Robots executive produced by Tim Miller (Deadpool, Terminator: Dark Fate) and David Fincher (MINDHUNTER, Mank). Terror, imagination and beauty combine in new episodes which stretch from uncovering an ancient evil to a comedic apocalypse, telling startling short stories of fantasy, horror and science-fiction with trademark wit and visual invention.
---
---
The Umbrella Academy
Synopsis: On the same day in 1989, forty-three infants are inexplicably born to random, unconnected women who showed no signs of pregnancy the day before. Seven are adopted by a billionaire who creates The Umbrella Academy and prepares his "children" to save the world. Now, the six surviving members reunite upon the news of their father's passing and must work together to solve a mystery surrounding his death. But the estranged family begins to come apart due to their divergent personalities and abilities, not to mention the imminent threat of a global apocalypse. The Umbrella Academy is based on the comic book series created and written by Gerard Way, illustrated by Gabriel Bá, and published by Dark Horse Comics.
---
---
The Witcher
Synopsis: Netflix, "The Witcher" is an epic tale of fate and family. Geralt of Rivia, a solitary monster hunter, struggles to find his place in a world where people often prove more wicked than beasts. But when destiny hurtles him toward a powerful sorceress, and a young princess with a dangerous secret, the three must learn to navigate the increasingly volatile Continent together.
Stranger Things
Synopsis: 99 out of a hundred times, the missing kid is with a parent or relative. What about the other time? A love letter to the supernatural classics of the 80's, Stranger Things is the story of a young boy who vanishes into thin air. As friends, family and local police search for answers, they are drawn into an extraordinary mystery involving top-secret government experiments, terrifying supernatural forces and one very strange little girl. Stranger Things stars Winona Ryder, David Harbour, Finn Wolfhard, Millie Brown, Gaten Matarazzo, Caleb McLaughlin, Noah Schnapp, Natalia Dyer, Cara Buono, Charlie Heaton, and Matthew Modine.