HBO Max is nothing if not a goldmine of content, with basically something to watch for everyone, and today we are making a list of every DC live-action and animated series on HBO Max you can watch right now. The shows in this list are not ranked.
---
Live-Action Shows
Wonder Woman
Synopsis: With the strength of Hercules, the wisdom of Athena, the speed of Mercury and the beauty of Aphrodite, she's Wonder Woman. Beautiful Amazon princess Wonder Woman travels to America disguised as Diana Prince, assistant to handsome but trouble-prone Major Steve Trevor. Using her golden belt, which imbues her with astonishing strength, her bullet-deflecting bracelets, a golden lasso that dispels dishonesty and an invisible supersonic plane, Wonder Woman combats evil.
Stargirl
Synopsis: The new DC Universe drama series DC's Stargirl follows high school sophomore Courtney Whitmore as she inspires an unlikely group of young heroes to stop the villains of the past. This new drama re-imagines Stargirl and the very first superhero team, the Justice Society of America, in an unpredictable series that focuses on the character that started creator Geoff Johns' career as a comic book writer when he created her in 1999, lovingly inspired by his late sister who was killed in a 1996 plane explosion.
Titans
Synopsis: A gritty take on the Teen Titans franchise following young heroes from across the DC Universe as they discover where they belong. Dick Grayson and Rachel Roth, a special girl possessed by a strange darkness, get involved in a conspiracy that could bring Hell on Earth. Hot-headed Starfire and lovable Beast Boy join them along the way as together they become a surrogate family and team of heroes fighting evil.
Doom Patrol
Synopsis: Doom Patrol reimagines one of DC's most beloved groups of superheroes: Robotman aka Cliff Steele (Brendan Fraser), Negative Man aka Larry Trainor (Matt Bomer), Elasti-Woman aka Rita Farr (April Bowlby), Crazy Jane (Diane Guerrero) and Cyborg aka Victor Stone (Joivan Wade), all led by modern-day mad scientist Niles Caulder aka The Chief (Timothy Dalton). Each member of the Doom Patrol suffered a horrible accident that gave them superhuman abilities, but also left them scarred and disfigured. Part support group, part superhero team, the Doom Patrol is a band of super-powered freaks who fight for a world that wants nothing to do with them.
Batwoman
Synopsis: Three years after Batman mysteriously disappeared, Gotham is a city in despair, and it's under the watch of Jacob Kane and his military-grade Crows Private Security, which now protects the city with omnipresent firepower and militia. When the Alice in Wonderland gang targets the firm, Kane's daughter Kate returns home, deciding that if she wants to help her family and her city, she'll have to become the one thing her father loathes, a dark knight vigilante. With the help of her stepsister Mary and the crafty Luke Fox, the son of Wayne Enterprises' tech guru Lucius Fox, Kate Kane continues the legacy of her missing cousin, Bruce Wayne. Armed with a passion for social justice and a flair for speaking her mind, Kate soars through the shadowed streets of Gotham as Batwoman.
Superman & Lois
Synopsis: After years of facing megalomaniacal supervillains, havoc-wrecking monsters, and alien invaders, the Man of Steel and famous journalist Lois Lane return to the idyllic town of Smallville to raise their teenage sons, Jonathan and Jordan. While Clark and Lois deal with the stresses and complexities of parenthood, they must also concern themselves with the very real possibility that the boys might inherit their father's superpowers as they grow older.
Supergirl
Synopsis: Superman's young cousin Kara is also known as Supergirl. When a ring that is a Krypton power source is lost, she is sent to Earth to find it and learns that it is being used as a paperweight. Disguised as meek-mannered high-school student Linda Lee, she faces off against the evil villain Zaltar, who plans to use the ring to rule the world, and the sorceress Selena who uses black magic to get the ring for herself. Further complications ensue when a spell cast on a young man named Ethan by Selena backfires and instead of falling in love with her, he falls for Linda Lee.
Watchmen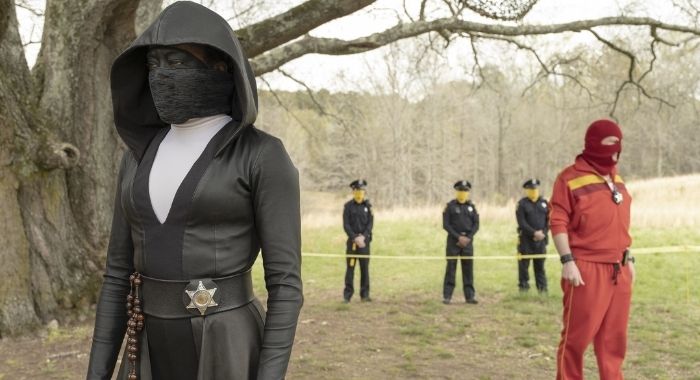 Synopsis: Set in an alternate history where masked vigilantes are treated as outlaws, this epic series from Damon Lindelof ("Lost"; HBO's "The Leftovers") embraces the nostalgia of the original groundbreaking graphic novel of the same name, while attempting to break new ground of its own. Regina King stars as a lead detective in the Tulsa Police Force and a wife and mother of three.
---
Animated Shows
Aquaman
Synopsis: Dive into action with underwater superhero Aquaman, King of the Seven Seas, as he uses his powers to defend the ancient undersea city of Atlantis and endangered sea life everywhere in this animated adventure series. A member of The Justice League, Aquaman is joined by his fellow superheroes The Flash, The Green Lantern, Hawkman, Teen Titans, and Atom in his ongoing fight against evildoers everywhere.
Aquaman: King of Atlantis
Synopsis: It's Aquaman's first day on the job as king of Atlantis – and he has a lot of catching up to do! Luckily, he has his two trusted royal advisors to back him up: Vulko, the scholar, and Mera, the water-controlling warrior princess. As he faces unscrupulous surface dwellers, elder evils from beyond time, and his own half-brother's attempts to overthrow him, Aquaman must rise to the challenge and prove to his subjects – and himself – that he's the right man for the throne!
Batman: The Animated Series
Synopsis: Vowing to avenge the senseless murder of his wealthy parents, Bruce Wayne devotes his life to wiping out lawlessness in Gotham City.
Batman Beyond
Synopsis: From the ingenious team that brought audiences the Emmy Award-winning Batman: The Animated Series comes the continuing legend of The Dark Knight with a futuristic twist as Bruce Wayne trains a new Batman for the 21st century.
Batman: The Brave and the Bold
Synopsis: Batman isn't going at it alone this time! The Caped Crusader teams up with heroes from across the DC Universe, delivering nonstop action and adventure with a touch of comic relief. Blue Beetle, Green Arrow, Aquaman and others fight crime alongside Batman, although their differing powers and personalities are often at odds with the Dark Knight's style. While still based in Gotham, Batman often travels beyond the Gotham City limits, facing situations both unfamiliar and exhilarating. With formidable foes around every corner, Batman still relies on his stealth, resourcefulness and limitless supply of cool gadgets to uphold justice.
Beware the Batman
Synopsis: This take on the classic comic book franchise mixes familiar characters with new villains not previously seen in animated form. As usual, Batman tries to rid Gotham City of evil, but he's not doing it alone. Assisting the Caped Crusader are retired MI-6 operative Alfred Pennyworth, who also serves as the superhero's butler, and lethal swords-woman Tatsu "Katana" Yamashiro. Among the villains who lead Gotham City's criminal underworld that Batman and his crew battle are Anarky, Professor Pyg, Mister Toad and Magpie.
Superman: The Animated Series
Synopsis: The creative team behind the Emmy Award-winning "Batman: The Animated Series" chronicles the adventures of Superman, the legendary superhero, as he battles the forces of villainy and continues his quest for "truth, justice and the American way."
Justice League
Synopsis: The world's greatest superheroes join forces as the Justice League to battle powerful supervillains, supernatural creatures and evil entities determined to take over the world and destroy the League.
Justice League: Unlimited
Synopsis: In a world of extraterrestrial invasions, powerful sorcerers, vast shadowy conspiracies and ancient gods, the galaxy's most powerful superheroes return to battle the allied villains and criminal plots that endanger the universe.
Teen Titans
Synopsis: Fighting for truth, justice and the last slice of pizza, these five superheroes are living proof you're never too young to save the planet. Protecting Earth and beyond, the Teen Titans live and operate from their T-shaped, high-tech headquarters. Using martial arts and cutting-edge gadgetry, the teens battle villains, giant monsters and alien invaders and still find time to argue over who's going to do the dishes. As the teens try to find their place in the world, they must also cope with the tribulations of adolescence.
Young Justice
Synopsis: This animated spy drama explores the entire DC Universe through the eyes and stories of young Dick Grayson/Robin, Kaldur'ahm/Aqualad, Wally West/Kid Flash, Conner Kent/Superboy, M'gann M'orzz/Miss Martian, Artemis Crock/Artemis, Zatanna Zatara/Zatanna, and Raquel Ervin/Rocket. As this core Team steps out of the shadows of their mentors and matures into adult heroes – with some joining the Justice League and others taking on new identities Nightwing, Aquaman, and Tigress– they also mentor a new generation of protégés including Forager, Wonder Girl, Blue Beetle, Cyborg, and Halo, all in their ongoing crusade for justice.
Green Lantern: The Animated Series
Synopsis: Green Lantern: The Animated Series follows Earth's Green Lantern, Hal Jordan, who is used to being in dangerous situations but never anything like this! In the farthest reaches of deep space, Hal patrols the Guardian Frontier, where he must face down invasions from the evil Red Lantern Corps., who have sworn to destroy the Green Lanterns and everything they stand for. With ever-emerging galactic threats, Hal is soon joined by an all-new group of heroes on a mission to protect Guardian Space and the Green Lantern Corps itself!
Constantine: City of Demons
Synopsis: A decade after a tragic mistake, family man Chas and occult investigator John Constantine set out to cure Chas's daughter Trish from a mysterious supernatural coma. With the help of the mysterious Nightmare Nurse, the influential Queen of Angels, and brutal Aztec God Mictlantecuhtli, the pair just might have a chance at outsmarting the demon Beroul to save Trish's soul. In a world of shadows and dark magic, not everything is what it seems, and there's always a price to pay. The path to redemption is never easy, and if Constantine is to succeed, he must navigate through the dark urban underbelly of Los Angeles, outwit the most cunning spawns of hell, and come face to face with arch-nemesis Nergal – all while battling his own inner demons!
Harley Quinn
Synopsis: Harley Quinn has finally broken things off once and for all with the Joker and attempts to make it on her own as the criminal Queenpin of Gotham City in this half-hour adult animated action-comedy series. The series features Harley Quinn, Poison Ivy and a whole cast of heroes and villains, old and new, from the DC Universe.
Deathstroke: Knights & Dragons
Synopsis: Mercenary and master assassin Slade Wilson leads two lives: one as the relentless killer known as Deathstroke and the other as a dedicated family man. When these worlds collide, forced together by the vicious terror group known as H.I.V.E., it is the killer in Slade who must fight to save his loved ones, as well as what remains of himself. With his soul torn apart and his young son held captive, Deathstroke will have to atone for the sins of his past to fuel the battles of his future!
Static Shock
Synopsis: An ordinary inner-city kid gains extraordinary powers and becomes an urban legend as the first teenage African-American superhero in this series based on the popular DC Comics character, Static Shock. Virgil Hawkins, a smart, funny high school freshman, transforms into a new breed of superhero with amazing electromagnetic powers after being exposed to a strange gas.
---
Coming Soon
Peacemaker
Synopsis: Peacemaker explores the continuing story of the character that John Cena reprises in the aftermath of executive producer James Gunn's 2021 film The Suicide Squad – a compellingly vainglorious man who believes in peace at any cost, no matter how many people he has to kill to get it. The series stars John Cena as Peacemaker, Danielle Brooks as Adebayo, Freddie Stroma as Vigilante, Jennifer Holland as Harcourt, Chukwudi Iwuji as Murn, Steve Agee as Economos and Robert Patrick as Auggie Smith.
Pennyworth
Synopsis: The DC origin series PENNYWORTH follows Alfred Pennyworth, a former British SAS soldier in his 20s, who forms a security company in 1960s London and goes to work with young billionaire Thomas Wayne, years before he becomes Bruce Wayne's father. With England on the brink of chaos, Alfred Pennyworth navigates a world of secrets and betrayals.
---
This concludes the list of every DC live-action and animated series on HBO Max. So, if you have watched them tell us in the comments and we will make a new list for you, and if you haven't what are you waiting for.