David Tennant is back, in a very surprising way. Tennant's Doctor has made a surprise appearance in Jodie Whittaker's final Doctor Who episode. Recently, Doctor Who: The Power of the Doctor aired on BBC America and AMC+ in which Whittaker regenerated at the end of the episode, everyone expected the next Doctor Who, Ncuti Gatwa to show up but unexpectedly Whittaker regenerates into Tennant's Doctor. Tennant's return as the 14th Doctor Who has been confirmed and he will be reprising the role in the upcoming Doctor Who episodes in November 2023. So, before Tennant returns as the 14th Doctor here are the best David Tennant shows you could watch while waiting for Tennant's glorious return.
Doctor Who
Synopsis: An eccentric yet compassionate extraterrestrial Time Lord zips through time and space to solve problems and battle injustice across the universe.
---
Also Read: Shows Like 'Good Omens' To Watch While Waiting For Season 2
---
Good Omens
Synopsis: Good Omens is based on the beloved book by Terry Pratchett & Neil Gaiman which follows an unlikely duo, a fussy Angel (Michael Sheen, Masters of Sex) and a loose-living Demon (David Tennant, Doctor Who) who've become overly fond of life on Earth are forced to form an unlikely alliance to stop Armageddon. But they have lost the Antichrist, an 11-year-old boy unaware he's meant to bring upon the end of days, forcing them to embark on an adventure to find him and save the world before it's too late.
Around the World in 80 Days
Synopsis: Around the World in 80 Days is a thrilling, adaptation of Jules Verne's classic adventure novel. David Tennant (Good Omens, Doctor Who) stars as literature's greatest explorer, Phileas Fogg. He is joined on his incredible journey by French actor Ibrahim Koma (OSS 117, Wùlu) as Jean Passepartout, Fogg's irrepressible valet, and German actress Leonie Benesch (The Crown, Babylon Berlin) as Abigail "Fix" Fortescue, a determined and headstrong journalist.
Des
Synopsis: David Tennant portrays one of the most infamous and prolific serial killers in UK history, Dennis Nilsen, in a chilling true-crime drama told through the eyes of a detective, a biographer and Nilsen himself.
Broadchurch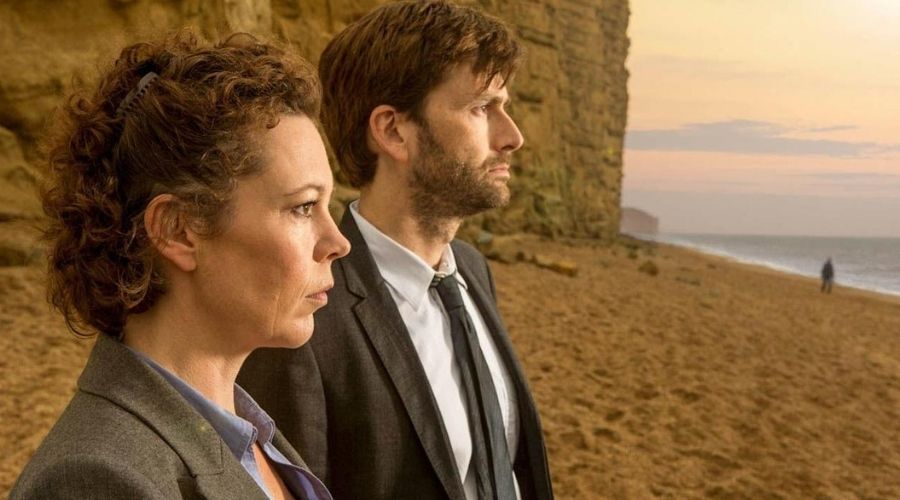 Synopsis: Critically acclaimed, BAFTA award-winning drama Broadchurch explores what happens to a small community when it suddenly becomes the focus of a police investigation, following the tragic and mysterious death of an eleven year- old boy. Police officers DI Alec Hardy (David Tennant) and DS Ellie Miller (Olivia Colman) were called in to investigate the case, and found that the killer was closer to home than they could ever have imagined.
---
Also Read: Shows Like 'Inside Man' To Watch If You Liked the Series
---
Inside Man
Synopsis: Everyone's a murderer, you just need a good reason and a bad day. From death row to a quaint English village, Steven Moffat's devilish drama with David Tennant and Stanley Tucci.
Deadwater Fell
Synopsis: When a seemingly perfect and happy family is murdered by someone they know and trust, the small Scottish community they call home becomes riven with mistrust and suspicion as those closest to the family begin to question everything they thought they knew about their friends.