The HBO Max original dark comedy series Search Party is coming to an end with its fifth and final season today. Search Party is one of those shows that are hard to come by as shows like this largely go unnoticed and underappreciated like it did while it was on TBS, but after the series made its home on HBO Max, the dark comedy series has garnered a big audience for itself. Search Party follows a group of narcissistic millennials who are best at not getting out of their own way. Search Party came to an end with its fifth season in 2022, so we thought we should make a list of the best 10 comedy shows that have a similar comedic style as Search Party, so you could watch the shows after completing the fifth season.
Bored to Death (HBO Max)
Synopsis: Meet Jonathan Ames: writer, romantic, unlicensed private eye. HBO presents this comedy series that tells the story of this noir-fiction-obsessed writer (playe by Jason Schwartzman) who impulsively lists his gumshoe services on Craigslist…and is surprisingly hired for a variety of amusing cases.
Get Shorty (Tubi)
Synopsis: Inspired by Elmore Leonard's 1990 New York Times bestselling novel, Get Shorty is the story of Miles Daly, played by Chris O'Dowd (Bridesmaids, This Is 40) who works as muscle for a murderous crime ring in Nevada and attempts to change professions and become a movie producer, laundering money through a Hollywood film. Three-time Emmy award winner Ray Romano ("Everybody Loves Raymond," "Parenthood") stars as Rick, a washed up producer of low quality films who becomes Miles' partner and guide through the maze of Hollywood. Get Shorty also stars Sean Bridgers, Lidia Porto, Megan Stevenson, Goya Robles, Lucy Walters and Carolyn Dodd.
Andy Barker, P.I. (The Roku Channel)
Synopsis: Move over, Philip Marlowe. Meet Andy Barker – Public Accountant by day. Private Investigator by accident. Former Conan O'Brien sidekick Andy Richter stars as a happy-go-lucky CPA who, by a funny twist of fate, becomes the world's most happy-go-lucky detective. From tax man to crime fighter, he's the new man of action. And what hilarious action it is?
---
Also Read: Shows Like 'Only Murders in the Building' To Watch While Waiting For Season 3
---
Only Murders in the Building (Hulu)
Synopsis: From the minds of Steve Martin, Dan Fogelman & John Hoffman comes a comedic murder-mystery series for the ages. Only Murders in the Building follows three strangers (Steve Martin, Martin Short, and Selena Gomez) who share an obsession with true crime and suddenly find themselves wrapped up in one. When a grisly death occurs inside their exclusive Upper West Side apartment building, the trio suspects murder and employs their precise knowledge of true crime to investigate the truth. As they record a podcast of their own to document the case, the three unravel the complex secrets of the building which stretch back years. Perhaps even more explosive are the lies they tell one another. Soon, the endangered trio comes to realize a killer might be living amongst them as they race to decipher the mounting clues before it's too late.
---
Also Read: Shows Like 'Barry' To Watch After Season 4
---
Barry (HBO Max)
Synopsis: A dark comedy starring Bill Hader ("Saturday Night Live"), who created and executive produced the series along with Alec Berg (HBO's "Silicon Valley"), Barry focuses on a depressed, low-rent hitman from the Midwest (Hader, in the title role) who falls in love with acting while on a job in LA. The supporting cast features Stephen Root, Henry Winkler and Sarah Goldberg.
---
Also Read: Shows Like 'Seinfeld' To Watch If You Miss the Series
---
Seinfeld (Netflix)
Synopsis: Seinfeld stars Jerry Seinfeld as a stand-up comedian whose life in New York City is made even more chaotic by his quirky group of friends who join him in wrestling with life's most perplexing, yet often trivial questions. Often described as "a show about nothing," Seinfeld mines the humor in life's mundane situations like waiting in line, searching for a lost item, or the trials and tribulations of dating. Co-starring are Julia Louis-Dreyfus as Jerry's ex-girlfriend and current platonic pal, Elaine Benes; Jason Alexander as George Costanza, Jerry's neurotic hard-luck best friend; and Michael Richards as Jerry's eccentric neighbor, Kramer.
---
Also Read: Shows Like 'Veep' To Watch If You Miss the Series
---
Veep (HBO Max)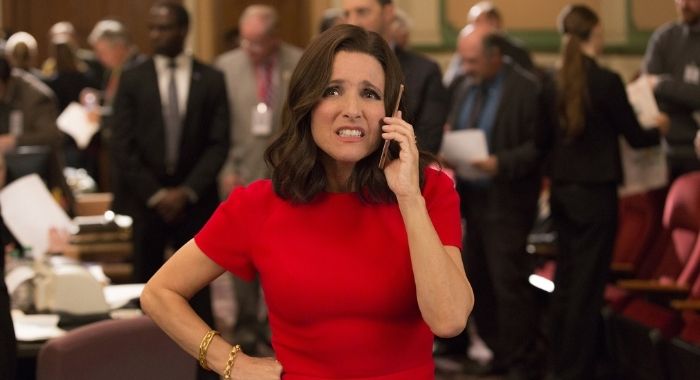 Synopsis: Julia Louis-Dreyfus is the Vice President of the United States in this hilarious HBO comedy series. Each episode follows her whirlwind day-to-day existence as she puts out political fires, juggles public and private demands and defends the interests of the chief executive–with whom she shares a uniquely dysfunctional relationship.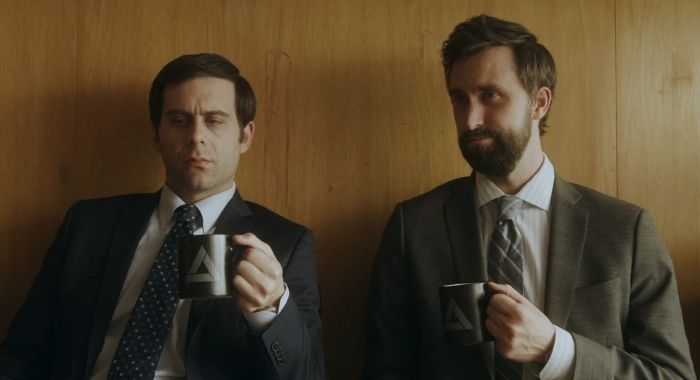 Synopsis: Hampton DeVille is a soulless conglomerate that sinks its rapacious claws into everything from arming clandestine wars to exploiting protesters. This is a comedy about working there.
---
Also Read: Shows Like 'Party Down' To Watch While Waiting For the Revival Series
---
Synopsis: While chasing dreams of stardom, six Hollywood wannabe actors and writers make ends meet by working for a posh Los Angeles catering company, which tackles a different event — senior singles mixer, porn awards after party, a Super Sweet 16 bash — in each episode.
---
Also Read: Shows Like 'Six Feet Under' To Watch If You Miss the Series
---
Six Feet Under (HBO Max)
Synopsis: Family is complicated — especially when you own (and live in) a funeral home with them. Experience the highs and lows of life and death with the Fisher family in this darkly comic drama from Oscar winner Alan Ball.