Prime Video has one of the greatest series libraries ever, it has something for everyone, from comedies to thrillers and from sci-fi to horror, so today we are going to list the best crime shows on Prime Video you could watch right now. We have only included scripted shows on this list and that's why you won't see any docuseries in it, even though some of the documentaries are really brilliant.
So, here are the best crime shows streaming on Prime Video right now:
Psych
Synopsis: Shawn Spencer happens to possess some uncanny powers of observation thanks to his father, Henry, a former police officer who taught his son to remember even the smallest details of his surroundings. When Shawn is accused of committing a crime that he actually solved, he convinces the cops that he's a psychic — and with the reluctant help of his best friend, Gus, Shawn starts solving cases for a skeptical but increasingly impressed police force.
The Night Manager
Synopsis: A contemporary interpretation of John le Carré's espionage novel, "The Night Manager" follows former British soldier Jonathan Pine (Tom Hiddleston) who is recruited by intelligence operative Angela Burr (Olivia Colman) to infiltrate the inner circle of international businessman Richard Onslow Roper (Hugh Laurie) and detonate the unholy alliance he has ministered between the intelligence community and the secret arms trade. To reach the heart of Roper's vast empire, Pine must withstand the suspicious interrogations of his venal chief of staff, Major Corkoran (Tom Hollander) and the allure of his beautiful girlfriend Jed (Elizabeth Debicki). In his quest to do the right thing, Pine must first become a criminal himself. Executive producers include John Le Carré, Simon Cornwell, Stephen Cornwell and Stephen Garrett. Writer David Farr also serves as an executive producer as does Academy Award® winner Susanne Bier, who serves as director.
Hand of God
Synopsis: Psychological drama about a morally-corrupt judge who suffers a breakdown and believes God is compelling him onto a path of vigilante justice.
Mr. Robot
Synopsis: Young antisocial computer programmer Elliot works as a cybersecurity engineer during the day, but at night he is a vigilante hacker. He is recruited by the mysterious leader of an underground group of hackers to join their organization. Elliot's task? Help bring down corporate America, including the company he is paid to protect – which presents him with a moral dilemma. Although he works for a corporation, his personal beliefs make it hard to resist the urge to take down the heads of multinational companies that he believes are running – and ruining – the world.
---
---
Absentia
Synopsis: Absentia centers on FBI agent Emily Byrne (Stana Katic). While hunting one of Boston's most notorious serial killers, Agent Byrne disappears without a trace and is declared dead. Six years later, Emily is found in a cabin in the woods, barely alive, and with no memory of the years she was missing. Returning home to learn her husband has remarried and her son is being raised by another woman, she soon finds herself implicated in a new series of murders. Absentia also stars Patrick Heusinger (Jack Reacher: Never Go Back) as Emily's husband and fellow FBI agent Nick who struggles with the guilt that he stopped looking for Emily, and his feelings for her that have resurfaced—especially now that he's married to another woman. Nick is now tasked with the unthinkable: having to bring Emily into custody as the prime suspect in a string of shocking new murders. Forced to prove her innocence, Emily goes on the run. But the closer Emily gets to answers, the more she puts herself and her family in danger. Can she prove her innocence before it is too late and discover the truth about her abduction? In addition to Katic and Heusinger, other cast members include Cara Theobold (Downton Abbey), Neil Jackson (Sleepy Hollow), Angel Bonanni (False Flag), Richard Brake (Game of Thrones), Ralph Ineson (Game of Thrones), Paul Freeman (The Dogs of War), Bruno Bichir (Narcos) and Patrick McAuley (The Conjuring 2).
Dexter
Synopsis: He's smart, he's good looking, and he's got a great sense of humor. He's Dexter Morgan, everyone's favorite serial killer. As a Miami forensics expert, he spends his days solving crimes, and nights committing them. But Dexter lives by a strict code of honor that is both his saving grace and lifelong burden. Torn between his deadly compulsion and his desire for true happiness, Dexter is a man in profound conflict with the world and himself. Golden Globe winner Michael C. Hall stars in the hit Showtime Original Series.
Animal Kingdom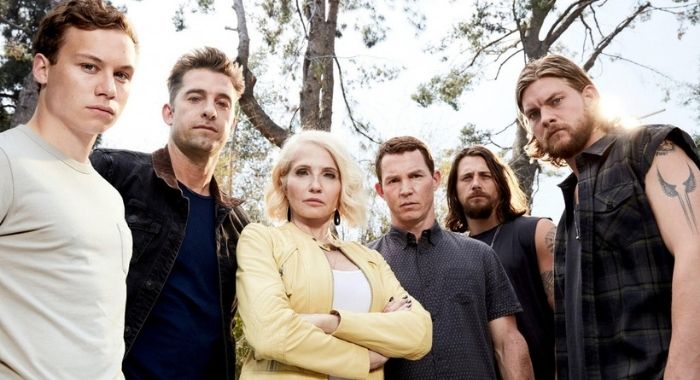 Synopsis: This bold family crime drama centers on teenage J Cody, who moves in with his freewheeling relatives in their Southern California beach town after his mother dies of an overdose. Quickly pulled into the family's life of excess, he soon discovers that it's all being funded by criminal activities. Joining the family comes with more danger and excitement than he might be ready to handle.
Outer Range
Synopsis: Outer Range centers on Royal Abbott (Josh Brolin), a rancher fighting for his land and family, who discovers an unfathomable mystery at the edge of Wyoming's wilderness. A thrilling fable with hints of wry humor and supernatural mystery, Outer Range examines how we grapple with the unknown. At the onset of the series, the Abbotts are coping with the disappearance of daughter-in-law Rebecca. They are pushed further to the brink when the Tillersons (the gaudy owners of the neighboring profit-driven ranch) make a play for their land. An untimely death in the community sets off a chain of tension-filled events, and seemingly small-town, soil-bound troubles come to a head with the arrival of a mysterious black void in the Abbotts' west pasture. Wild revelations unfold as Royal fights to protect his family; through his eyes, we begin to see how time contains secrets held in the past and unsettling mysteries foreshadowed. Led by Oscar-nominee Josh Brolin (Milk), Outer Range features an ensemble cast of award-winning and breakout talent, including Imogen Poots (I Know This Much is True), Lili Taylor (Perry Mason), Tamara Podemski (Four Sheets to the Wind), Lewis Pullman (Top Gun: Maverick), Tom Pelphrey (Ozark), Noah Reid (Schitt's Creek), Shaun Sipos (Krypton), Isabel Arraiza (The Little Things), Olive Abercrombie (The Haunting of Hill House), and Will Patton (Yellowstone).
---
---
The Fall
Synopsis: Emmy and Golden Globe winner Gillian Anderson (The X-Files) smolders as a British detective summoned to Belfast to solve a high-profile murder. She quickly recognizes the signs of a serial killer, but the culprit (Jamie Dornan, Once Upon a Time) has already targeted his next victim.
Bosch
Synopsis: Based on Michael Connelly's best-selling novels, Harry Bosch (Titus Welliver), an LAPD homicide detective, stands trial for the shooting of a serial murder suspect – just as a cold case involving the remains of a boy forces Bosch to confront his past. As daring recruit, Julia Brasher (Annie Wersching), catches his eye, and departmental politics heat up, Bosch will pursue justice at all costs.
Bones
Synopsis: When the standard methods of identifying a body simply won't work, law enforcement turns to Dr. Temperance Brennan, a skilled forensic anthropologist with an uncanny ability to read clues left behind in a victim's bones.
Tin Star
Synopsis: After being left destroyed by the chaos that had followed Jim and his alcoholic alter ego Jack Devlin (Tim Roth) from the UK, this new series picks up where we left our unlikely hero, cut off in the remote Rockies wilderness with his grieving and shell-shocked family struggling to come to terms with their ordeal. Seeking refuge from her own parents, Anna is taken in by the God-fearing Nickel family, headed up by Pastor Johan (John Lynch) his wife Sarah (Anamaria Marinca) and daughter Rosa (Jenessa Grant), and hidden with the Ammonites – a religious community close to Little Big Bear. However the peaceful prairie family are harbouring secrets of their own and it's not long before Anna is forced to seek her father's help, as an altogether more hellish threat emerges. If Jim is to find a way to save his family, atone for his sins he must form an uneasy alliance in the battle for forgiveness.