Tokyo Vice is the latest HBO Max series about an American journalist Jake Adelstein, who moves to Japan to study Japanese literature and later started working for a reputable newspaper in Tokyo, where he came in contact with the underground criminal organizations running in the city. He tries to report them while being constantly threatened by the criminals and slowed down by some police officers. The HBO Max series is a thrilling ride in the deep and dangerous underbelly of Tokyo with Jake played by Ansel Elgort. So, today we are making a list of the 7 best crime shows like Tokyo Vice you can watch while waiting for Season 2. While the shows in this list are in no way similar to Tokyo Vice, they are about crime and criminals which is a core part of the HBO Max series.
Marcella (Netflix)
Synopsis: Set in contemporary London and starring Anna Friel, Marcella – from internationally renowned screenwriter and novelist Hans Rosenfeldt (The Bridge) – centers on the psychological struggles of a Metropolitan police officer at a crisis point in her personal life, driven by rejection and intuition. Returning to the Met's Murder Squad after a 12-year career break, Marcella is a detective in her late 30's who gave up her fast-tracked role to marry and devote her life to starting a family. With the abrupt end to her marriage to the love of her life and isolated from her children at boarding school, Marcella returns to work – her sense of self shattered. She is immediately assigned to one of her old cases that she first worked on in 2003. A spate of recent killings has occurred, all carrying the same hallmarks as those unsolved murders committed over a decade ago. Has the killer re-appeared or is this a copycat murderer? How will Marcella cope with returning to duty when her own temperament is so fragile and vulnerable? Will throwing herself into her work provide the answers she's seeking or lead her dangerously into territory she must avoid at all costs?
Synopsis: The cops. The cars. The clothes. From executive producer Michael Mann (Heat, Collateral) comes the first season of the explosive, groundbreaking detective show that redefined the word "cool." Set against the seamy and steamy Miami underworld, Miami Vice allows you to ride shotgun with suave Vice cops Sonny Crockett (Golden Globe? winner Don Johnson) and Rico Tubbs (Phillip Michael Thomas) as they battle a never-ending gallery of criminals, drug dealers, and lowlifes.
---
Also Read: Shows Like 'Narcos' To Watch If You Miss the Series
---
Narcos (Netflix)
Synopsis: This raw, gritty series chronicles the gripping real-life stories of the drug kingpins of the late 1980s and the corroborative efforts of law enforcement to meet them head on in brutal, bloody conflict. It details the many, often-conflicting forces – legal, political, police, military and civilian – that clash in the effort to control cocaine, one of the world's most valuable commodities.
---
Also Read: Thrilling Shows Like 'Breaking Bad' To Watch If You Miss the Series
---
Breaking Bad (Netflix)
Synopsis: Breaking Bad follows protagonist Walter White (Bryan Cranston), a chemistry teacher who lives in New Mexico with his wife (Anna Gunn) and teenage son (RJ Mitte) who has cerebral palsy. White is diagnosed with Stage III cancer and given a prognosis of two years left to live. With a new sense of fearlessness based on his medical prognosis, and a desire to secure his family's financial security, White chooses to enter a dangerous world of drugs and crime and ascends to power in the world. The series explores how a fatal diagnosis such as White's releases a typical man from the daily concerns and constraints of normal society and follows his transformation from mild family man to a kingpin of the drug trade.
---
Also Read: Shows Like 'True Detective' To Watch While Waiting For 'Night Country'
---
True Detective (HBO Max)
Synopsis: Touch darkness and darkness touches you. From creator/executive producer Nic Pizzolato comes this searing crime drama series that follows troubled cops and the intense investigations that drive them to the edge. Each season features a star-studded new cast involved in cases that will have you on the edge of your seat. In Season 1, it was Matthew McConaughey and Woody Harrelson as two polar opposite cops on the hunt for a serial killer in Louisiana. In Season 2, a bizarre murder case brings together three law-enforcement officers (Colin Farrell, Rachel McAdams, Taylor Kitsch) and a career criminal (Vince Vaughn). Season 3 of the hit series stars Mahershala Ali as a retired detective who has been tormented for 35 years by a case involving the disappearance of a 12-year-old boy and his 10-year-old sister.
---
Also Read: Shows Like 'The Sopranos' To Watch If You Miss the Series
---
The Sopranos (HBO Max)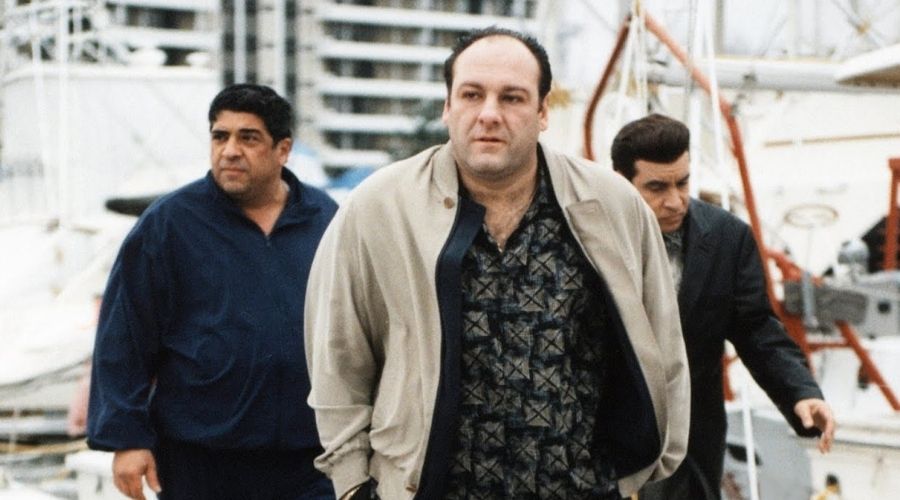 Synopsis: James Gandolfini stars in this acclaimed series as Tony Soprano, a husband and mob boss whose professional and private strains often land him in the office of his therapist. The ensemble cast includes Lorraine Bracco as his doctor, Edie Falco as his long-suffering wife, Michael Imperioli as his hot-headed nephew and Dominic Chianese as his uncle.
Giri/Haji (Netflix)
Synopsis: A Tokyo detective travels to London to look for his long lost younger brother, now believed to be posing as a Yakuza gangster and wanted for the murder of a Japanese businessman. His family's honour, and the fragile peace between the warring gangs back home, is at stake.