Paul Thomas Anderson's new film Licorice Pizza is a coming of age film and it follows a 15-year-old Gary Valentine who falls in love with the beautiful 25 years old Alana Kane, who works as a photographer's assistant. In order to be near her, Gary starts a waterbed company with Alana as his assistant. The film stars Copper Hoffman as Gary Valentine and Alana Haim as Alana Kane, as the film progresses more twists and turns are thrown into the extraordinary relationship between Gary and Alana. So, if you like coming-of-age movies like Licorice Pizza you might also like these 7 movies.
Lady Bird
Synopsis: In Lady Bird, Greta Gerwig reveals herself to be a bold new cinematic voice with her directorial debut, excavating both the humor and pathos in the turbulent bond between a mother and her teenage daughter. Christine "Lady Bird" McPherson (Saoirse Ronan) fights against but is exactly like her wildly loving, deeply opinionated and strong-willed mom (Laurie Metcalf), a nurse working tirelessly to keep her family afloat after Lady Bird's father (Tracy Letts) loses his job. Set in Sacramento, California in 2002, amidst a rapidly shifting American economic landscape, Lady Bird is an affecting look at the relationships that shape us, the beliefs that define us, and the unmatched beauty of a place called home.
American Graffiti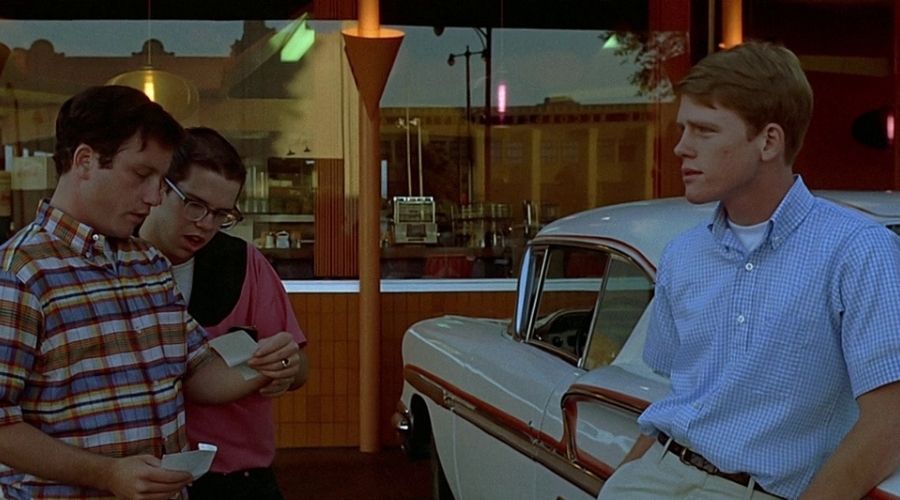 Synopsis: From director George Lucas (Star Wars) and producer Francis Ford Coppola (The Godfather), American Graffiti is a classic coming-of-age story set against the 1960s backdrop of hot rods, drive-ins and rock n' roll. Starring Ron Howard, Richard Dreyfuss, Harrison Ford, Cindy Williams, Mackenzie Phillips and Suzanne Somers in their breakout roles, this nostalgic look back follows a group of teenagers as they cruise the streets on their last summer night before college. Nominated for five Academy Awards, including Best Picture and Best Director, American Graffiti features the howling sounds of Wolfman Jack and an unforgettable soundtrack with songs by Buddy Holly, Chuck Berry, The Beach Boys and Bill Haley & His Comets.
Boogie Nights
Synopsis: Set in 1977, back when sex was safe, pleasure was a business and business was booming, idealistic porn producer Jack Horner (Burt Reynolds) aspires to elevate his craft to an art form. Horner discovers Eddie Adams (Mark Wahlberg), a hot young talent working as a busboy in a nightclub, and welcomes him into the extended family of movie-makers, misfits and hangers-on that are always around. Adams' rise from nobody to a celebrity adult entertainer is meteoric, and soon the whole world seems to know his porn alter ego, "Dirk Diggler." Now, when disco and drugs are in vogue, fashion is in flux and the party never seems to stop, Adams' dreams of turning sex into stardom are about to collide with cold, hard reality.
Harold and Maude
Synopsis: A teenager with a death wish and a 79-year-old high on life find love in Hal Ashby's cult black comedy. Deadpan rich boy Harold (Bud Cort) keeps staging elaborate suicide tableaux to get the attention of his mother (Vivian Pickles), but she keeps planning his brilliant future for him instead. Obsessed with the trappings of death, Harold freaks out his blind dates, modifies his new sports car to look like a mini-hearse, and attends funerals, where he meets the spirited Maude (Ruth Gordon). An eccentric to the core, Maude lives exactly as she pleases, with avid collecting and nude modeling among her many pursuits. To the disgust of Harold's relatives and the befuddlement of Harold's shrink, Harold falls in love with her. As lilting Cat Stevens tunes play on the soundtrack, Maude teaches Harold a valuable lesson about making the most of his time on earth.
The Spectacular Now
Synopsis: With sly humor and an intensity of feeling, The Spectacular Now (directed by James Ponsoldt) creates a vivid, three-dimensional portrait of youth confronting the funny, thrilling and perilous business of modern love and adulthood. This is the tale of Sutter Keely (Miles Teller), a high school senior and effortless charmer, and of how he unexpectedly falls in love with "the good girl" Aimee Finecky (Shailene Woodley). What starts as an unlikely romance becomes a sharp-eyed, straight-up snapshot of the heady confusion and haunting passion of youth—one that doesn't look for tidy truths. The film was written by Scott Neustadter and Michael Weber (500) Days of Summer and also features wonderful supporting turns from Brie Larson, Kyle Chandler, Jennifer Jason Leigh, and Mary Elizabeth Winstead.
Goodbye First Love
Synopsis: Mia Hansen-Love returns with GOODBYE FIRST LOVE, an acutely perceptive portrait of a bright young woman in the wake of her first romance. Fifteen-year-old Camille (Lola Creton) is a serious girl who has fallen in love with the cheerful Sullivan (Sebastian Urzendowsky), an older boy who returns her feelings, mostly, but wants to be free to explore the world. When he leaves her to travel, she is devastated, but develops over the following years, into a more fully formed woman, with new interests and a new love – and the possibility that she'll be less defenseless when Sullivan enters her life again. Hansen-Love's follow up to the award-winning The Father of My Children is filled with scenes that showcase her extraordinary ability to evoke moods and feelings. The story of a young woman's first romance is made into a singular experience, familiar in its broad strokes and yet so specific that it feels uniquely personal.
Almost Famous
Synopsis: Director/Writer Cameron Crowe won an Oscar for this deeply personal and universally entertaining coming-of-age story, following a 15-year-old journalist on the road with an up-and-coming rock band in the early 1970s. ALMOST FAMOUS is the semi-autobiographical odyssey of 15-year-old William Miller (Patrick Fugit), whose writing talent and earnest passion for rock music earns him an assignment for Rolling Stone, interviewing and touring with Stillwater (Billy Crudup, Jason Lee). Penny Lane (Kate Hudson) is the young groupie who guides him through the wild world of rock heroes, all-night parties, and the most dangerous intensity of all—love.