The hit HBO comedy series Silicon Valley follows a group of programmers who think they can make it really big Silicon Valley. The series was a satirical look at the tech industry culture through the eyes of our underdog characters. Silicon Valley ran for six seasons from 2014 to 2019, and fans of the series are surely missing it. So, we are going to list the best 8 comedy shows like Silicon Valley, the shows in this list will have comedy aspects similar to the HBO series.
---
Also Read: Best Shows Like 'Succession' to Watch While Waiting For Season 4
---
Succession (HBO Max)
Synopsis: Power, politics, money…it's all in the family in this provocative, funny series about a highly dysfunctional dynasty. When Logan Roy (Brian Cox), CEO of one of the world's largest media and entertainment conglomerates, considers retirement, each of his four grown children follows a personal agenda that doesn't always sync with those of their siblings–or of their father.
Synopsis: Betas follows Trey and his group, who have an app that can revolutionize the social media industry, the only problem standing in their way is that they don't have an investor yet.
---
Also Read: Shows Like 'Avenue 5' To Watch After Season 2
---
Avenue 5 (HBO Max)
Synopsis: All aboard for a hilarious journey across the universe in this HBO comedy series from Armando Iannucci (HBO's "Veep"). Set 40 years in the future when travelling the solar system is a booming business, the series follows life on board Avenue 5, a mash-up of a cruise liner and an interplanetary rocket ship packed with luxury amenities. Hugh Laurie stars.
Vice Principals (HBO Max)
Synopsis: Danny McBride (HBO's 'Eastbound and Down') and Walton Goggins (TV's 'Justified' and 'The Shield') team up in this HBO comedy series about two high-school vice principals who forge an unholy alliance to take down the school's new principal.
---
Also Read: Shows Like 'Veep' To Watch If You Miss the Series
---
Veep (HBO Max)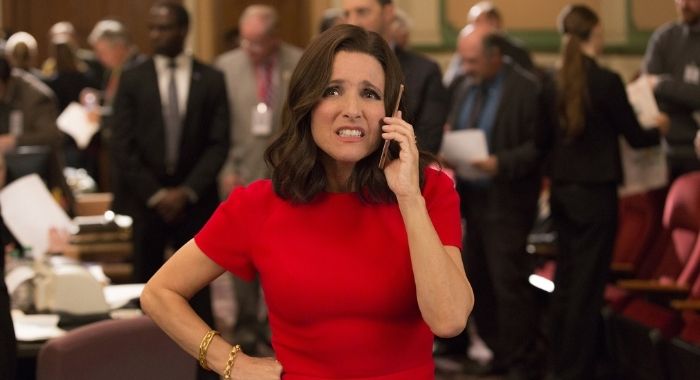 Synopsis: Julia Louis-Dreyfus is the Vice President of the United States in this hilarious HBO comedy series. Each episode follows her whirlwind day-to-day existence as she puts out political fires, juggles public and private demands and defends the interests of the chief executive–with whom she shares a uniquely dysfunctional relationship.
---
Also Read: Shows Like 'Barry' To Watch After Season 3
---
Barry (HBO Max)
Synopsis: A dark comedy starring Bill Hader ("Saturday Night Live"), who created and executive produced the series along with Alec Berg (HBO's "Silicon Valley"), Barry focuses on a depressed, low-rent hitman from the Midwest (Hader, in the title role) who falls in love with acting while on a job in LA. The supporting cast features Stephen Root, Henry Winkler and Sarah Goldberg.
---
Also Read: Shows Like 'Party Down' To Watch While Waiting For the Revival Series
---
Synopsis: While chasing dreams of stardom, six Hollywood wannabe actors and writers make ends meet by working for a posh Los Angeles catering company, which tackles a different event — senior singles mixer, porn awards after party, a Super Sweet 16 bash — in each episode.
---
Also Read: Shows Like 'Mythic Quest' To Watch After Season 3
---
Mythic Quest (Apple TV+)
Synopsis: Meet the team behind the biggest team multiplayer video game of all time. But in a workplace focused on building worlds, molding heroes, and creating legends, the most hard-fought battles don't occur in the game-they happen in the office.
---
This concludes the list of the best 8 shows like Silicon Valley you should watch if you miss the series. If you have watched them all tell us in the comments and we will make a new list for you and if you haven't, What are you waiting for?