Chuck is a once-in-a-lifetime series, which was everything including funny, entertaining, thrilling, and still managed to have a lot of heart. Chuck ended its five-season run in 2012 and after that, the lead star Zachary Levi (Shazam!) assured fans that he is looking into making a Chuck movie that will continue the story of the beloved spy comedy series, but to this day there are no announcements on the future of the film. So, we have prepared a list of the best 10 comedy shows like Chuck can see.
---
Also Read: Shows Like 'The Company You Keep' To Watch If You Like the Series
---
The Company You Keep (Hulu)
Synopsis: A night of passion leads to love between con man Charlie and undercover CIA officer Emma, who are unknowingly on a collision course professionally. While Charlie ramps up the "family business" so he can get out for good, Emma's closing in on the vengeful criminal who holds Charlie's family debts in hand – forcing them to reckon with the lies they've told so they can save themselves and their families from disastrous consequences. The series is based on the Korean Broadcasting System series entitled "My Fellow Citizens."
Synopsis: True Lies, inspired by James Cameron's hit action-comedy film of the same name, follows Harry (Steve Howey), a first-class international spy for U.S. intelligence agency Omega Sector, and his wife, Helen (Ginger Gonzaga), a language professor bored with her daily routine, who makes the shocking discovery that her seemingly ordinary husband is leading an extraordinary double life. With the secret out, Omega recruits Helen, who impresses everyone with her formidable skills (thanks to Tae Bo and yoga), and she joins Harry and his team of top-notch operatives, embarking on covert missions around the globe and an exhilarating life of danger and adventure … all while keeping their adventures a secret from their three teenage children. The renewed bond between them adds much-needed sizzle to the Taskers' emotionally distant marriage and upends the top-secret world of Omega Sector. But, as Harry says, if you're going to save the world, you might as well do it for the ones you love.
---
Also Read: Shows Like 'Nikita' To Watch If You Miss the Series
---
Synopsis: In this sexy and suspenseful series featuring international action star Maggie Q (Mission: Impossible III) in the title role, Nikita has gone rogue. Division is an ultra-secret government agency whose operatives are recruited young people with severed ties to family, friends and society. Trained to be invisible assassins, no one ever leaves Division — except the charming and deadly Nikita, who has managed to escape, making it her mission to undermine the now-corrupt organization. A force to be reckoned with, the rogue Nikita taunts Division, staying on their radar, but always one step ahead. Yet as determined as Nikita is to bring down her former agency, there are those just as determined to stop her. Division's newest recruit, Alex (Lyndsy Fonseca, Kick-Ass), is a beautiful young woman who seems destined to replace Nikita as their next top operative. Filled with twists and thrills, Nikita also stars Shane West, Aaron Stanford, Melinda Clarke and Xander Berkeley.
Synopsis: Robert Vaughn and David McCallum star as a team of secret agents battling the global crime organization THRUSH. Under the aegis of the United Network Command for Law and Enforcement– U.N.C.L.E.–the dapper, suave Napoleon Solo (Vaughn) and the equally dashing Illya Kuryakin (McCallum) jet to exotic locations, defending the world from evil, chaos and bad taste in this hit spoof on the espionage genre.
Castle (Hulu)
Synopsis: Rick Castle is one of the world's most successful crime authors. But when his rock star lifestyle isn't enough, this bad boy goes looking for new trouble – and finds it working with smart, beautiful Detective Kate Beckett.Inspired by her professional record and intrigued by her buttoned-up personality, Castle's found the model for his bold new character – whether she likes it or not. Now with the mayor's permission, Castle's on her case and in her way. Kate's initial disdain for Castle turns to grudging respect as he quickly proves that a background in plotting murders can be a valuable asset in catching killers. As they solve a new crime together each week, they're partnership grows – as does their love-hate relationship. These two may not always see eye to eye, but together they might just write a whole new chapter in crime solving.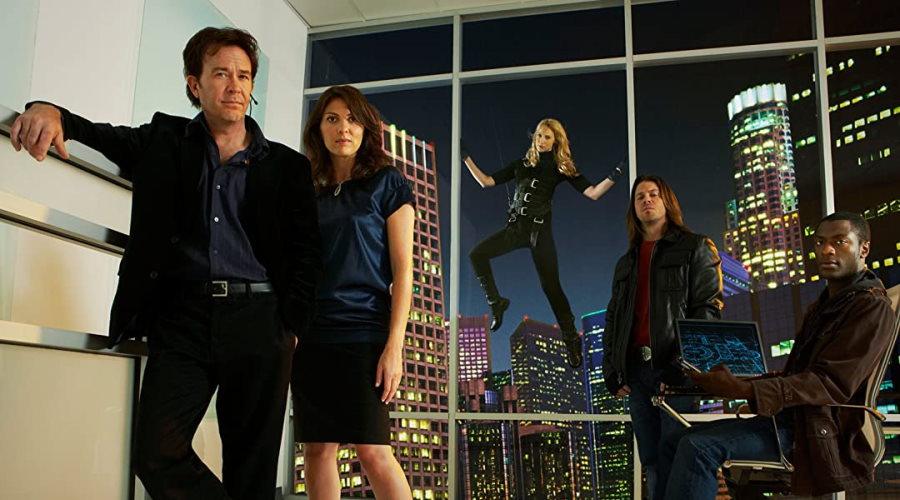 Synopsis: The television series LEVERAGE follows a team of thieves, hackers and con artists who act as modern-day Robin Hoods, standing up for the little guy who has been victimized by the rich and powerful.
---
Also Read: Shows Like 'Archer' To Watch While Waiting For Season 14
---
Archer (Hulu)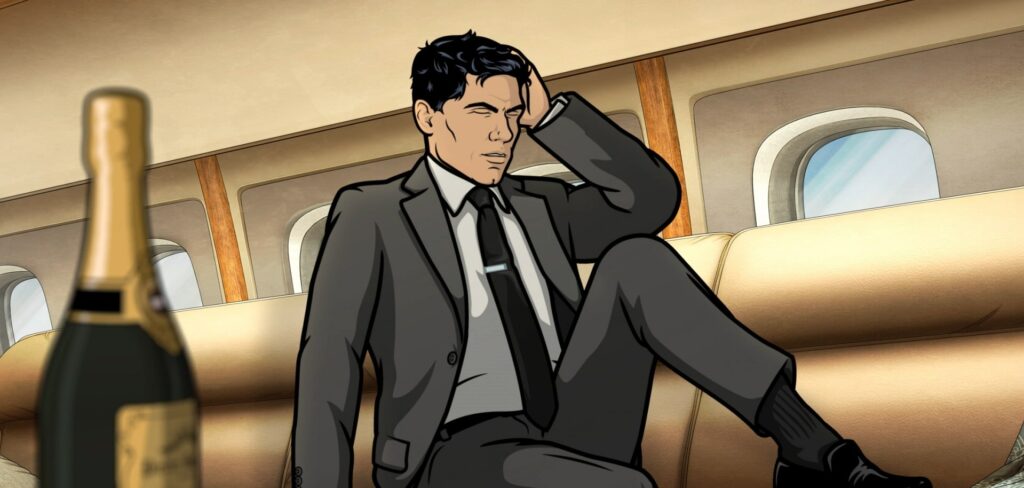 Synopsis: The suave, confident and devastatingly handsome Sterling Archer may be the world's greatest spy, but he still has issues with his friends and colleagues who live to undermine and betray one another. Whether set in 1940s Los Angeles, the jungles of South America or the dangerous islands of the South Pacific, "Archer," this animated comedy spans time and place to navigate Sterling, Lana, Malory, Cheryl/Carol/Charlotte, Cyril, Pam, Ray and Krieger's misguided misadventures that range from attempting to save the world from nuclear disaster to selling illegal narcotics to Colombian cartels.
Synopsis: Don Adams stars as Maxwell Smart, a hilariously inept and maladroit operative working for CONTROL, a top secret counterintelligence agency, in Season 1 of this classic, Emmy(R)-winning spy spoof series created by Mel Brooks and Buck Henry.
---
Also Read: Shows Like 'Monk' To Watch if You Miss the Series
---
Synopsis: He's ingenious, he's phobic, he's obsessive-compulsive. Two-time Emmy and Golden Globe-winner Tony Shalhoub is former police detective Adrian Monk. The brilliant Monk is now back fighting crime and his abnormal fears of germs, cars, heights, crowds and virtually everything else known to man.
---
Also Read: Great Shows Like 'Psych' To Watch If You Miss the Series
---
Synopsis: Shawn Spencer happens to possess some uncanny powers of observation thanks to his father, Henry, a former police officer who taught his son to remember even the smallest details of his surroundings. When Shawn is accused of committing a crime that he actually solved, he convinces the cops that he's a psychic — and with the reluctant help of his best friend, Gus, Shawn starts solving cases for a skeptical but increasingly impressed police force.
---
Also Read: Shows Like 'Burn Notice' To Watch If You Miss the Series
---
Synopsis: Michael Westen is a trained spy who receives a "burn notice" for an unstated reason & effectively is fired. Penniless, he returns to his hometown in Miami and freelances while trying to find who burned him.
---
Also Read: Shows Like 'White Collar' To Watch If You Miss the Series
---
Synopsis: White Collar is about the unlikely partnership between a con artist and an FBI agent who have been playing cat and mouse for years. Neal Caffrey (Matt Bomer), a charming criminal mastermind, is finally caught by his nemesis, FBI Agent Peter Burke (Tim DeKay). When Neal escapes from a maximum-security prison to find his long-lost love, Peter nabs him once again. Rather than returning to jail, Neal suggests an alternate plan: he'll provide his criminal expertise to assist the Federal Agents in catching other elusive criminals. Initially wary, Peter quickly finds that Neal provides insight and intuition that can't be found on the right side of the law.