Yvonne Strahovski is one of the most talented and charismatic actresses working in Hollywood right now. The brilliant Australian actress has been a part of some of the most memorable TV shows and movies in recent memory including the brilliantly funny Chuck and the always thrilling The Handmaid's Tale. Strahovski made her feature debut in the 2006 film Gone but her breakout role didn't come until she played Sarah Walker in the comedy spy series Chuck. So, if you like Yvonne Strahovski here are some of the best movies and shows starring the actor.
10. Killer Elite (HBO Max)
Synopsis: Inspired by a controversial best-selling non-fiction novel, The Killer Elite is an epic action thriller in which retired Special Forces soldier Danny (Jason Statham), is forced out of his self-imposed exile to reassemble his team, including Hunter (Robert De Niro), for a no-holds-barred confrontation with Spike (Clive Owen), who is protecting a renegade cell of soldier/assassins from another of the most feared and respected military units ever assembled, the SAS. Danny is lured away from his tranquil life and new-found love Anne,(Yvonne Strahovski) to attempt an almost impossible feat of retribution and personal salvation.
With Hunter in dire jeopardy, he needs to destroy a rogue cell of soldiers before their actions can create a global political meltdown. Spike, however, is intent on protecting the rogue cell for a covert group of elite ex-SAS soldiers, even if he has to destroy Danny and Hunter. The protagonists will stop at nothing in the pursuit of their own code of honour in a whirlwind journey of action that covers the globe from Australia to Paris, Wales, London, Dubai and Oman.
9. Manhattan Night (Tubi & Plex)
Synopsis: Based on Colin Harrison's acclaimed novel Manhattan Nocturne (a New York Times Notable Book of the Year), MANHATTAN NIGHT tells the story of Porter Wren (Adrien Brody), a New York City tabloid writer with an appetite for scandal. On the beat he sells murder, tragedy and anything that passes for the truth. At home he is a model family man, devoted to his loving wife (Jennifer Beals). But when a seductive stranger (Yvonne Strahovski) asks him to dig into the unsolved murder of her filmmaker husband Simon (Campbell Scott), he can't resist. In this modern version of a classic film noir, we follow Porter as he is drawn into a very nasty case of sexual obsession and blackmail — one that threatens his job, his marriage, and his life.
8. He's Out There (Peacock & Tubi)
Synopsis: On vacation at a remote lake house, a mother and her two young daughters must fight for survival after falling into a terrifying and bizarre nightmare conceived by a psychopath.
Synopsis: From the outer reaches of space to the to the backwoods of southern Georgia, the hunt comes home in Shane Black's explosive reinvention of the Predator series. Now, the universe's most lethal hunters are stronger, smarter and deadlier than ever before. And only a ragtag crew of ex-soldiers and an evolutionary biology professor can prevent the end of the human race.
Synopsis: Time travelers arrive from 2051 to deliver an urgent message: 30 years in the future mankind is losing a war against a deadly alien species. The only hope for survival is for soldiers and civilians to be transported to the future and join the fight. Determined to save the world for his daughter, Dan Forester teams up with a brilliant scientist and his estranged father to rewrite the planet's fate.
Synopsis: Having suffered a tragic loss year earlier, Lizzie (Noomi Rapace) is trying to rebuild her life. Suddenly she becomes obsessed with a neigbor's daughter, believing the girl to be her own child. As Lizzie's shocking, threatening acts grow increasingly dangerous, they lead to an explosive confrontation with the girl's angry, defensive mother (Yvonne Strahovski).
4. Stateless (Netflix)
Synopsis: Stateless is a powerful and timely series about four strangers whose lives collide at an immigration detention center in the middle of the Australian desert: an airline hostess on the run from a dangerous cult, an Afghan refugee and his family fleeing persecution, a young father escaping a dead-end job and a bureaucrat running out of time to contain a national scandal.
---
Also Read: Shows Like 'Dexter' To Watch If You Miss the Series
---
3. Dexter (Paramount+ & Showtime)
Synopsis: He's smart, he's good looking, and he's got a great sense of humor. He's Dexter Morgan, everyone's favorite serial killer. As a Miami forensics expert, he spends his days solving crimes, and nights committing them. But Dexter lives by a strict code of honor that is both his saving grace and lifelong burden. Torn between his deadly compulsion and his desire for true happiness, Dexter is a man in profound conflict with the world and himself. Golden Globe winner Michael C. Hall stars in the hit SHOWTIME Original Series.
---
Also Read: Thrilling Shows Like 'The Handmaid's Tale' To Watch While Waiting For Season 6
---
2. The Handmaid's Tale (Hulu)
Synopsis: Adapted from the classic novel by Margaret Atwood, The Handmaid's Tale is the story of life in the dystopia of Gilead, a totalitarian society in what was formerly the United States. Facing environmental disasters and a plunging birthrate, Gilead is ruled by a twisted fundamentalism in its militarized 'return to traditional values'. As one of the few remaining fertile women, Offred (Elisabeth Moss) is a Handmaid in the Commander's household, one of the caste of women forced into sexual servitude as a last desperate attempt to repopulate the world. In this terrifying society, Offred must navigate between Commanders, their cruel Wives, domestic Marthas, and her fellow Handmaids – where anyone could be a spy for Gilead – all with one goal: to survive and find the daughter that was taken from her.
---
Also Read: Spy Comedy Shows Like 'Chuck' To Watch If You Are Still Waiting For 'The Chuck Movie'
---
1. Chuck (HBO Max)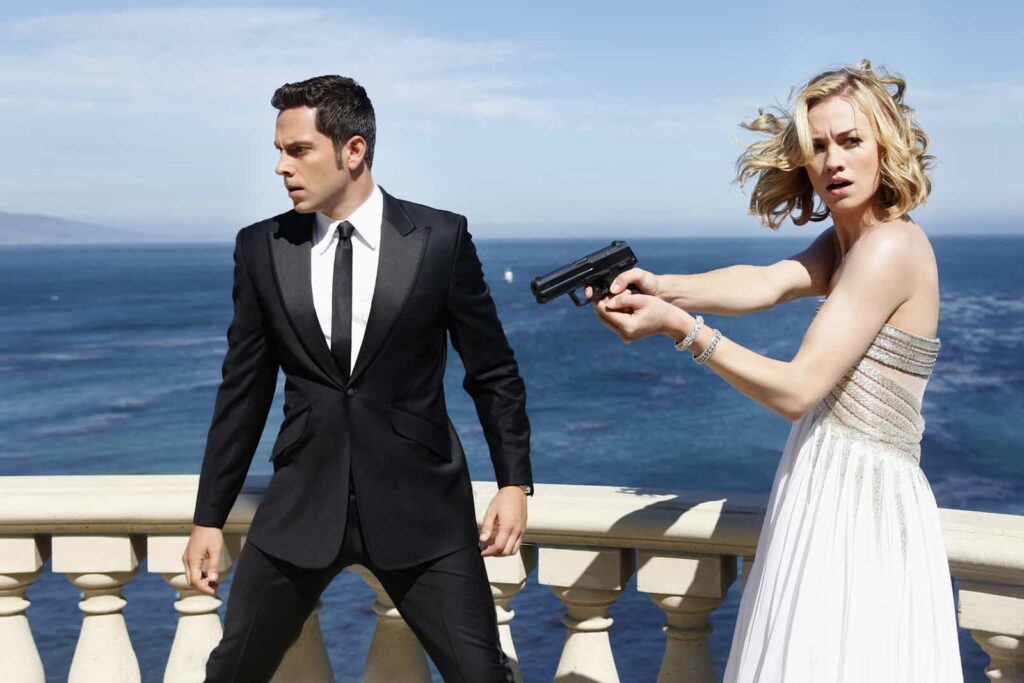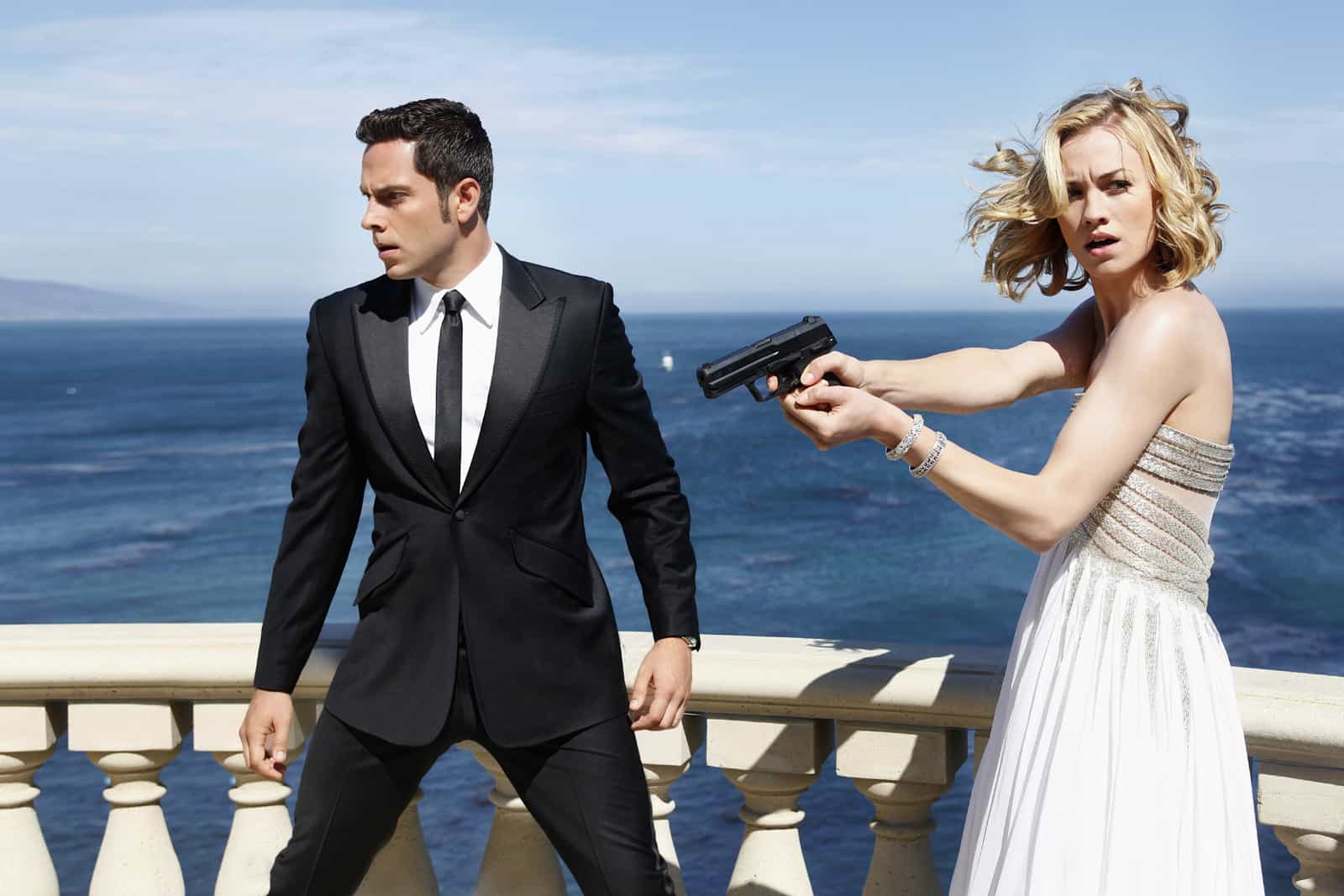 Synopsis: When Chuck Bartowski opens an e-mail subliminally encoded with government secrets, he unwittingly downloads an entire server of sensitive data into his brain. Now, the fate of the world lies in the unlikely hands of a guy who works at a Buy More Electronics store. Instead of fighting computer viruses, he must now confront assassins and international terrorists. With the government's most precious secrets in Chuck's head, Major John Casey of the National Security Agency assumes the responsibility of protecting him. His partner is the CIA's top agent — and Chuck's first date in years — Sarah Walker. They'll try to keep him safe by trading in his pocket protector for a bulletproof vest. Also starring are Joshua Gomez as Morgan Grimes, Chuck's best buddy, and Sarah Lancaster as Chuck's ever-supportive sister, Ellie.