Starz streaming service has definitely some of the most beloved shows on there. With new shows coming as soon as the last one ends, we thought of making a list of the best shows you can find on the Starz streaming service. So, here are the 13 best shows on Starz you should watch right now.
Party Down
Synopsis: The "Party Down" catering team consists of a handful of struggling dreamers stuck working for tips while struggling to get the life they really want. Each week, life passes before their eyes as they hover around the margins of a different little world (the parties they cater) for a few hours, mingle with its citizens, dabble with their little dramas, watch them, judge them, joke about them, envy them, and then move on. These are the people who have passed up traditional, normal lives of work and family for a shot at their dreams and a chance to "be somebody." With the exception of the ruefully jaded and cynical Henry, everyone on the crew assumes that life with "Party Down" isn't the real thing – it's just a brief stop before their bigger and better lives start.
P-Valley
Synopsis: When darkness descends upon Chucalissa, errybody and they mama must fight tooth and talon to survive. While some take flight to new heights, others dig in their stilettos and stand their ground.
Power
Synopsis: From Executive Producer Curtis "50 Cent" Jackson and show creator Courtney Kemp Agboh (The Good Wife) comes a visionary crime drama – Power. James "Ghost" St. Patrick has it all: a beautiful wife, a Manhattan penthouse, and New York's hottest, up-and-coming new nightclub – Truth. As it's success grows, so do Ghost's plans to build an empire. But there's just one problem: When he's not at the club, he's kingpin of the city's most lucrative drug network, serving only the wealthy and powerful. As Ghost is seduced by the prospect of a legitimate life, everything precious to him becomes unknowingly threatened. Once you're in, can you ever get out?
The Serpent Queen
Synopsis: The Serpent Queen tells the story of Catherine de Medici (Samantha Morton) who, against all odds, became one of the most powerful and longest-serving rulers in French history. Catherine's tale unfolds through flashbacks as she defends her actions and imparts the lessons she's learned to her new servant girl, Rahima (Sennia Nanua). At 14, the young, orphaned Catherine (Liv Hill) marries into the 16th-century French court. Despite her commoner status, her uncle Pope Clement (Charles Dance), has negotiated a large dowry and a geopolitical alliance in return for the union, and with it comes the expectation of many heirs. However, on her wedding night, Catherine learns that her new husband is in love with Diane de Poitiers (Ludivine Sagnier), a beautiful lady-in-waiting twice his age. With her future suddenly uncertain and with little hope of conceiving, Catherine must quickly learn who she can trust – both within her personal entourage of courtiers and the members of the royal court – while outmaneuvering anyone who underestimates her determination to survive at any cost.
Blindspotting
Synopsis: Blindspotting centers on Ashley, who is nipping at the heels of a middle class life in Oakland until Miles, her partner of 12 years and father of their son, is suddenly incarcerated, leaving her to navigate a chaotic and humorous existential crisis when she is forced to move in with Miles' mother and half-sister. The half-hour dramedy "Blindspotting" is executive produced by Rafael Casal and Daveed Diggs, who also starred in the film in addition to writing and producing it. Casal also leads as the series showrunner and will direct an episode. Jess Wu Calder and Keith Calder of Snoot Entertainment (One Night In Miami, Anomalisa) reunite with Casal and Diggs as executive producers on the series, along with Emily Gerson Saines, Ken Lee, and Tim Palen of Barnyard. Seith Mann ("#Freerayshawn," "Homeland") also serves as an executive producer and director on the first two episodes of the series.
Black Sails
Synopsis: 1715. The Golden Age of Piracy. New Providence Island is a lawless territory, controlled by history's most notorious pirate captains, including the feared and brilliant Captain Flint. As the British Navy returns to redeem their land, he allies himself with Eleanor Guthrie – daughter of the local kingpin – to hunt the ultimate prize and ensure their survival.
---
Also Read: Fantasy Shows Like 'Outlander' You Should Watch
---
Outlander
Synopsis: Outlander spans the genres of romance, science-fiction, history and adventure in one epic tale. It follows the story of Claire Randall, a married combat nurse from 1945, who is mysteriously swept back in time to 1743 Scotland. When forced to marry Jamie Fraser, a chivalrous young Scottish warrior, Claire's heart is torn between two vastly different men in two irreconcilable lives.
Shining Vale
Synopsis: Shining Vale is a horror comedy about a dysfunctional family that moves from the city to a small town into a house in which terrible atrocities have taken place. But no one seems to notice except for Pat, who's convinced she's either depressed or possessed – turns out, the symptoms are exactly the same. Patricia "Pat" Phelps (Courteney Cox) is a former "wild child" who rose to fame by writing a raunchy, drug-and-alcohol-soaked women's empowerment novel (a.k.a. lady porn). Fast forward 17 years later, Pat is clean and sober but totally unfulfilled. She still hasn't written her second novel, she can't remember the last time she had sex with her husband (Greg Kinnear), and her teenage kids are at that stage where they want you dead. She was a faithful wife until her one slip-up: she had a torrid affair with the hot, young handyman who came over to fix the sink while Terry was at work. In a last-ditch effort to save their marriage, she and Terry cash in all their savings and move the family from the "crazy" of the city to a large, old house in the suburbs that has a storied past of its own. Everyone has their demons, but for Pat Phelps, they may be real. Cox plays the lead role of Patricia "Pat" Phelps, with Kinnear playing her ever-optimistic husband, Terry Phelps, whose patience and self-control will be tested like never before. Mira Sorvino plays Rosemary, who is either Pat's alter ego, a split personality, her id, her muse, or a demon trying to possess her. Dungey plays Kam, Pat's oldest friend and book editor. Gus Birney and Dylan Gage also star as Pat and Terry's teenage kids, Gaynor and Jake.
---
Also Read: Gory Shows Like 'Ash vs. Evil Dead' To Watch If You Miss the Series
---
Ash vs. Evil Dead
Synopsis: "Ash vs Evil Dead" follows Ash, the stock boy, aging lothario and chainsaw-handed monster hunter who has spent the last 30 years avoiding responsibility, maturity and the terrors of the Evil Dead. When a Deadite plague threatens to destroy all of mankind, Ash is finally forced to face his demons –personal and literal. Destiny, it turns out, has no plans to release the unlikely hero from its "Evil" grip.
Hightown
Synopsis: Set in beautiful but bleak Cape Cod, Hightown follows one woman's journey to sobriety, overshadowed by an unfolding murder investigation.
Heels
Synopsis: Heels is a story about the men and women who chase their dreams in the world of small-town pro wrestling. Set in a close-knit Georgia community, it follows a family-owned wrestling promotion as two brothers and rivals, Jack Spade and Ace Spade, war over their late father's legacy. In the ring, somebody must play the good guy and somebody must play their nemesis, the heel. But in the real world, those characters can be hard to live up to — or hard to leave behind.
---
Also Read: Period Dramas Like 'Becoming Elizabeth' To Watch If You Like the Series
---
Becoming Elizabeth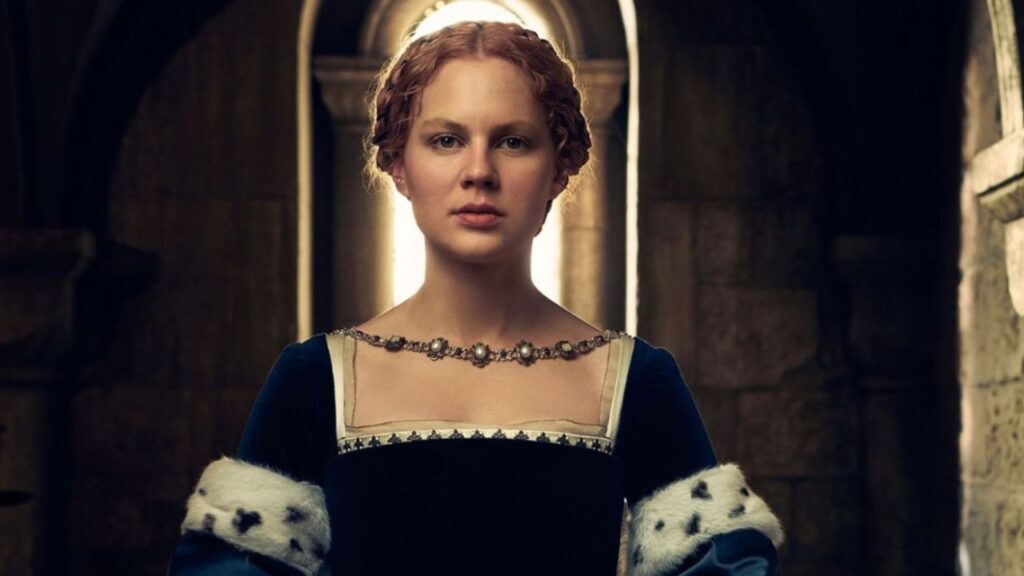 Synopsis: Becoming Elizabeth is the fascinating story of the early life of England's most iconic Queen. Long before she ascended the throne, young Elizabeth Tudor was an orphaned teenager who became embroiled in the political and sexual politics of the English court. With no clear heir, the death of King Henry the VIII sets into motion a dangerous scramble for power. His surviving children find themselves pawns in a game between the great families of England and the powers of Europe who vie for control of the country. Elizabeth struggles to control her own destiny and take real power as the men around her attempt to claim her sovereignty. Her fascinating and factual journey to secure the crown is filled with scheming, betrayal and illicit relationships that threaten to bring forth her demise at a time in which every man or woman of the court is on the wheel of fortune, which may take them to a position of great power one moment, or the executioner's block the next.
Counterpart
Counterpart is an intense sci-fi thriller set in a world where the possibility of a parallel world is real and it follows Howard Silk (J.K. Simmons) who works at the Office of Interchange, United Nations division. Howard doesn't know anything about the parallel world because he is a low-level bureaucrat working in the system but problems arise when his counterpart from the parallel world turns out to be a high-ranking spy.