There are many shows that don't really get to tell their full stories and their cancellation leaves many fans frustrated and disappointed. The series finale can show us a lot of things like getting into new territories and telling stories in a new way, or a character's fate that's hanging in balance. While some shows get a new life and they get to explore their stories further like Lucifer and Manifest, we are here to talk about shows that were canceled by Netflix after only their first only.
Everything Sucks!
Synopsis: A quirky, funny coming of age story that follows two groups of high school misfits, Everything Sucks! follows an A/V club and a Drama club who collide in 1996 Oregon. The series stars Peyton Kennedy (American Fable, The Captive) and Jahi Winston (The New Edition Story) as students Kate Messner and Luke O'Neil, with Patch Darragh (Sully, Boardwalk Empire) and Claudine Mboligikpelani Nako (Grimm) as their respective parents. The series also features Sydney Sweeney ("Emaline"), Elijah Stevenson ("Oliver"), Quinn Liebling ("Tyler") and Rio Mangini ("McQuaid").
I Am Not Okay With This
Synopsis: I Am Not Okay With This is an irreverent origin story that follows a teenage girl who's navigating the trials and tribulations of high school, all while dealing with the complexities of her family, her budding sexuality, and mysterious superpowers just beginning to awaken deep within her. From director/EP of The End of the F***ing World Jonathan Entwistle and the producers of Stranger Things comes a new series based on the Charles Forsman graphic novel.
The Society
Synopsis: The Society follows a group of teenagers who are mysteriously transported to a facsimile of their wealthy New England town, left without any trace of their parents. As they struggle to figure out what has happened to them and how to get home, they must establish order and form alliances if they want to survive. The series is a modern take on Lord of the Flies.
Zach Stone Is Gonna Be Famous
Synopsis: "Zach Stone Is Gonna Be Famous," is an all-new, half hour single-camera scripted comedy series starring comedian Bo Burnham as Zach Stone, a fresh-out-of-high school teenager who opts to pursue a life of fame and stardom instead of attending college.
Teenage Bounty Hunters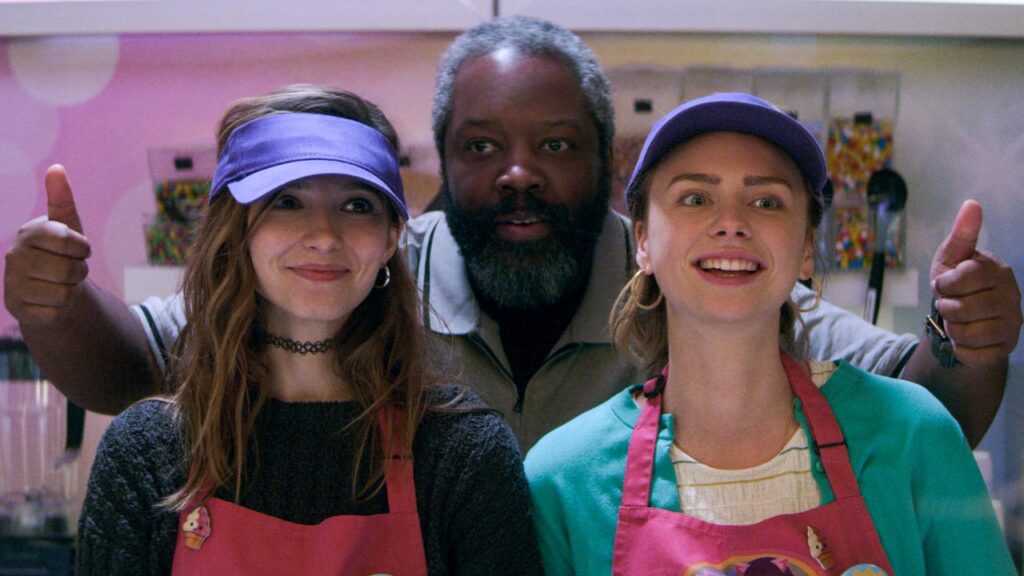 Synopsis: Rebelling against their buttoned-up Southern community, sixteen-year-old fraternal twin sisters Sterling (Maddie Phillips) and Blair (Anjelica Bette Fellini) Wesley team up with veteran bounty hunter Bowser Jenkins (Kadeem Hardison) for an over-the-top adventure as they dive into the world of bail skipping baddies and suburban secrets while trying to navigate high school drama — love, sex, and study hall.
Gypsy
Synopsis: Gypsy is a ten-part psychological thriller that follows Jean Holloway (Naomi Watts), a Manhattan therapist with a seemingly picturesque life who begins to develop intimate and illicit relationships with the people in her patients' lives. As the borders of Jean's professional life and personal fantasies become blurred, she descends into a world where the forces of desire and reality are disastrously at odds.
Grand Army
Synopsis: Grand Army tunnels into a generation that's raging and rising. Five students at the largest public high school in Brooklyn take on our chaotic world as they fight to succeed, survive, wild out, break free and seize the future.
The Woman in the House Across the Street From the Girl in the Window
Synopsis: For heartbroken Anna (Kristen Bell), every day is the same. She sits with her wine, staring out the window, watching life go by without her. But when a handsome neighbor (Tom Riley) and his adorable daughter (Samsara Yett) move in across the street, Anna starts to see a light at the end of the tunnel. That is until she witnesses a gruesome murder… Or did she? From creators Rachel Ramras, Hugh Davidson and Larry Dorf, The Woman in the House Across the Street from the Girl in the Window is a darkly comedic, wine-soaked, satirical slant on the psychological thriller that will have you guessing who, what, where, why and how in the hell?! until the very end.
Archive 81
Synopsis: Archive 81 follows archivist Dan Turner (Mamoudou Athie), who takes a job restoring a collection of damaged videotapes from 1994. Reconstructing the work of a documentary filmmaker named Melody Pendras (Dina Shihabi), he is drawn into her investigation of a dangerous cult at the Visser apartment building. As the season unfolds across these two timelines, Dan slowly finds himself obsessed with uncovering what happened to Melody. When the two characters form a mysterious connection, Dan becomes convinced he can save her from the terrifying end she met 25 years ago. An original story loosely inspired by the popular podcast of the same name, Archive 81 is a supernatural thriller series executive produced by showrunner Rebecca Sonnenshine (The Boys, The Vampire Diaries), James Wan and Michael Clear of Atomic Monster (The Conjuring Universe film franchise and Malignant), Rebecca Thomas (Stranger Things, Limetown), Antoine Douaihy (Panic, The Good Cop) and Paul Harris Boardman (Deliver Us from Evil).
Safe
Synopsis: Tom's wife died a year ago and he's bringing up his two daughters, living in a beautiful gated community, with close friends nearby and a new relationship starting. But when his eldest daughter disappears in mysterious circumstances he realises that in fact he knows nothing about the people closest to him – dark secrets about the people he loves and the place where he lives. Partners, children, lovers, parents, and friends – does anyone really know the people they love? And how well do people know Tom? As the story opens, Tom, a paediatric surgeon and single father to two teenage daughters, is still reeling from the death of his beloved wife. Now he's in over his head trying to juggle his new life – raising two daughters and dealing with his grief over Rachel's death. Because, as we come to understand, the guilt Tom feels is rooted in moral complexity – a mystery from the night of his wife's death that will be revealed. Ultimately, we will learn the truth about how Tom's wife died. We will learn the reason for Tom's guilt from that night. We will learn that Jenny has a secret from that night – something that set her down a dark path of discovery that now threatens to blow families and a community apart. In the final reckoning there will be redemption.