2021 has been a great year for sci-fi movies compared to the dumpster fire, which was 2020. This year many movies from mega-blockbusters to indie films were released and we are here to list the best 12 sci-fi movies of 2021, so you can shortlist which movies you want to watch. As we all know 12 is a relatively small number, so we won't be able to add many brilliant films but we will be adding the films that earned great reception from fans, critics, and the box office. The movies on this list are not ranked.
The Mitchells vs. The Machines
Synopsis: An old school father and his plugged-in, filmmaker daughter struggle to relate as their family embarks on a road trip to her new college. Their drive is interrupted by a machine apocalypse that threatens to tear these unlikely heroes apart unless they can find a way to join forces and save humanity.
Dune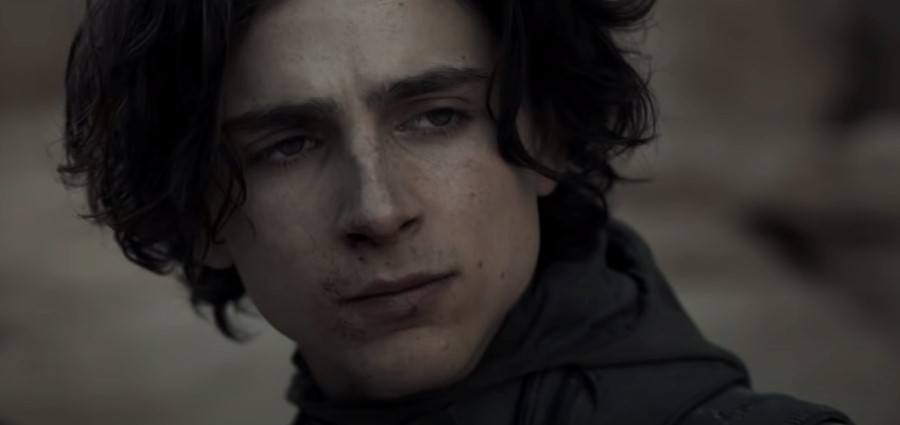 Synopsis: Oscar nominee Denis Villeneuve ("Arrival," "Blade Runner 2049") directs Warner Bros. Pictures and Legendary Pictures' "Dune," the big-screen adaptation of Frank Herbert's seminal bestseller of the same name. A mythic and emotionally charged hero's journey, "Dune" tells the story of Paul Atreides, a brilliant and gifted young man born into a great destiny beyond his understanding, who must travel to the most dangerous planet in the universe to ensure the future of his family and his people. As malevolent forces explode into conflict over the planet's exclusive supply of the most precious resource in existence—a commodity capable of unlocking humanity's greatest potential—only those who can conquer their fear will survive.
Nine Days
Synopsis: Will (Winston Duke) spends his days in a remote outpost watching the live Point of View (POV) on TV's of people going about their lives, until one subject perishes, leaving a vacancy for a new life on earth. Soon, several candidates — unborn souls — arrive at Will's to undergo tests determining their fitness, facing oblivion when they are deemed unsuitable. But Will soon faces his own existential challenge in the form of free-spirited Emma (Zazie Beetz), a candidate who is not like the others, forcing him to turn within and reckon with his own tumultuous past. Fueled by unexpected power, he discovers a bold new path forward in his own life. Making his feature-film debut after a series of highly acclaimed and award-winning short films and music videos, Japanese Brazilian director Edson Oda delivers a heartfelt and meditative vision of human souls in limbo, aching to be born against unimaginable odds, yet hindered by forces beyond their will…
Evangelion 3.0+1.0: Thrice Upon a Time
Synopsis: The fourth and final installment of the Rebuild of Evangelion. Misato and her anti-Nerv group Wille arrive in Paris, a city now red from core-ization. Crew from the flagship Wunder land on a containment tower. They only have 720 seconds to restore the city. When a horde of Nerv Evas appear, Mari's improved Eva Unit 8 must intercept. Meanwhile, Shinji, Asuka, and Rei wander around Japan.
Oxygen
Synopsis: Oxygen is a French survival thriller directed by Alexandre Aja. The film tells the story of a young woman (Mélanie Laurent, 6 Underground, Inglourious Basterds), who wakes up in a cryogenic pod. She doesn't remember who she is or how she ended up there. As she's running out of oxygen, she must rebuild her memory to find a way out of her nightmare.
Space Sweepers
Synopsis: Set in 2092, spaceship Victory is one of the many that live off salvaging space debris. Crewed with a genius space pilot Tae-ho(Song Joong-ki), a mysterious ex-space pirate Captain Jang(Kim Tae-ri), an spaceship engineer Tiger Park(Jin Sun-kyu), and a reprogrammed military robot Bubs(Yoo Hai-jin), Spaceship Victory surpasses all other space sweepers. After successfully snatching a crashed space shuttle in the latest debris chase, Victory's crew find a 7-year-old girl inside. They realize that she's the humanlike robot wanted by UTS Space Guards, and decide to demand ransom in exchange.
Come True
Synopsis: Looking for an escape from her recurring nightmares, 18-year-old Sarah (Julia Sarah Stone) submits to a university sleep study, but soon realizes she's become the conduit to a frightening new discovery. Dreams twist and nightmares come true in this mind-altering new work of science-fiction from Anthony Scott Burns (OUR HOUSE) that haunts the space between wakefulness and sleep. COME TRUE is an unforgettable cinematic dream well worth the submersion.
Little Fish
Synopsis: Little Fish, the fourth feature film from director Chad Hartigan, is a romance set in a near-future Seattle teetering on the brink of calamity. Starring Olivia Cooke, Jack O'Connell, Soko and Raul Castillo, the film opens in the midst of a global epidemic: Neuroinflammatory Affliction, a sever and rapid Alzheimer's-like condition in which people's memories disappear. Couple Jude Williams and Emma Ryerson are grappling with the realities of NIA, interspersed with glimpses from the past as the two meet and their relationship blooms. But as NIA's grip on society tightens, blurring the lines between the past and the present, it becomes more and more difficult to know what's true and what's false.
Lapsis
Synopsis: New York, an alternate present: the quantum computing revolution has begun and investors are lining their pockets in the quantum trading market. Building the network, though, requires miles of infrastructure to be laid between huge magnetic cubes by "cablers" – unprotected gig workers who compete against robots to pull wires over rough terrain.
Godzilla vs. Kong
Synopsis: Legends collide in "Godzilla vs. Kong" as these mythic adversaries meet in a spectacular battle for the ages, with the fate of the world hanging in the balance. Kong and his protectors undertake a perilous journey to find his true home, and with them is Jia, a young orphaned girl with whom he has formed a unique and powerful bond. But they unexpectedly find themselves in the path of an enraged Godzilla, cutting a swath of destruction across the globe. The epic clash between the two titans—instigated by unseen forces—is only the beginning of the mystery that lies deep within the core of the Earth.
I'm Your Man
Synopsis: Alma (Maren Eggert) is a scientist coerced into participating in an extraordinary study in order to obtain research funds for her work. For three weeks, she must live with a humanoid robot tailored to her character and needs, whose artificial intelligence is designed to be the perfect life partner for her. Enter Tom (Dan Stevens), a machine in human form created solely to make her happy. A playfully romantic tale, I'M YOUR MAN questions what love and longing really mean in the modern age.
Stowaway
Synopsis: On a mission headed to Mars, an unintended stowaway accidentally causes severe damage to the spaceship's life support systems. Facing dwindling resources and a potentially fatal outcome, the crew is forced to make an impossible decision.
---
This concludes the list of the best 12 horror movies of 2021. So, if you have watched them tell us in the comments and we will make a new list for you, and if you haven't what are you waiting for.