Robert Downey Jr. is one of the biggest actors working in the film industry right now. The American Academy-Award Nominee actor made his onscreen acting debut at the very early age of five in the 1970 film Pound. After that, Downey showed his acting chops in multiple brilliant films including the 1992 film Chaplin in which he played the role of the legendary Charlie Chaplin. Because of his troubled personal life, he dropped out of public eyes but came back bigger than ever because of his role as Tony Stark in the 2008 film Iron Man. The role of Tony Stark lasted for eleven years and currently, he is starring in the much anticipated Christopher Nolan's biopic drama Oppenheimer. So, if you also love Downey's performance here are the 10 best Robert Downey Jr. movies that should be on your watchlist.
10. Sherlock Holmes: A Game of Shadows (Rent on Prime Video)
Synopsis: The game is afoot once more! Robert Downey Jr. and Jude Law reprise their roles as Holmes and Watson in the supersleuth sequel to the mystery megahit that minted over a half billion dollars worldwide. While vying with Watson's soon-to-be wife for the Doctor's time and attention, the detective extraordinaire matches wits with his arch-nemesis Professor Moriarty (Mad Men's Jared Harris), a criminal genius who's conspiring to make a fortune by manufacturing the next generation of wartime weaponry that the world's great powers will be forced to use against one another… once Moriarty succeeds in provoking World War I, of course. Joining the dynamic duo on their adventure is a feisty gypsy (The Girl with the Dragon Tattoo's Noomi Rapace) and Sherlock's craftier but crazier older brother Mycroft (Stephen Fry).
9. A Guide to Recognizing Your Saints (Prime Video & Peacock)
Synopsis: A Guide to Recognizing Your Saints is a powerful coming of age story that has been aptly compared to Martin Scorsese's Mean Streets. Based on his bestselling memoirs, first time writer/director Dito Montiel takes us through his childhood growing up on the streets of New York. This urban drama opens with the adult Dito (Robert Downey Jr.), now a successful writer, receiving a call from his mother (Dianne Wiest) to say that his father (Chazz Palminteri) is dying. Reluctantly, Dito returns to the life he abandoned years ago and must face up to his harrowing past. Told in flashback, we are thrust into the gritty, dirty borough of Astoria, Queens during the '70s. Young Dito (Shia LaBeouf) is a restless teen who spends most of his time hanging out with his friends, the "saints" referred to in the title. There's Dito's girl Laurie (Melonie Diaz); his oversized, abused and volatile best friend Antonio (Channing Tatum); Mike O'Shea (Martin Compston), a Scottish wannabe Sex Pistol; and finally the self-destructive mescaline fiend Giuseppe (Adam Scarimbolo). Taking centre stage, Shia LaBeouf delivers an astounding portrayal full of emotion and angst. The ensemble cast all work exceptionally well together and the chemistry between the performers is the driving force of the film. The cracking '70s soundtrack transports us back in time and the raw cinematography of Eric Gautier (The Motorcycle Diaries) compliments the music and oozes stylish authenticity. An affecting and emotionally complex tale tackling the loss of love, family and innocence, A Guide To Recognizing Your Saints is a poignant, heart breaking and inspirational work.
Synopsis: Directed by Sir Richard Attenborough and starring Robert Downey, Jr. and an extraordinary cast, Chaplin is a loving, grand scale portrait of the Little Tramp's amazing life and times. His poverty-stricken childhood in England comes to life, along with his friendships with Mack Sennett (Dan Aykroyd) and Douglas Fairbanks (Kevin Kline), his many wives and scandalous affairs, and his relentless pursuit by J. Edgar Hoover. Chaplin is the larger-than life story of the actor behind the icon and a stunning depiction of a bygone era when Hollywood was at its most glamorous.
Synopsis: Grady (Michael Douglas) is a 50-ish English professor who hasn't had a thing published in years — not since he wrote his award winning "Great American Novel" 7 years ago. This weekend proves even worse than he could imagine as he finds himself reeling from one misadventure to another in the company of a new wonder boy author.
Synopsis: From director Guy Ritchie (Rocknrolla, Lock, Stock and Two Smoking Barrels) comes a fresh take on the classic master detective Sherlock Holmes starring Robert Downey Jr., Jude Law and Rachel McAdams. Renowned "consulting detective" Sherlock Holmes (Downey Jr.–Iron Man) has a reputation for solving the most complex mysteries. With the aid of his trusted ally Dr. John Watson (Law–The Aviator), Holmes is unequaled in his pursuit of criminals, relying on his singular powers of observation, his remarkable deductive skills — and the blunt force of his fists. But now a threat unlike anything Holmes has ever confronted threatens London … and it's just the challenge he's looking for.​
5. Heart and Souls (Not Streaming)
Synopsis: Academy Award nominee Robert Downey, Jr. gives a stellar performance in this irresistible blend of roaringly funny and deeply touching episodes in this magical romantic comedy. An incredible cast including Charles Grodin, Kyra Sedgwick, Alfre Woodard, Tom Sizemore, and Elisabeth Shue also star in this story of a fateful night in 1959, in which four souls become eternally entwined into the life of a newborn.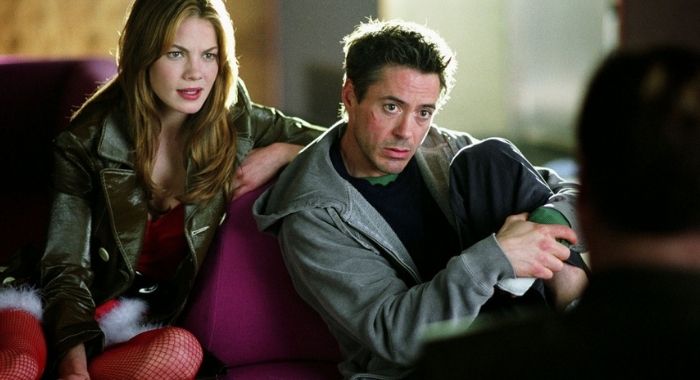 Synopsis: From producer Joel Silver and screenwriter Shane Black, both of Lethal Weapon fame comes an action-comedy spoof of rough-and-tumble buddy films–Kiss Kiss, Bang Bang. A private detective (Val Kilmer – Alexander), a thief posing as a struggling actor (Robert Downey Jr. – Gothika) and an actual struggling actress (Michelle Monaghan – The Bourne Supremacy) become entangled in a murder mystery filled with twists, turns, betrayal and, most importantly, romance
3. Tropic Thunder (Pluto TV)
Synopsis: Ben Stiller, Jack Black and Robert Downey Jr. lead an ensemble cast in "Tropic Thunder," an action comedy about a group of self-absorbed actors who set out to make the biggest war film ever. After ballooning costs (and the out of control egos of the pampered cast) threaten to shut down the movie, the frustrated director refuses to stop shooting, leading his cast deep into the jungles of Southeast Asia for "increased realism," where they inadvertently encounter real bad guys.
Synopsis: Based on the true story of the notorious serial killer and the intense manhunt he inspired, Zodiac is a superbly crafted thriller form the director of Se7en and Panic Room. Featuring an outstanding ensemble cast led by Jake Gyllenhaal, Robert Downey Jr., Mark Ruffalo and Chloë Sevigny, Zodiac is a searing and singularly haunting examination of twin obsessions: one man's desire to kill and another's quest for the truth.
Every MCU Appearance (Disney+)
Iron Man (Synopsis): Suit up for action with Robert Downey Jr. in the ultimate adventure movie you've been waiting for, Iron Man! When jet-setting genius-industrialist Tony Stark is captured in enemy territory, he builds a high-tech suit of armor to escape. Now, he's on a mission to save the world as a hero who's built, not born, to be unlike any other. Co-starring Gwyneth Paltrow, Terrence Howard and Jeff Bridges, it's a fantastic, high-flying journey that is "hugely entertaining" (Joe Morgenstern, The Wall Street Journal).