Richard Madden is definitely one of the most talented and charismatic actors working in the film industry right now. The brilliant Scottish actor made his screen debut at the early age of 11 and since then he has starred in some of the most brilliant shows and movies in recent memories including the worldwide phenomenon Game of Thrones. Madden is currently starring in The Russo Brothers' series franchise Citadel as Mason Kane. So, here are the 10 best movies and shows starring Richard Madden you should watch.
10. Bastille Day (Netflix)
Synopsis: Michael Mason (Richard Madden) is an American pickpocket living in Paris who finds himself hunted by the CIA when he steals a bag that contains more than just a wallet. Sean Briar (Idris Elba), the field agent on the case, soon realises that Michael is just a pawn in a much bigger game and is also his best asset to uncover a large-scale conspiracy.
Going against commands, Briar recruits Michael to use his expert pickpocketing skills to help quickly track down the source of the corruption. As a 24hr thrill ride ensues, the unlikely duo discovers they are both targets and must rely upon each other in order to take down a common enemy.
9. Eternals (Disney+)
Synopsis: Marvel Studios' Eternals features an exciting new team of Super Heroes in the Marvel Cinematic Universe, ancient aliens who have been living on Earth in secret for thousands of years. Following the events of Avengers: Endgame, an unexpected tragedy forces them out of the shadows to reunite against mankind's most ancient enemy, the Deviants.
8. Medici (Netflix)
Synopsis: A political family drama set in Florence in the early 15th century. Cosimo de' Medici finds himself at the helm of his supremely wealthy, banking dynasty family, when his father, Giovanni dies suddenly.
7. Lady Chatterley's Lover (Not Streaming in the US)
Synopsis: In 1913 Connie Reid marries wealthy Nottingham colliery owner Sir Clifford Chatterley but he returns from the Great War disabled and in a wheelchair. Connie is loyal but begins to feel alienated as he engages a nurse, Mrs Bolton, to bathe him and excludes her from pit business.
Synopsis: The story of Cinderella follows young Ella (Lily James) whose merchant father remarries following the death of her mother. Eager to support her loving father, she finds herself at the mercy of her jealous and cruel new family.
5. Klondike (Not Streaming in the US)
Synopsis: Based on actual events, KLONDIKE tells the story of the last great Gold Rush in history. In 1897 two friends make the perilous journey through North American wilderness to the Klondike boom town Dawson City, "The Paris of the North" where murder, revenge, riches and redemption await. From Executive Producer Ridley Scott, starring Richard Madden, Abbie Cornish, Sam Shepard and Tim Roth.
Synopsis: Sam Mendes, the Oscar®-winning director of Skyfall, Spectre and American Beauty, brings his singular vision to this World War I epic. At the height of the First World War, two young British soldiers, Schofield (Captain Fantastic's George MacKay) and Blake (Game of Thrones' Dean-Charles Chapman), are given a seemingly impossible mission. In a race against time, they must cross enemy territory and deliver a message that will stop a deadly attack on hundreds of soldiers—Blake's own brother among them.
Synopsis: Rocketman is an epic musical fantasy about the incredible human story of Elton John's breakthrough years. The film follows the fantastical journey of transformation from shy piano prodigy Reginald Dwight into international superstar Elton John. This inspirational story – set to Elton John's most beloved songs and performed by star Taron Egerton – tells the universally relatable story of how a small-town boy became one of the most iconic figures in pop culture. ROCKETMAN also stars Jamie Bell as Elton's longtime lyricist and writing partner Bernie Taupin, Richard Madden as Elton's first manager, John Reid, and Bryce Dallas Howard as Elton's mother Sheila Farebrother.
---
Also Read: Shows Like 'Bodyguard' To Watch While Hoping For Season 2
---
2. Bodyguard (Netflix)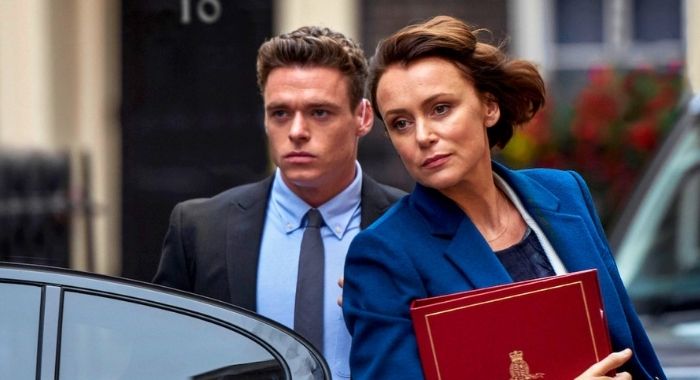 Synopsis: Set in and around the corridors of power, Bodyguard tells the fictional story of David Budd (Richard Madden), a heroic but volatile war veteran now working as a Specialist Protection Officer for the Royalty and Specialist Protection Branch (RaSP) of London's Metropolitan Police Service. When he is assigned to protect the ambitious and powerful Home Secretary Julia Montague (Keeley Hawes), whose politics stand for everything he despises, Budd finds himself torn between his duty and his beliefs. Responsible for her safety, is he actually her biggest threat?
---
Also Read: Epic Shows Like 'Game of Thrones' To Watch If You Miss the Series
---
1. Game of Thrones (HBO Max)
Synopsis: Trouble is brewing in the Seven Kingdoms of Westeros. For the driven inhabitants of this visionary world, control of Westeros' Iron Throne holds the lure of great power. But in a land where the seasons can last a lifetime, winter is coming…and beyond the Great Wall that protects them, an ancient evil has returned. Based on the bestselling book series 'A Song of Ice and Fire' by George R.R. Martin comes this epic HBO drama series set in a fantastic realm where noble families engage in a deadly fight for control.