2022 is about to end and this is the time to look back on the year and list all of the best Prime Video original shows of this year. This was a great year for Prime Video shows, as there were so many shows and almost all of them were brilliant, and because of that, we have only added shows that premiered this year and also the shows which premiered their new season and aired their season finale episode in 2022. The shows on this list are not ranked.
---
Also Read: Shows Like 'The Boys' To Watch While Waiting For Season 4
---
The Boys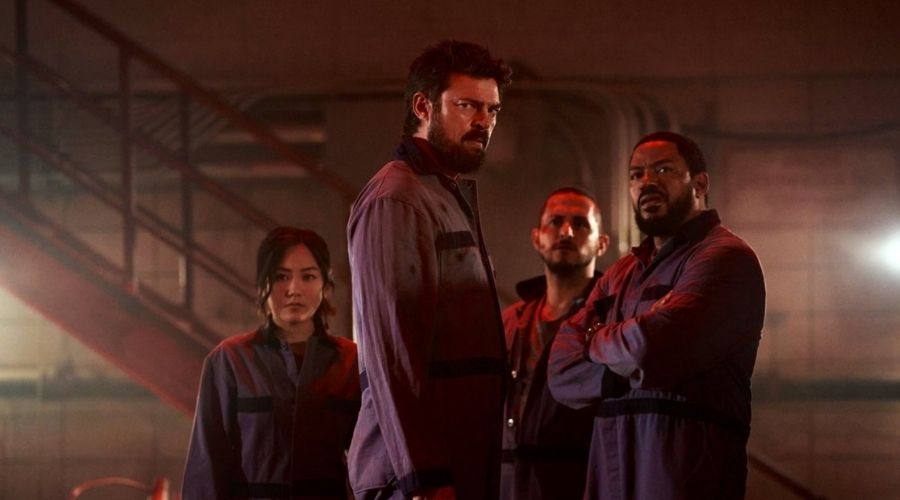 Synopsis: The Boys is an irreverent take on what happens when superheroes, who are as popular as celebrities, as influential as politicians and as revered as Gods, abuse their superpowers rather than use them for good. It's the powerless against the super powerful as The Boys embark on a heroic quest to expose the truth about "The Seven," and their formidable Vought backing.
---
Also Read: Shows Like 'Outer Range' To Watch If You Like the Series
---
Outer Range
Synopsis: Outer Range centers on Royal Abbott (Josh Brolin), a rancher fighting for his land and family, who discovers an unfathomable mystery at the edge of Wyoming's wilderness. A thrilling fable with hints of wry humor and supernatural mystery, Outer Range examines how we grapple with the unknown. At the onset of the series, the Abbotts are coping with the disappearance of daughter-in-law Rebecca. They are pushed further to the brink when the Tillersons (the gaudy owners of the neighboring profit-driven ranch) make a play for their land. An untimely death in the community sets off a chain of tension-filled events, and seemingly small-town, soil-bound troubles come to a head with the arrival of a mysterious black void in the Abbotts' west pasture. Wild revelations unfold as Royal fights to protect his family; through his eyes, we begin to see how time contains secrets held in the past and unsettling mysteries foreshadowed. Led by Oscar-nominee Josh Brolin (Milk), Outer Range features an ensemble cast of award-winning and breakout talent, including Imogen Poots (I Know This Much is True), Lili Taylor (Perry Mason), Tamara Podemski (Four Sheets to the Wind), Lewis Pullman (Top Gun: Maverick), Tom Pelphrey (Ozark), Noah Reid (Schitt's Creek), Shaun Sipos (Krypton), Isabel Arraiza (The Little Things), Olive Abercrombie (The Haunting of Hill House), and Will Patton (Yellowstone).
---
Also Read: Mind-Bending Shows Like 'The Devil's Hour' To Watch If You Like the Series
---
The Devil's Hour
Synopsis: The series follows the story of Lucy, played by Jessica Raine, who is woken every night by terrifying visions at exactly 3.33am: the devil's hour. Her eight-year-old son is withdrawn and emotionless. Her mother speaks to empty chairs. Her house is haunted by the echoes of a life that isn't her own. When Lucy's name is inexplicably connected to a string of brutal murders in the area, the answers that have evaded her all these years will finally come into focus. Peter Capaldi plays a reclusive nomad, driven by a murderous obsession. He becomes the prime target of a police manhunt led by compassionate detective Ravi Dhillon, played by Nikesh Patel.
---
Also Read: Shows Like 'The English' To Watch If You Liked the Western Drama
---
The English
Synopsis: The English is an epic chase Western, from award-winning writer and director Hugo Blick. The series takes the core themes of identity and revenge to tell a uniquely compelling parable on race, power, and love. An aristocratic Englishwoman, Lady Cornelia Locke (Emily Blunt), and a Pawnee ex-cavalry scout, Eli Whipp (Chaske Spencer), come together in 1890 middle America to cross a violent landscape built on dreams and blood. Both of them have a clear sense of their destiny, but neither is aware that it is rooted in a shared past. They must face increasingly terrifying obstacles that will test them to their limits, physically and psychologically. But as each obstacle is overcome, it draws them closer to their ultimate destination—the new town of Hoxem, Wyoming. It is here, after an investigation by the local sheriff Robert Marshall (Stephen Rea) and young widow Martha Myers (Valerie Pachner) into a series of bizarre and macabre unsolved murders, that the full extent of their intertwined history will be truly understood, and they will come face-to-face with the future they must live. The series' ensemble cast includes Rafe Spall, Tom Hughes, Toby Jones, and Ciarán Hinds.
As We See It
Synopsis: As We See It follows Jack (Rick Glassman), Harrison (Albert Rutecki), and Violet (Sue Ann Pien), twentysomething roommates on the autism spectrum, as they strive to get and keep jobs, make friends, fall in love, and navigate a world that eludes them. With the help of their families, aide, and sometimes even each other, these roommates experience setbacks and celebrate triumphs on their own unique journeys towards independence and acceptance. Series stars Glassman, Rutecki, and Pien all identify as living on the autism spectrum. The series also stars Sosie Bacon as their aide Mandy, Chris Pang as Violet's brother Van, and Joe Mantegna as Jack's father Lou.
---
Also Read: Shows Like 'Paper Girls' To Watch If You Loved the Series
---
Paper Girls
Synopsis: In the early morning hours after Halloween 1988, four paper girls—Erin, Mac, Tiffany, and KJ—are out on their delivery route when they become caught in the crossfire between warring time-travelers, changing the course of their lives forever. Transported into the future, these girls must figure out a way to get back home to the past, a journey that will bring them face-to-face with the grown-up versions of themselves. While reconciling that their futures are far different than their 12-year-old selves imagined, they are being hunted by a militant faction of time-travelers known as the Old Watch, who have outlawed time travel so that they can stay in power. In order to survive, the girls will need to overcome their differences and learn to trust each other, and themselves.
Based on the best-selling graphic novels written by Brian K. Vaughan and illustrated by Cliff Chiang, Paper Girls is a high-stakes personal journey depicted through the eyes of four girls, played by breakout leads Camryn Jones as Tiffany Quilkin, Riley Lai Nelet as Erin Tieng, Sofia Rosinsky as Mac Coyle, and Fina Strazza as KJ Brandman. Ali Wong also stars as the grown-up version of Erin, with Nate Corddry as Larry, and Adina Porter as Prioress.
---
Also Read: Shows Like 'Reacher' To Watch After Binging Season 1
---
Reacher
Synopsis: Reacher follows Jack Reacher, a veteran military police investigator who has just recently entered civilian life. Reacher is a drifter, carrying no phone and the barest of essentials as he travels the country and explores the nation he once served. When Reacher arrives in the small town of Margrave, Georgia, he finds a community grappling with its first homicide in 20 years. The cops immediately arrest him and eyewitnesses claim to place Reacher at the scene of the crime. While he works to prove his innocence, a deep-seated conspiracy begins to emerge, one that will require Reacher's keen mind and hard-hitting fists to deal with. One thing above all is for sure: They picked the wrong guy to take the fall.
A League of Their Own
Synopsis: A League of Their Own evokes the joyful spirit of Penny Marshall's beloved classic, while widening the lens to tell the story of an entire generation of women who dreamed of playing professional baseball, both in and outside of the AAGPBL. The show follows Carson (Abbi Jacobson) and Max (Chanté Adams) and a new ensemble of sharp and hilarious characters as they carve their paths toward the field, along the way finding their teams and themselves.
---
Also Read: Shows Like 'The Legend of Vox Machina' To Watch While Waiting For Season 2
---
The Legend of Vox Machina
Synopsis: Based on the beloved characters and adventures of Critical Role's first livestreamed tabletop role-playing game (RPG) campaign, The Legend of Vox Machina is an animated fantasy-adventure series for adults that follows Vox Machina, a band of misfits with a fondness for boozing and brawling. In a desperate attempt to pay off their mounting bar tab, these unlikely heroes end up on a quest to save the realm of Exandria from dark magical forces. From a sinister necromancer to a powerful curse, the group confronts a variety of obstacles that not only test their skills, but also the strength of their bond.
---
Also Read: Shows Like 'The Peripheral' To Watch If You Like the Series
---
The Peripheral
Synopsis: Flynne Fisher (Chloe Grace Moretz), her Marine veteran brother, Burton (Jack Reynor), and their dying mother live in a small town in the Blue Ridge Mountains in 2032. As their mother's health deteriorates and the medical bills add up, Flynne and Burton make extra money playing simulations (Sims). The two siblings share Burton's avatar, "jockeying" for high-paying customers to beat challenging game levels. When Burton is offered a chance to beta test a new Sim, it's Flynne who ends up playing, pretending to be her brother. The Sim takes place in London and it tasks Flynne with breaking into a corporation known as the Research Institute—to steal a valuable secret. When the assignment goes badly wrong, Flynne begins to realize the Sim is more real than she ever could have imagined. The London she's exploring exists in the future…year 2099. And what Flynne has uncovered in the Research Institute has put her and her family in grave peril. There are people from the future who want to use Flynne for the information she's stolen…and there are others who want Flynne dead. Flynne encounters Wilf (Gary Carr) in Future London, a man who may be the key to unlocking the mystery at hand. But first, in her present, Flynne and Burton, along with his former elite military unit, must rally to save themselves from forces intent on killing them—forces sent from the future to reclaim the vital secret Flynne stole.