Nina Dobrev has had a long and wonderful career in Hollywood, she has been on our screens since her character Mia appeared in the Canadian series Degrassi: The Next Generation Season 3. Since then Dobrev has starred opposite stars like Julia Roberts, Elliot Page, and Emma Watson, and she starred in one of the biggest teen TV series The Vampire Diaries. In TVD, Dobrev played the role of a teenage Elena Gilbert, who just lost her parents and now she is in high school and falls in love with a mysterious boy Stefan Salvatore (Paul Wesley) who turns out to be a vampire. The series also starred Ian Somerhalder, Candice King, and Kat Graham. So, if you are a fan of Dobrev check out these 10 movies and TV shows.
10. Flatliners
Synopsis: Five medical students, obsessed by the mystery of what lies beyond the confines of life, embark on a daring and dangerous experiment: by stopping their hearts for short periods of time, each triggers a near-death experience, giving them a firsthand account of the afterlife. But as their experiments become increasingly dangerous, they are each haunted by the sins of their pasts, brought on by the supernatural consequences of trespassing to the other side.
9. The American Mall
Synopsis: From the executive producers of High School Musical, The American Mall is about Ally, a hardworking young woman whose mom owns a music shops that's the soul of the mall. Ally's singer/songwriter ambitions start to blossom when she meets Joey, a musician moonlighting as a janitor at the mall to support his own rock star dreams. While Joey understands her songs (and heart) like no one else, Ally's happiness and the fate of the store are threatened when the mall owners' spoiled, driven daughter Madison gets involved. It's high drama that rocks full on through song and dance. And at The American Mall you can fall in love, live your dreams and have the time of your life.
8. Crash Pad
Synopsis: A hopeless romantic (Domhnall Gleeson) thinks he's found true love with an older woman (Christina Applegate) only to learn that she's married and their encounter was merely an instrument of revenge against her neglectful husband (Thomas Haden Church). Initially out for blood, the husband finds himself strangely sympathetic to the romantic's plight and decides the best way for the two of them to get revenge is by moving in together, cutting her out and living the bachelor life.
7. Dog Days
Synopsis: From acclaimed production company LD Entertainment (The Zookeeper's Wife, Jackie, and Megan Leavey) and Director Ken Marino comes Dog Days. Dog Days is a hilarious and heartfelt ensemble comedy that follows the lives of multiple dog owners and their beloved fluffy pals around sunny Los Angeles. When these human and canine's paths start to intertwine, their lives begin changing in ways they never expected.
6. Fam
Synopsis: FAM stars Nina Dobrev and Tone Bell in a comedy about a woman whose vision of a perfect life with her adoring fiancé and his wonderful family is radically altered when her 16-year-old, out-of-control half-sister unexpectedly comes to live with her.
5. Degrassi: The Next Generation
Synopsis: It's a brave new world as the Next Generation of Degrassi confronts all new issues. But, this environment is much different than the one faced by generations before. It's filled with the Internet, body piercing, hip-hop and more opportunities for pitfalls than ever. Remember when meeting pen pals wasn't risky? These kids may be more media savvy than their parents, but they aren't necessarily more sophisticated. A whole new generation ventures through the trial and tribulations of adolescence, with a one-hour kick-off episode (featuring favorites from Degrassi's past) and a cliffhanger that you won't want to miss.
4. Then Came You
Synopsis: Then Came You is a sweet, uplifting tale that reminds us it's not how long we live, but how we live the life we have, that matters. The film tells the story of Skye (Maisie Williams), a spunky teenager with a terminal illness who befriends Calvin (Asa Butterfield), a 19-year old hypochondriac who is afraid of his own shadow. Calvin helps Skye carry out her eccentric bucket list of things to do before she dies. In the process, he learns to confront and conquer his own fears, including falling in love with the beautiful, but seemingly untouchable, Izzy (Nina Dobrev).
3. Love Hard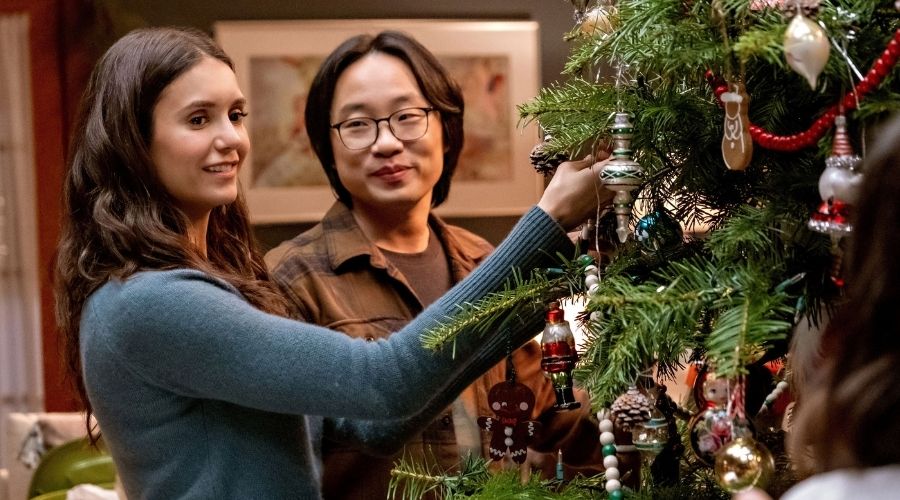 Synopsis: An LA girl, unlucky in love, falls for an East Coast guy on a dating app and decides to surprise him for the holidays, only to discover that she's been catfished. This lighthearted romantic comedy chronicles her attempt to reel in love.
2. The Perks of Being a Wallflower
Synopsis: Based on the 1999 coming-of-age novel by Stephen Chbosky, set in 1999-2000 a shy, introverted high school freshman with a history of mental illness discovers a world of excitement, cool music, and hip parties after meeting two seniors who take him under their wing.
1. The Vampire Diaries
Synopsis: It's Elena's first day back at Mystic Falls High School since the tragic death of her parents. Along with her Aunt Jenna, Elena looks after her troubled younger brother, Jeremy. The day is a struggle for Elena until she meets the mysterious new kid at school, Stefan. As their connection grows deeper, Stefan's dangerous older brother, Damon, shows up to wreak havoc—and claim Elena for himself.