The John Wick franchise is one of the greatest action film series ever made. Keanu Reeves stars as the titular character and he makes one thing very clear and that is that nobody else could play this character. With long fight sequences to brilliant action choreography including hand-to-hand combat and gun-fu, John Wick is definitely one of the most famous and memorable action film series. So, if you also miss John Wick and its badass action here are some great action movies you could watch to satiate that action addiction.
Nobody (HBO Max)
Synopsis: Hutch is a nobody. As an overlooked and underestimated father and husband, he takes life's indignities on the chin and never rocks the boat. But when his daughter loses her beloved kitty-cat bracelet in a robbery, Hutch hits a boiling point no one knew he had. What happens when a pushover finally pushes back? Hutch flips from regular dad to fearless fighter by taking his enemies on a wild ride of explosive revenge. The writer of John Wick showcases Emmy® winner Bob Odenkirk (Better Call Saul) as fans have never seen him before: an average family man who becomes a lethal vigilante unlike any ordinary action hero.
Kate (Netflix)
Synopsis: Meticulous and preternaturally skilled, Kate is the perfect specimen of a finely tuned assassin at the height of her game. But when she uncharacteristically blows an assignment targeting a member of the yakuza in Tokyo, she quickly discovers she's been poisoned, a brutally slow execution that gives her less than 24 hours to exact revenge on her killers. As her body swiftly deteriorates, Kate forms an unlikely bond with the teenage daughter of one of her past victims. Starring Mary Elizabeth Winstead, Miku Martineau, and Woody Harrelson, and directed by Cedric Nicolas-Troyan, Kate follows a burned assassin's furious pursuit of one last self-appointed job.
Synopsis: A super-secret organization recruits an unrefined but promising street kid into the agency's ultra-competitive training program just as a dire global threat emerges from a twisted tech genius. A phenomenal cast, including ACADEMY AWARD® Winners Colin Firth and Michael Caine* and OSCAR® Nominee Samuel L. Jackson**, leads this action-packed spy-thriller directed by Matthew Vaughn (X-Men: First Class). *Colin Firth, Actor, The King's Speech, 2010. Michael Caine, Supporting Actor: Hannah And Her Sisters, 1986; The Cider House Rules, 1999. Supporting Actor, Pulp Fiction, 1994.
Headshot (Netflix)
Synopsis: HEADSHOT centers on a mysterious young man, who, after months in a coma from a gunshot wound to the head is nursed back to health by a young student-doctor, Ailin. Realizing that the man has lost his memory and identity, the two quickly grow closer; not realizing that behind their momentary peace lays danger. Soon their lives collide with a gang of dangerous criminals led by an enigmatic crime lord – and with every violent confrontation, his memory brings him closer to a dark truth as the lethal personality awakening within him starts to reveal who he really is.
Deadpool (Disney+)
Synopsis: Hold onto your chimichangas, folks. From the studio that brought you all 3 Taken films comes the block-busting, fourth-wall-breaking masterpiece about Marvel Comics' sexiest anti-hero! Starring God's perfect idiot Ryan Reynolds and a bunch of other "actors," Deadpool is a giddy slice of awesomeness packed with more twists than Deadpool's enemies' intestines and more action than prom night. Amazeballs!
Birds of Prey (HBO Max)
Synopsis: You ever hear the one about the cop, the blonde, the psycho and the mafia princess? Birds Of Prey And the Fantabulous Emancipation of One Harley Quinn is a twisted tale told by Harley herself, as only Harley can tell it. When one of Gotham's most sinister villains, Roman Sionis, and his sadistic right-hand, Zsasz, put a target on a young girl named Cass, the city's wicked underbelly is turned upside down looking for her. Harley, Huntress, Canary and Renee Montoya's paths collide and the unlikely foursome have no choice but to team up to take Roman down.
No Tears For The Dead (Prime Video)
Synopsis: Abandoned by his mother shortly after immigrating to America, Gon is raised by the mafia and grows up to become a cold-blooded hitman. While on a job, Gon makes the mistake of killing an innocent young girl. Guilt takes over his life and things become worse when his boss orders him to kill the young girl's mother, whom he falls in love with.
Synopsis: Hard-drinking, burnt-out ex-CIA operative John Creasy (Washington) has given up on life–until his friend Rayburn (Oscar winner Christopher Walken) gets him a job as a bodyguard to nine-year-old Pita Ramos (Dakota Fanning). Bit by bit, Creasy begins to reclaim his soul, but when Pita is kidnapped, Creasy unleashes a firestorm of apocalyptic vengeance against everyone responsible.
Extraction (Netflix)
Synopsis: Tyler Rake (Chris Hemsworth) is a fearless black market mercenary with nothing left to lose when his skills are solicited to rescue the kidnapped son of an imprisoned international crime lord. But in the murky underworld of weapons dealers and drug traffickers, an already deadly mission approaches the impossible, forever altering the lives of Rake and the boy. An action-packed, edge-of-your-seat thriller directed by Sam Hargrave, EXTRACTION is an AGBO Films and TGIM Films, Inc. production, produced by Joe Russo, Anthony Russo, Mike Larocca, Chris Hemsworth, Eric Gitter, and Peter Schwerin.
Synopsis: Directed by Oscar® winner* Steven Soderbergh (Contagion), this dynamic action-thriller introduces mixed martial arts (MMA) superstar Gina Carano as Mallory Kane, a black-ops agent for a government security contractor. After freeing a Chinese journalist held hostage, Mallory is double-crossed and left for dead — by someone in her own agency. Suddenly the target of assassins who know her every move, Mallory unleashes the fury of her fighting skills to uncover the truth and turn the tables on her ruthless adversary. Featuring Carano performing her own high-adrenaline stunts and an all-star cast including Michael Fassbender, Ewan McGregor, Bill Paxton, Channing Tatum, Antonio Banderas and Michael Douglas, HAYWIRE is explosive movie entertainment.
The Bourne Identity (HBO Max)
Synopsis: A blockbuster hit, The Bourne Identity stars Academy Award-winner Matt Damon as a man fished out of the ocean by an Italian boat who has a complete loss of memory. Why are assassins after him? Why is he a master of martial arts and fluent in several languages? The answers will thrill and astonish you! Featuring amazing action scenes, taut direction, and beautiful European locations.
A Company Man (Prime Video & YouTube)
Synopsis: Literally. At this company, death is all in a day's work. Hyeong-do is a corporate assassin, working for a company specializing in contract killings. He's one of the best, and a loyal employee. But when his new trainee gets killed on the job, he feels an obligation to care for the kid's family – and taking his eye off the ball is not how a guy gets promoted. Now, Hyeong-do wants out of the cutthroat rat race to start a new life, but his colleagues have different plans – and "retirement" may come at a far bloodier price than expected.
Synopsis: Oscar®-winner Charlize Theron stars as elite MI6's most lethal assassin and the crown jewel of her Majesty's secret intelligence service, Lorraine Broughton. When she's sent on a covert mission into Cold War Berlin, she must use all of the spycraft, sensuality and savagery she has to stay alive in the ticking time bomb of a city simmering with revolution and double-crossing hives of traitors. Broughton must navigate her way through a deadly game of spies to recover a priceless dossier while fighting ferocious killers along the way in this breakneck action-thriller from director David Leitch (John Wick).
Hardcore Henry (Netflix)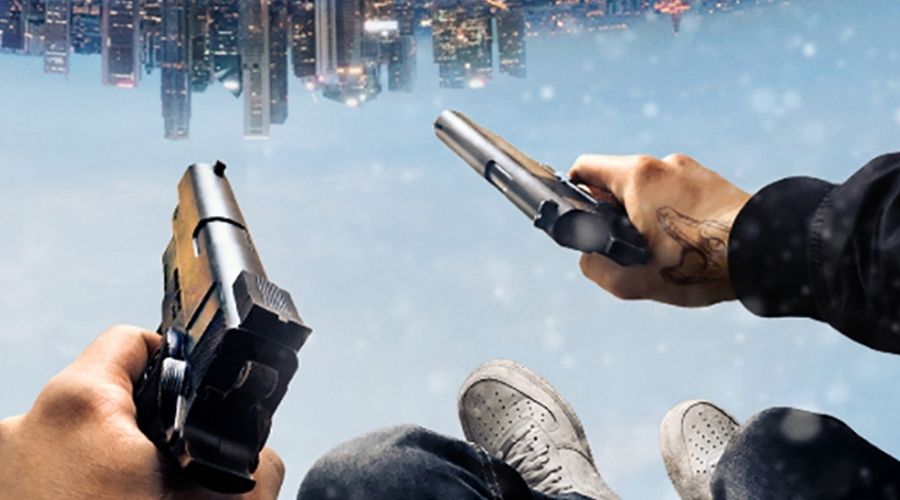 Synopsis: Strap in. HARDCORE HENRY is one of the most unflinchingly original wild-rides to hit the big screen in a long time: You remember nothing. Mainly because you've just been brought back from the dead by your wife (Haley Bennett). She tells you that your name is Henry. Five minutes later, you are being shot at, your wife has been kidnapped, and you should probably go get her back. Who's got her? His name's Akan (Danila Kozlovsky); he's a powerful warlord with an army of mercenaries, and a plan for world domination. You're also in an unfamiliar city of Moscow, and everyone wants you dead. Everyone except for a mysterious British fellow called Jimmy (Sharlto Copley). He may be on your side, but you aren't sure. If you can survive the insanity, and solve the mystery, you might just discover your purpose and the truth behind your identity. Good luck, Henry. You're likely going to need it…
Synopsis: Bloody revenge is at the heart of this stylish, kinetic action-thriller that gives a welcome shot of adrenaline to the classic femme fatale story. Honed from childhood into a merciless killing machine by a criminal organization, assassin Sook-hee is recruited as a sleeper agent with the promise of freedom after ten years of service – and she jumps at the chance for a normal life. But soon enough, secrets from her past destroy everything she's worked for, and now nobody can stand in her way as she embarks on a roaring rampage of revenge.
Man of Tai Chai (Prime Video & YouTube)
Synopsis: Man of Tai Chi marks Keanu Reeves' directorial debut. The film, also starring Reeves, follows the spiritual journey of a young martial artist (played by Tiger Chen) whose unparalleled Tai Chi skills land him in a highly lucrative underworld fight club.
Synopsis: Deep in the heart of Jakarta's slums lies an impenetrable safe house for the world's most dangerous killers and gangsters. Until now, the rundown apartment block has been considered untouchable. Cloaked under the cover of pre-dawn darkness and silence, an elite swat team is tasked with raiding the safe house in order to take down the notorious drug lord that runs it. But when a chance encounter with a spotter blows their cover and news of their assault reaches the drug lord, they find themselves stranded on the 6th floor with no way out. The unit must fight their way through the city's worst to survive their mission.
The Raid 2 (Netflix)
Synopsis: He thought it was over. After fighting his way out of a building filled with gangsters and madmen – a fight that left the bodies of police and gangsters alike piled in the halls – rookie Jakarta cop Rama thought it was done and he could resume a normal life. He couldn't have been more wrong. Formidable though they may have been, Rama's opponents in that fateful building were nothing more than small fish swimming in a pond much larger than he ever dreamed possible. And his triumph over the small fry has attracted the attention of the predators farther up the food chain. His family at risk, Rama has only one choice to protect his infant son and wife: He must go undercover to enter the criminal underworld himself and climb through the hierarchy of competing forces until it leads him to the corrupt politicians and police pulling the strings at the top of the heap. And so Rama begins a new odyssey of violence, a journey that will force him to set aside his own life and history and take on a new identity as the violent offender "Yuda." In prison he must gain the confidence of Uco – the son of a prominent gang kingpin – to join the gang himself, laying his own life on the line in a desperate all-or-nothing gambit to bring the whole rotten enterprise to an end.
A Bittersweet Life (Prime Video & Pluto TV)
Synopsis: Kim Sun-woo is the manager of a hotel owned by a crime boss, who assigns him to an errand while he is away. Sun-Woo is to shadow his boss's mistress, whom he fears may be cheating on him with a younger man. Sun-Woo is mandated to kill them both, but he decides to spare their life at his own expense.
The Killer (1989)
Synopsis: Chow Yun-fat stars as a killer with a conscience in John Woo's exquisite dissection of morals in a corrupt society. Replete with balletic, slow-motion gun battles on the streets of Hong Kong, The Killer mixes genres from both the East and the West.
The Man From Nowhere (Peacock & Pluto TV)
Synopsis: Tae-Sik is a widower with a mysterious past. When a young girl he befriends is kidnapped by a vicious drug gang, Tae-Sik rushes to save her. Hell-bent on justice after being framed by the nasty criminals, he takes the law into his own hand.