TV Shows are so great because they give time to the viewers to really connect with the characters in the series, but what happens when the same characters you were watching on your television for so long, get rebooted into a movie, sometimes it goes great, and sometimes you shouldn't even try to love the film. We are here to list the best 7 movies that were based on wildly successful television shows.
7. The Muppet Movie
Synopsis: Kermit meets with a talent scout in Hollywood. Along the way he's joined by Fozzie, Gonzo and Piggy. But everything goes awry when Kermit falls into the clutches of Doc Hopper, a villain who owns fast food restaurants that sell fried frog-legs!
6. Charlie's Angels
Synopsis: Cameron Diaz, Drew Barrymore and Lucy Liu star as the captivating crime-fighting trio who are masters of disguise, espionage and martial arts. When a devious mastermind embroils them in a plot to destroy individual privacy, the Angels, aided by their loyal sidekick Bosley (Bill Murray), set out to bring down the bad guys. But when a terrible secret is revealed, it makes the Angels targets for assassination.
5. Sex and the City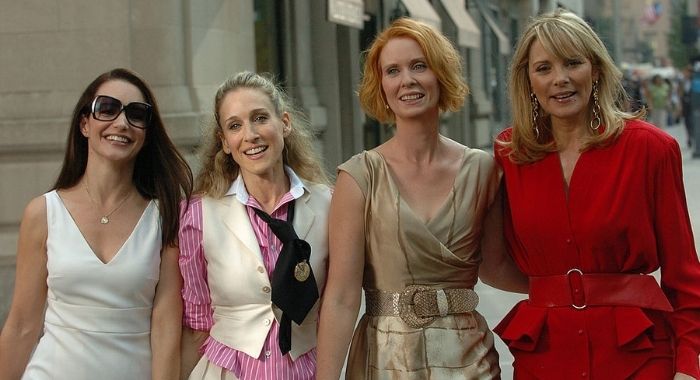 Synopsis: Sarah Jessica Parker stars as Carrie Bradshaw, a columnist chronicling the mating habits of the hip, trendy and terribly neurotic Manhattan single — starting with her own experiences looking for love in the big city. Kim Cattrall, Kristin Davis and Cynthia Nixon are back in their roles as Carrie's best friends, cohorts and confidents, Samantha, Charlotte and Miranda.
4. Downton Abbey
Synopsis: The worldwide phenomenon, Downton Abbey, returns in a spectacular motion picture, as the beloved Crawleys and their intrepid staff prepare for the most important moment of their lives. A royal visit from the King and Queen of England unleashes scandal, romance and intrigue that leave the future of Downton hanging in the balance. Written by series creator Julian Fellowes and starring the original cast, this grand cinematic experience will have you cheering for your favorite characters all over again.
3. 21 Jump Street
Synopsis: Former high school foes turned rookie cop partners can't catch a break – until they're assigned to pose as students and bust a drug ring inside their old alma mater. Living like teenagers again, they slip back into their adolescent selves and risk the case – and their friendship – with hysterically disastrous results! Jonah Hill, Channing Tatum and Ice Cube star in this outrageously hilarious action-comedy!
2. Mission: Impossible
Synopsis: Tom Cruise ignites the screen in this runaway smash hit that "holds you on the edge of your seat before blasting you out of it." (Howard Rosenberg, Los Angeles Times). Cruise stars as Ethan Hunt, a secret agent framed for the deaths of his espionage team. Fleeing from government assassins, breaking into the CIA's most impenetrable vault, clinging to the roof of a speeding bullet train, Hunt races like a burning fuse to stay one step ahead of his pursuers… and draw one step closer to discovering the shocking truth.
1. Batman
Synopsis: Tim Burton directs; Michael Keaton stars as Batman; and Jack Nicholson stars as his arch foe, The Joker. As the Dark Knight, defender of law and order in Gotham City, Batman treads the shadow zone between right and wrong, fighting with only his skill in martial arts and his keenly honed mind to defend the innocent and to purge the memory of his parents' brutal murder–always keeping his true identity as millionaire philanthropist Bruce Wayne a closely guarded secret. Based upon Batman characters created by Bob Kane and published by DC Comics.