If you have seen The Bear Season 2 recently and are wondering about who exactly is Claire Bear (the romantic interest of Carmy), you don't need to wonder any longer. The role of Claire in the popular comedy-drama is played by Molly Gordon, and it seems like she is the new comedy darling of Hollywood. The American actress made her first onscreen debut in the 2001 drama film I Am Sam in the role of Callie and since then she has appeared in several brilliant projects including Good Boys and Animal Kingdom. So, if you also loved Gordon in The Bear, here are the best movies and shows starring Molly Gordon, that should be on your watchlist.
10. You People (Netflix)
Synopsis: A new couple and their families find themselves examining modern love and family dynamics amidst clashing cultures, societal expectations and generational differences in this comedy from Kenya Barris.
Synopsis: What if you saved a souvenir from every relationship you've ever been in? THE BROKEN HEARTS GALLERY follows the always unique Lucy (Geraldine Viswanathan), a 20-something art gallery assistant living in New York City, who also happens to be an emotional hoarder. After she gets dumped by her latest boyfriend, Lucy is inspired to create The Broken Heart Gallery, a pop-up space for the items love has left behind. Word of the gallery spreads, encouraging a movement and a fresh start for all the romantics out there, including Lucy herself.
Synopsis: Just how bad can one day get? The creative minds behind Superbad and Sausage Party take on sixth grade hard in this innocent yet raunchy comedy. 12-year-olds Max, Thor, and Lucas decide to skip school in an attempt to learn how to kiss in time for a kissing party. Their odyssey of epically bad decisions involves some accidentally stolen drugs, frat-house paintball, and running from both the cops and terrifying teenage girls!
Synopsis: When 17-year-old Joshua "J" Cody moves in with his wild, free- wheeling relatives in their Southern California beach town, he is pulled into their life of indulgence and excess. But after "J" discovers that it's all being funded by criminal activities, it suddenly becomes clear to him that joining the family comes with more danger and excitement than he might be ready to handle.
Animal Kingdom is an adrenaline-charged drama starring Ellen Barkin as the matriarch of a Southern California family whose excessive lifestyle is fueled by their criminal activities, with Scott Speedman as her second in command. Shawn Hatosy, Ben Robson, Jake Weary and Finn Cole also star.
6. Theater Camp (Coming to Theaters on July 14)
Synopsis: Tony Award winner Ben Platt and Molly Gordon star in the original comedy THEATER CAMP as Amos and Rebecca-Diane – lifelong best friends and drama instructors at a rundown camp in upstate New York. When clueless tech-bro Troy (Jimmy Tatro) arrives to run the property (into the ground), Amos, Rebecca-Diane and production manager Glenn (Noah Galvin) band together with the staff and students, staging a masterpiece to keep their beloved summer camp afloat.
5. Winning Time: The Rise of the Lakers Dynasty (Max)
Synopsis: A fast-break series chronicling the professional and personal lives of the 1980s Los Angeles Lakers, one of sports' most revered and dominant dynasties — a team that defined an era, both on and off the court. The ensemble cast includes: John C. Reilly, Quincy Isaiah, Jason Clarke, Adrien Brody, Gaby Hoffman, Tracy Letts, Jason Segel, Julianne Nicholson, and more.
4. Shiva Baby (Max)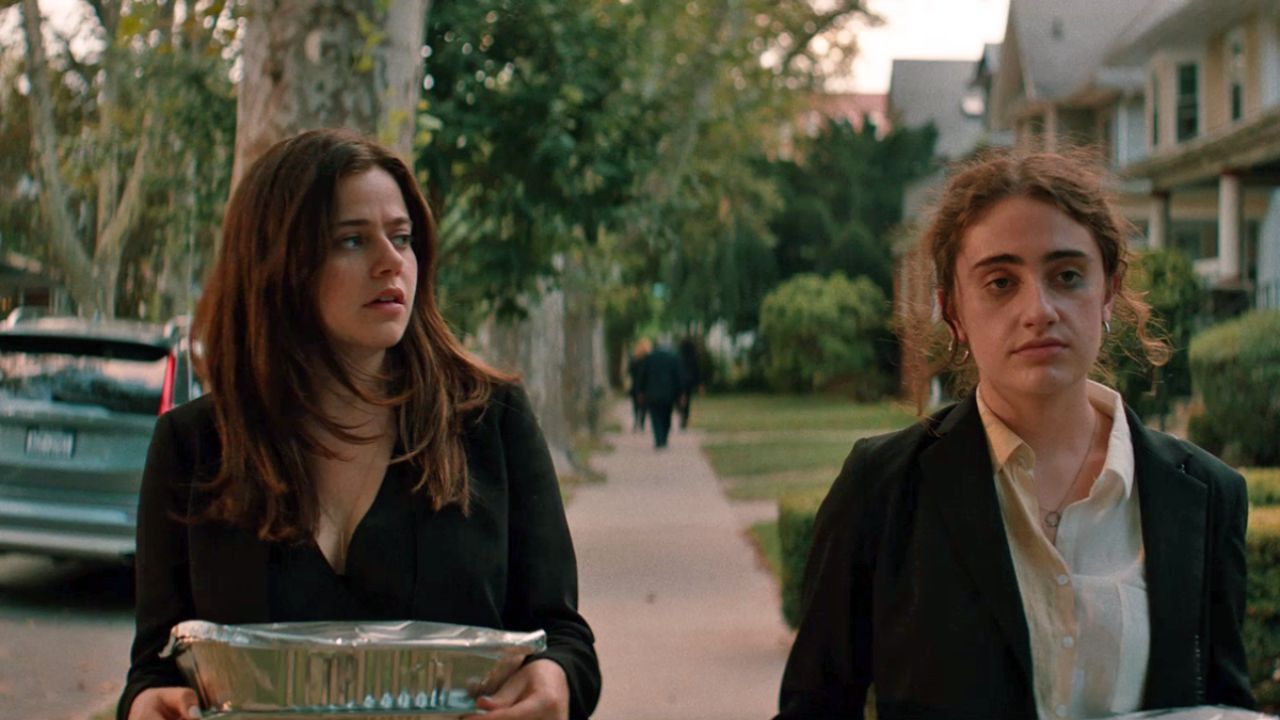 Synopsis: College student Danielle is faced with a series of awkward encounters at a day-long shiva, a Jewish gathering during a time of mourning. Amongst overbearing relatives, she is rattled by the appearance of an ex-girlfriend and of her secret sugar daddy, who unexpectedly arrives with his wife and baby.
3. Ramy (Hulu)
Synopsis: EMMY® NOMINATED Ramy is a first generation Egyptian-American who is on a spiritual journey in his politically-divided New Jersey neighborhood. RAMY will bring a new perspective to the screen as it explores the challenges of what it's like being caught between a Muslim community that thinks life is a moral test and a millennial generation that thinks life has no consequences.
Synopsis: Told from a wildly original, fresh and modern perspective, Booksmart is an unfiltered comedy about high school best friends and the bonds we create that last a lifetime. Capturing the spirit of our times, the film is a coming of age story for a new generation.
1. The Bear (Hulu)
Synopsis: Carmy, a young fine-dining chef, comes home to Chicago to run his family sandwich shop. As he fights to transform the shop and himself, he works alongside a rough-around-the-edges crew that ultimately reveal themselves as his chosen family.