Jessica Chastain is one of the most talented actors working in Hollywood right now. The brilliant American actress started her career in Hollywood with the 2008 drama film Jolene and she got her big break from the 2011 film Take Shelter. Since then Chastain has starred in some of the best movies in film history. If you also love Jessica Chastain's work we listed her best movies you could watch.
15. The Forgiven (Hulu)
Synopsis: Speeding through the Moroccan desert to attend an old friend's lavish weekend party, wealthy Londoners David and Jo Henninger (Ralph Fiennes and Jessica Chastain) are involved in a tragic accident with a local teenage boy. Arriving late at the grand villa with the debauched party raging, the couple attempts to cover up the incident with the collusion of the local police. But when the boy's father arrives seeking justice, the stage is set for a tension-filled culture clash in which David and Jo must come to terms with their fateful act and its shattering consequences.
Synopsis: THE EYES OF TAMMY FAYE is an intimate look at the extraordinary rise, fall and redemption of televangelist Tammy Faye Bakker. In the 1970s and 80s, Tammy Faye and her husband, Jim Bakker, rose from humble beginnings to create the world's largest religious broadcasting network and theme park, and were revered for their message of love, acceptance and prosperity. Tammy Faye was legendary for her indelible eyelashes, her idiosyncratic singing, and her eagerness to embrace people from all walks of life. However, it wasn't long before financial improprieties, scheming rivals, and scandal toppled their carefully constructed empire.
13. It Chapter Two (HBO Max & Tubi)
Synopsis: Because every 27 years evil revisits the town of Derry, Maine, "IT Chapter Two" brings the characters—who've long since gone their separate ways—back together as adults, nearly three decades after the events of the first film.
12. Lawless (Philo)
Synopsis: They were brothers who became outlaws, and outlaws who became heroes… The three Bondurant boys (Shia LaBeouf, Tom Hardy, Jason Clarke), along with their sultry new hire (Jessica Chastain), command the most lucrative bootlegging operation in Franklin County, Virginia. The locals consider them "indestructible." But the law—in the form of a corrupt special deputy (Guy Pearce)—wants a cut of their action, at any cost. When youngest brother Jack (LaBeouf) gets a taste of power with a deadly gangster (Gary Oldman) the whole business blows sky high. Based on the astonishing true story, the Bondurant brotherhood is the stuff of legend.
11. Miss Sloane (HBO Max)
Synopsis: In the high-stakes world of political power-brokers, Elizabeth Sloane (Jessica Chastain) is the most sought-after and formidable lobbyist in D.C. Known equally for her cunning and her track record of success, she has always done whatever is required to win. But when she takes on the most powerful opponent of her career, she finds that winning may come at too high a price.
Synopsis: The #1 New York Times bestseller by Kathryn Stockett comes to vivid life through the powerful performances of a phenomenal ensemble cast. Led by Emma Stone, Viola Davis, Octavia Spencer and Bryce Dallas Howard, The Help is an inspirational, courageous and empowering story about very different, extraordinary women in the 1960s South who build an unlikely friendship around a secret writing project – one that breaks society's rules and puts them all at risk. Filled with poignancy, humor and hope, The Help is a timeless, universal and triumphant story about the ability to create change.
9. The Good Nurse (Netflix)
Synopsis: Amy, a compassionate nurse and single mother struggling with a life-threatening heart condition, is stretched to her physical and emotional limits by the hard and demanding night shifts at the ICU. But help arrives when Charlie, a thoughtful and empathetic fellow nurse, starts at her unit. While sharing long nights at the hospital, the two develop a strong and devoted friendship, and for the first time in years, Amy truly has faith in her and her young daughters' future. But after a series of mysterious patient deaths sets off an investigation that points to Charlie as the prime suspect, Amy is forced to risk her life and the safety of her children to uncover the truth.
Synopsis: When Curtis (Michael Shannon) begins having nightmares of an encroaching, apocalyptic storm, he refrains from telling his wife, Samantha (Jessica Chastain). To protect her and their six-year-old deaf daughter Hannah, Curtis starts focusing his anxiety and money into the obsessive building of a storm shelter. While Hannah's healthcare and special needs education has resulted in financial struggle, Curtis' seemingly inexplicable behavior concerns Samantha and provokes intolerance among co-workers, friends and neighbors. However, the resulting strain on his marriage and tension within the community doesn't compare to Curtis' private fear of what his disturbing dreams may truly signify.
7. Crimson Peak (Netflix)
Synopsis: When her heart is stolen by a seductive stranger, a young woman is swept away to a house atop a mountain of blood-red clay: a place filled with secrets that will haunt her forever. Between desire and darkness, between mystery and madness, lies the truth behind Crimson Peak.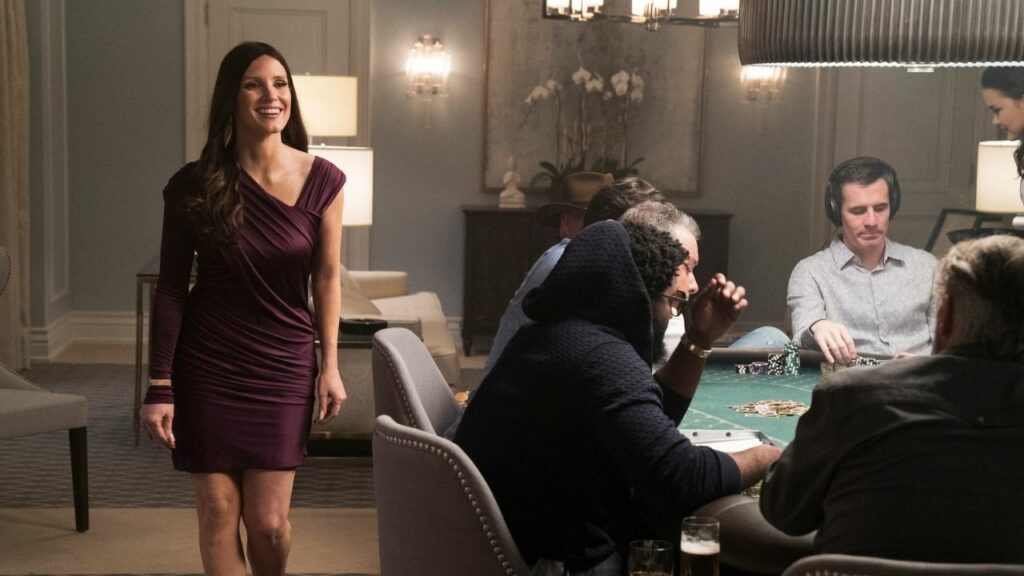 Synopsis: Molly's Game is based on the true story of Molly Bloom, an Olympic-class skier who ran the world's most exclusive high-stakes poker game for a decade before being arrested in the middle of the night by 17 FBI agents wielding automatic weapons. Her players included Hollywood royalty, sports stars, business titans and finally, unbeknownst to her, the Russian mob. Her only ally was her criminal defense lawyer Charlie Jaffey, who learned that there was much more to Molly than the tabloids led us to believe.
5. A Most Violent Year (HBO Max)
Synopsis: A Most Violent Year is a searing crime drama set in New York City during the winter of 1981, statistically the most dangerous year in the city's history. From acclaimed writer/director J.C. Chandor, and starring Oscar Isaac (Inside Llewyn Davis) and Jessica Chastain (Zero Dark Thirty), this gripping story plays out within a maze of rampant political and industry corruption plaguing the streets of a city in decay. J.C. Chandor's third feature examines one immigrant's determined climb up a morally crooked ladder, where simmering rivalries and unprovoked attacks threaten his business, family, and—above all—his own unwavering belief in the righteousness of his path. With A Most Violent Year, Chandor journeys in a bold new direction, toward the place where best intentions yield to raw instinct, and where we are most vulnerable to compromise what we know to be right.
Synopsis: From Terrence Malick, the acclaimed director of such classic films as BADLANDS, DAYS OF HEAVEN and THE THIN RED LINE, THE TREE OF LIFE is the impressionistic story of a Midwestern family in the 1950's. The film follows the life journey of the eldest son, Jack, through the innocence of childhood to his disillusioned adult years as he tries to reconcile a complicated relationship with his father (Brad Pitt). Jack (played as an adult by Sean Penn) finds himself a lost soul in the modern world, seeking answers to the origins and meaning of life while questioning the existence of faith. Through Malick's signature imagery, we see how both brute nature and spiritual grace shape not only our lives as individuals and families, but all life.
Synopsis: From legendary director Ridley Scott (Alien, Prometheus) comes a gripping tale of human strength and the will to survive. During a mission to Mars, American astronaut Mark Watney (Matt Damon) is presumed dead and left behind. But Watney is still alive. Against all odds, he must find a way to contact Earth in the hope that scientists can devise a rescue plan to bring him home.
2. Zero Dark Thirty (Starz)
Synopsis: For a decade, an elite team of intelligence and military operatives, working in secret across the globe, devoted themselves to a single goal: to find and eliminate Osama bin Laden. ZERO DARK THIRTY reunites the Oscar-winning team of director-producer Kathryn Bigelow and writer-producer Mark Boal (2009, Best Picture, THE HURT LOCKER) for the story of history's greatest manhunt for the world's most dangerous man.
Synopsis: With our time on Earth coming to an end, a team of explorers undertakes the most important mission in human history: traveling beyond this galaxy to discover whether mankind has a future among the stars. From acclaimed filmmaker Christopher Nolan ("The Dark Knight" films, "Inception"), "Interstellar" stars Oscar winner Matthew McConaughey ("Dallas Buyers Club"), Oscar winner Anne Hathaway ("Les Misérables"), Oscar nominee Jessica Chastain ("Zero Dark Thirty"), Bill Irwin ("Rachel Getting Married"), Oscar winner Ellen Burstyn ("Alice Doesn't Live Here Anymore"), and Oscar winner Michael Caine ("The Cider House Rules"). The main cast also includes Wes Bentley, Casey Affleck, David Gyasi, Mackenzie Foy and Topher Grace.