Jason Bateman is one of the most talented and funniest actors working in the film industry right now. The American actor, director, and producer started his onscreen career as a child actor with a cereal commercial in 1980 for Golden Grahams, then he went on to star in the 1981 series Little House on the Prairie and the 1986 series The Hogan Family. Since then he has starred in some of the most brilliant TV shows and movies including Arrested Development and AIR. So, if you also love Bateman's performances here are the best movies and TV shows starring Jason Bateman that should be on your watchlist.
10. Dodgeball: A True Underdog Story (Max)
Synopsis: Dodgeball: A True Underdog Story, is a film that grabs life by the ball. Peter LaFleur (Vince Vaughn), is a charismatic underachiever and proprietor of a rundown gym called Average JoeÍs. The facilityÍs clientele of decidedly less-than-average Joes is made up of a self-styled pirate, a scrawny nerd (Justin Long) who dreams of impressing an unattainable cheerleader, an obsessive aficionado of obscure sports, a dim-witted young man, and a cocky know-it-all who, of course, really knows nothing. PeterÍs humble gym catches the eye of White Goodman (Ben Stiller), the power-mullet-sporting, Fu-Manchu-d, egomaniacal owner of Globo Gym, a gleaming monolith of fitness. White intends to take over Average JoeÍs, and PeterÍs non-existent bookkeeping is making it all too easy for him. A foreclosing bank has stationed attorney Kate Veatch (Christine Taylor) inside Average JoeÍs to finalize GloboÍs takeover of the gym. PeterÍs boyish charm wins her over and Kate joins his team of social rejects to beat the odds.
9. Up in the Air (Showtime)
Synopsis: Academy Award winner George Clooney stars in this dramatic comedy as a corporate downsizing expert whose cherished life on the road, without commitments, is threatened just when he's on the cusp of achieving his frequent flying dreams. Also stars Anna Kendrick.
Synopsis: Simon (Jason Bateman) and Robyn (Rebecca Hall) are a young married couple whose life is going just as planned until a chance encounter with an acquaintance from Simon's high school sends their world into a harrowing tailspin. Simon doesn't recognize Gordo (Joel Edgerton) at first, but after a seemingly coincidental series of encounters proves troubling, a horrifying secret from their past is uncovered after nearly 20 years. As Robyn learns the unsettling truth about what happened between Simon and Gordo, she starts to question: how well do we really know the people closest to us, and are past bygones ever really bygones?
7. Forgetting Sarah Marshall (Hulu & Peacock)
Synopsis: From the guys that brought you The 40-Year-Old Virgin and Knocked Up, comes "One of the funniest, damn movies I've ever seen!" (Richard Roeper, At the Movies with Ebert & Roeper). Peter (Jason Segel) is a struggling musician who finds his world turned upside down when his TV celebrity girlfriend, Sarah Marshall (Kristen Bell), dumps him for a tragically hip rock star. It's the hysterically funny look at how far one man will go to forget a girl—and all the fun he finds along the way!
Synopsis: Jason Bateman and Rachel McAdams star as Max and Annie, whose weekly couples Game Night gets kicked up a notch when Max's charismatic brother, Brooks (Kyle Chandler), arranges a murder mystery party, complete with fake thugs and faux federal agents. So, when Brooks gets kidnapped, it's all part of the game…right? But as the six uber-competitive gamers set out to solve the case and win, they begin to discover that neither this "game"— nor Brooks—are what they seem to be.
Over the course of one chaotic night, the friends find themselves increasingly in over their heads as each twist leads to another unexpected turn. With no rules, no points, and no idea who all the players are, this could turn out to be the most fun they've ever had…or game over.
5. Juno (Max)
Synopsis: JUNO stars Ellen Page as the title character, a whip-smart teen confronting an unplanned pregnancy by her classmate Bleeker (Michael Cera). With the help of her hot best friend Leah (Olivia Thirlby), Juno finds her unborn child a "perfect" set of parents: an affluent suburban couple, Mark and Vanessa (Jason Bateman and Jennifer Garner), longing to adopt. Luckily, Juno has the total support of her parents (JK Simmons and Allison Janney) as she faces some tough decisions, flirts with adulthood and ultimately figures out where she belongs.
4. The Outsider (Max)
Synopsis: The gruesome murder of an 11-year-old boy in the Georgia woods leads a local detective into a disturbing search for the truth in Season 1 of this drama series based on Stephen King's bestselling novel. When an insidious supernatural force edges its way into the case, it leads a seasoned cop (Ben Mendelsohn) and an unorthodox investigator (Cynthia Erivo) to question everything they believe in. The stellar supporting cast includes Bill Camp, Mare Winningham, Paddy Considine, Julianne Nicholson, Yul Vazquez, Jeremy Bobb, Marc Menchaca and Jason Bateman.
Synopsis: From award-winning director Ben Affleck, AIR reveals the unbelievable game-changing partnership between a then rookie Michael Jordan and Nike's fledgling basketball division which revolutionized the world of sports and contemporary culture with the Air Jordan brand. This moving story follows the career-defining gamble of an unconventional team with everything on the line, the uncompromising vision of a mother who knows the worth of her son's immense talent, and the basketball phenom who would become the greatest of all time.
2. Arrested Development (Netflix & Hulu)
Synopsis: Holding the Bluths together just barely is son Michael Bluth (Jason Bateman), the only normal guy in a family that's chock full of nuts. Hardworking and sensible, Michael's certain he's going to be given control of his family's Enron-style corporation upon the retirement of his father (Jeffrey Tambor). The fact that he's passed over instead for his mother (Jessica Walter) is only a blip when compared to his father's immediate arrest for dubious accounting practices, and the resulting freeze on the family's previously limitless wealth. Bereft of money, and even less family love, the Bluths have to band together in their moment of need–not easy when everyone's looking out for number 1. In addition to his scabrous parents, Michael has to contend with his lothario older brother (Will Arnett), his basically useless younger brother (Tony Hale), his greedy twin sister (Portia DeRossi), and her sexually ambiguous husband (David Cross). Michael's only comrade in sanity is his son George Michael (Michael Cera), but then again, the teenage boy harbors a secret crush on his cousin (Alia Shawkat).
1. Ozark (Netflix)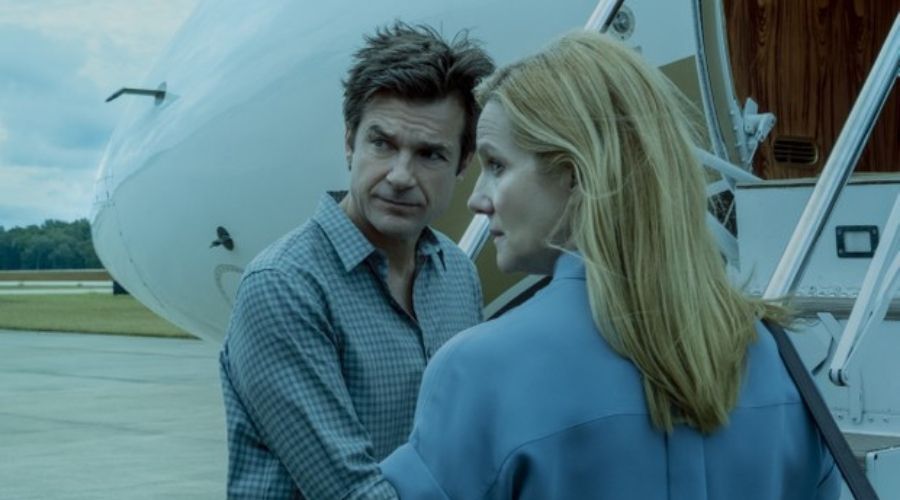 Synopsis: Ozark is a thrilling drama set in the present-day and follows the Byrde family's journey from their normal, suburban Chicago life to their dangerous criminal enterprise in the Ozarks, Missouri. The series explores capitalism, family dynamics, and survival through the eyes of (anything but) ordinary Americans.