HBO is home to many TV shows, some bad, some good, and those good shows are some of the best TV shows we have ever seen, and today we are going to make a list of the best 30 HBO original TV shows you can watch right now on HBO Max.
The TV shows on this list are not ranked and also we haven't included the TV shows which haven't aired their complete first season in their entirety, also we would like to say that 30 is a relatively small number so obviously we couldn't include every great HBO series, sorry about that.
Curb Your Enthusiasm
Synopsis: Larry David has it all–so why does he seem intent on making a mess of his life? Larry David stars as…Larry David in this acclaimed verite-style comedy series that follows him at home, at work and around town, as he lands himself in various predicaments with both fictional and real-life personalities. Jeff Garlin and Cheryl Hines co-star.
Flight of the Concords
Synopsis: A New Zealand folk-parody duo move to New York's East Village to conquer America, one fan (literally) at a time in this comedy series.
Six Feet Under
Synopsis: Family is complicated — especially when you own (and live in) a funeral home with them. Experience the highs and lows of life and death with the Fisher family in this darkly comic drama from Oscar winner Alan Ball.
Chernobyl
Synopsis: On April 26, 1986, the Chernobyl Nuclear Power Plant in the Soviet Union suffered a massive explosion. This gripping five-part miniseries tells the powerful and visceral story of the worst man-made accident in history, following the tragedy from the moment of the early-morning explosion through the chaos and loss of life in the ensuing days, weeks and months.
The Sopranos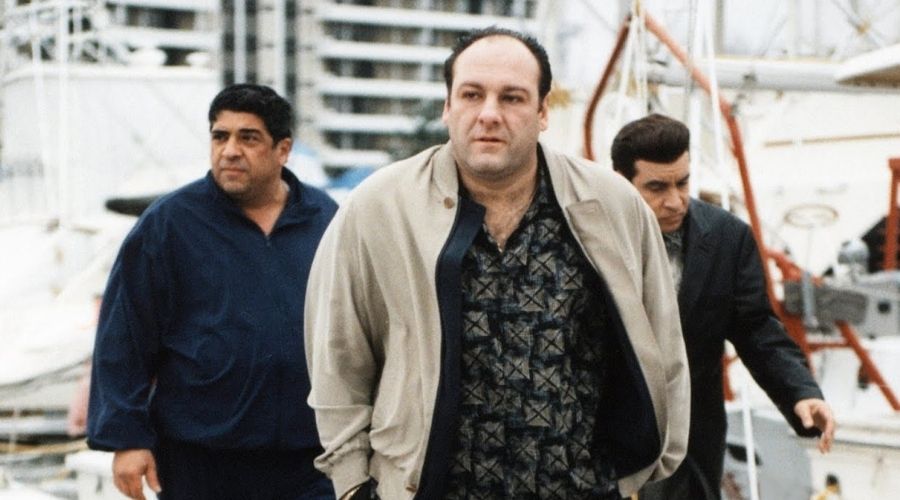 Synopsis: James Gandolfini stars in this acclaimed series as Tony Soprano, a husband and mob boss whose professional and private strains often land him in the office of his therapist. The ensemble cast includes Lorraine Bracco as his doctor, Edie Falco as his long-suffering wife, Michael Imperioli as his hot-headed nephew and Dominic Chianese as his uncle.
Barry
Synopsis: A dark comedy starring Bill Hader ("Saturday Night Live"), who created and executive produced the series along with Alec Berg (HBO's "Silicon Valley"), Barry focuses on a depressed, low-rent hitman from the Midwest (Hader, in the title role) who falls in love with acting while on a job in LA. The supporting cast features Stephen Root, Henry Winkler and Sarah Goldberg.
Big Little Lies
Synopsis: Based on Liane Moriarty's bestselling book, this subversive, darkly comedic drama series tells the tale of three mothers of first-graders whose seemingly perfect lives unravel to the point of murder. The stellar cast includes Reese Witherspoon, Nicole Kidman, Shailene Woodley, Alexander Skarsgard, Laura Dern, Adam Scott, Zoe Kravitz, James Tupper and Jeffrey Nordling.
Succession
Synopsis: Power, politics, money…it's all in the family in this provocative, funny series about a highly dysfunctional dynasty. When Logan Roy (Brian Cox), CEO of one of the world's largest media and entertainment conglomerates, considers retirement, each of his four grown children follows a personal agenda that doesn't always sync with those of their siblings–or of their father.
Veep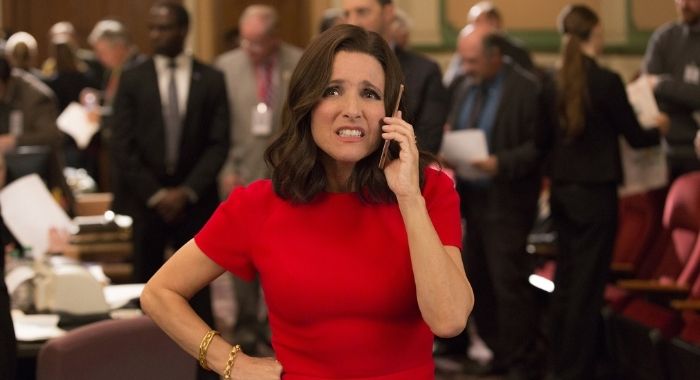 Synopsis: Julia Louis-Dreyfus is the Vice President of the United States in this hilarious HBO comedy series. Each episode follows her whirlwind day-to-day existence as she puts out political fires, juggles public and private demands and defends the interests of the chief executive–with whom she shares a uniquely dysfunctional relationship.
Game of Thrones
Synopsis: Trouble is brewing in Westeros. For the inhabitants of this world, control of the Iron Throne holds the lure of great power. But in a land where seasons can last a lifetime, winter is coming…and beyond the Great Wall that protects them, a forgotten evil has returned. HBO presents this epic series based on the book series 'A Song of Ice and Fire' by George R.R. Martin.
Euphoria
Synopsis: Multimedia superstar Zendaya stars in this drama series that follows a group of high-school students as they navigate a mine field of drugs, sex, identity, trauma, social media, love and friendship in today's increasingly unstable world.
Silicon Valley
Synopsis: From HBO and the offbeat mind of Mike Judge ('Office Space' 'Beavis & Butthead') comes this comedy series set in the outrageous world of Silicon Valley's tech start-ups. In each episode, the show follows introverted programmer Richard and his pals who are going nowhere fast–until his website's unique compression algorithm becomes the subject of an extreme bidding war.
Band of Brothers
Synopsis: They were ordinary men, swept up in the most extraordinary conflict in history. This landmark ten-part miniseries based on Stephen E. Ambrose's best-seller recounts the remarkable achievements of an elite team of U.S. paratroopers whose World War II exploits are as incredible as they are true.
Oz
Synopsis: You wanna punish a man? Send him to Oswald Maximum Security Penitentiary. Inmates at Oz are considered lucky if they get into the prison's 'Emerald City' unit. They're even luckier if they get out alive. HBO presents this gritty drama series about the corrections officers and inmates of this experimental prison within a prison.
The Wire
Synopsis: In the city of Baltimore, there are good guys and there are bad guys. Sometimes you need more than a badge to tell them apart. This highly realistic and totally unvarnished drama series chronicles the vagaries of crime, law enforcement, politics, education and media in Baltimore as it follows a team of cops and the criminals they are after.
Looking
Synopsis: Meet Patrick, Agustin and Dom: three 30-something friends living in San Francisco exploring the exciting, sometimes overwhelming, options available to a new generation of gay men. From HBO comes this comedy series that offers up the unfiltered experiences of these three close friends living–and loving–in modern-day San Francisco.
The Leftovers
Synopsis: It has been called 'The Departure': a stunning global event in which more than 140 million people simply vanished. From 'Lost' co-creator Damon Lindelof and author Tom Perrotta (on whose bestseller this is based) comes this epic drama series that focuses on the 'leftovers' of the town of Mapleton as they react to this inexplicable event three years later.
Deadwood
Synopsis: It is 1876 and the richest gold strike in U.S. history draws a throng of restless misfits to an outlaw settlement in the Black Hills of South Dakota. Welcome to Deadwood–a hell of a place to make your fortune. Timothy Olyphant and Ian McShane lead the cast in this drama series about the surly inhabitants in this dangerous frontier town.
True Detective
Synopsis: Touch darkness and darkness touches you. From HBO and creator/executive producer Nic Pizzolato comes this searing crime drama series that follows troubled cops and the intense investigations that drive them to the edge. Each season features a star-studded new cast involved in cases that will have you on the edge of your seat.
The Newsroom
Synopsis: Is it possible to produce a good TV news show and make it popular at the same time? That's the question facing volatile cable-news anchor Will McAvoy (Jeff Daniels) and the idealogical staff that has just been foisted upon him in this HBO series from Aaron Sorkin ('The Social Network') that follows their efforts to 'do the news well' in the face of numerous obstacles.
Westworld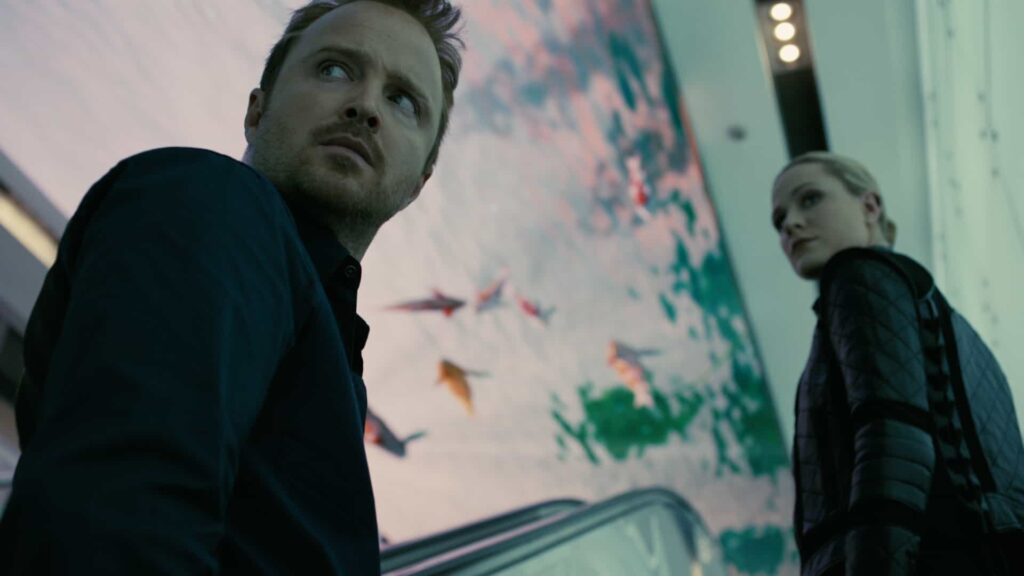 Synopsis: In this series set in a futuristic Wild West fantasy park, a group of android 'hosts' deviate from their programmers' carefully planned scripts in a disturbing pattern of aberrant behavior. With an exceptional cast headed by Anthony Hopkins, Ed Harris, Evan Rachel Wood, James Marsden, Thandiwe Newton and Jeffrey Wright, 'Westworld' was inspired by Michael Crichton's 1973 film.
The Comeback
Synopsis: For Valerie Cherish, no price is too high to pay for clinging to the spotlight. From award-winning 'Sex and the City' writer Michael Patrick King comes this comedy series starring Lisa Kudrow as Valerie–a former B-list television actress so desperate to revive her career that she agrees to star in a reality show that follows her efforts to land a part in a new sitcom.
Crashing
Synopsis: Pete Holmes created and stars in this comedy series about a stand-up comic who learns that his wife is unfaithful, forcing him to reevaluate his life and make a move to the New York City comedy scene.
Eastbound and Down
Synopsis: As a baseball star, Kenny Powers had it all: money, fame, obsessed fans. But he threw it all away in a haze of hard-living and complacency. HBO presents this riotous comedy series starring Danny McBride as the former pitcher who finds himself out of baseball and reduced to teaching Phys Ed at the North Carolina school he once attended.
Watchmen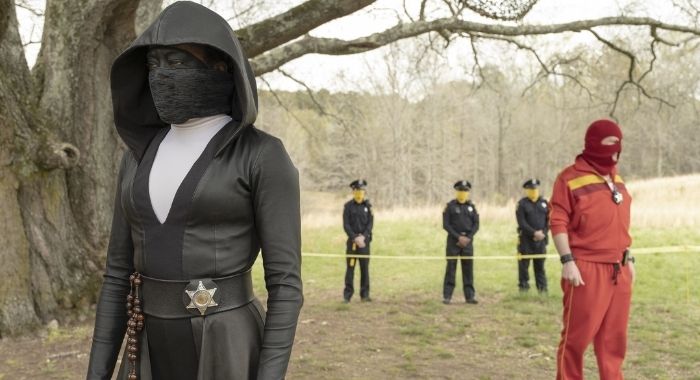 Synopsis: Set in an alternate history where masked vigilantes are treated as outlaws, this epic series from Damon Lindelof ("Lost"; HBO's "The Leftovers") embraces the nostalgia of the original groundbreaking graphic novel of the same name, while attempting to break new ground of its own. Regina King stars as a lead detective in the Tulsa Police Force and a wife and mother of three.
The Knicks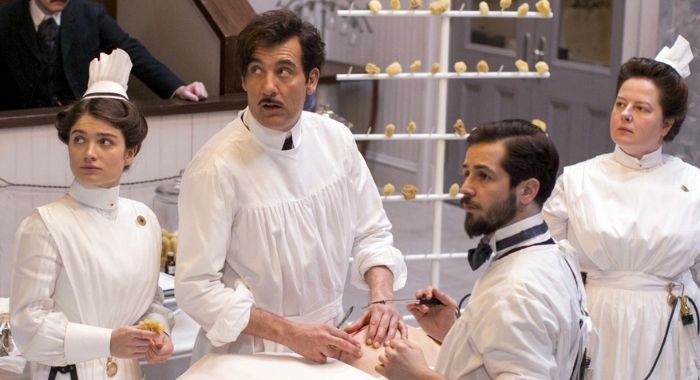 Synopsis: A brilliant surgeon pushes the boundaries of medicine, morality and race relations at a NYC hospital at the turn of the 20th century in this drama series. Throughout 10 episodes–all directed by Steven Soderbergh–the show follows Dr. John Thackery (Oscar(R)-nominee Clive Owen) and his groundbreaking work at the Knickerbocker Hospital as it faces a period of major upheaval.
Mare of Easttown
Synopsis: In a small Pennsylvania town, a detective investigates a brutal murder while her own life is falling apart around her. Kate Winslet stars in this seven-episode limited series as the cop who deals with the loss of her son and a hectic household while trying to solve a cold missing persons case and the slaying of a teen girl in a place where everyone is a potential suspect.
The White Lotus
Synopsis: A social satire set at a tropical resort, this limited series follows various guests and employees over one highly transformative week. Checking into the luxurious White Lotus are a group of vacationers who run roughshod over the manager and head of spa services. As darker dynamics emerge, the truths of the travelers, employees, and even the idyllic locale itself are revealed.
Lovecraft Country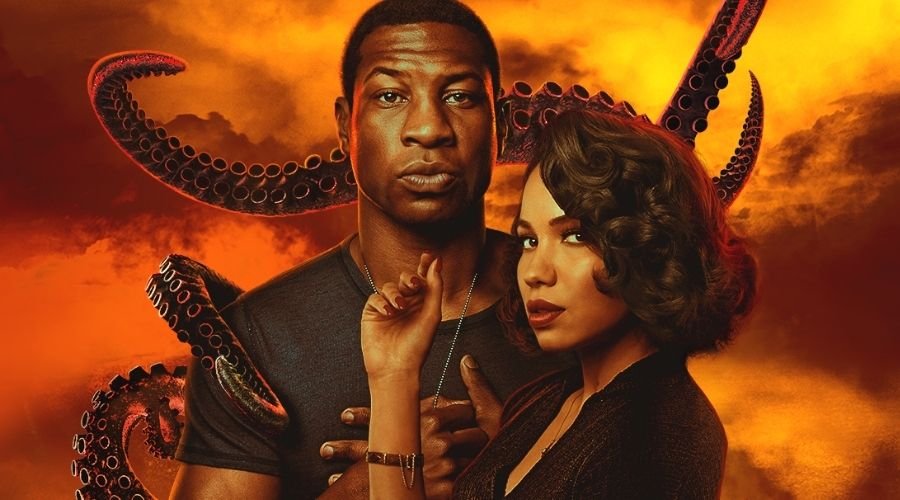 Synopsis: A search for a missing father turns into an otherworldly trip. Based on Matt Ruff's novel, this series follows Korean war vet Atticus Freeman, his friend Letitia and his Uncle George on a journey across 1950s Jim Crow America. What follows is a struggle to survive against the racist terrors of white America and the terrifying monsters ripped from an H.P. Lovecraft paperback.
Insecure
Synopsis: Created by and starring Issa Rae, this comedy series looks at the friendship of two modern-day black women, as well as all of their uncomfortable experiences and racy tribulations. As they navigate the tricky professional and personal terrain of Los Angeles, best friends Issa (Rae) and Molly (Yvonne Orji) face the challenges of being black women who defy all stereotypes.