On most days we just need a pick-me-up to get through the day, but in today's TV industry most shows are either spin-offs, true crime shows, or a super intense watch, or it's just a shit series. But there are also many happy shows that you can just put on and not think about any of the dark stuff you have to go through in your everyday life. These shows can improve your mood even if your day is not going well. So, here are the 16 best shows that feel like a warm hug to watch on gloomy days.
---
Also Read: Shows Like 'Parks and Recreation' To Watch If You Miss the Series
---
Parks and Recreation (Peacock)
Synopsis: From the people who brought you The Office comes Parks and Recreation, the hilarious saga of government employees and local citizens turning a neighborhood hole in the ground into a new public park. Comedy superstar Amy Poehler (Saturday Night Live, Baby Mama) stars as Leslie Knope, an ambitious and hopeful small town government worker, whose dreams are way bigger than her political talents. Created by Primetime Emmy® Award winners Greg Daniels (The Office, King of the Hill, The Simpsons) and Michael Schur (The Office, SNL), and featuring a stellar ensemble cast, Parks and Recreation is a "genuinely funny comedy" (Daniel Carlson, Hollywood Reporter) about bureaucracy, hope and America at the dawn of the Obama age.
---
Also Read: Shows Like 'Schitt's Creek' To Watch If You Miss the Series
---
Synopsis: Schitt's Creek, created by Eugene Levy and Daniel Levy, follows a wealthy family who suddenly find themselves broke and forced to live in Schitt's Creek, a small town they once bought as a joke. It centers on an outrageously wealthy video store magnate, Johnny Rose (Eugene Levy); his former soap-star wife Moira (Catherine O'Hara); and their two adult children – the self-described black sheep of the family David (Daniel Levy) and career socialite Alexis (Annie Murphy). With their pampered lives a memory, they struggle to find jobs and relationships, and most importantly, figure out what it means to be a family in the makeshift but loveable town they've reluctantly come to call home.
---
Also Read: Shows Like 'Night Court' If You Miss the Original Series
---
Synopsis: Disorder in the court! That's the order of the day when a parade of zany–and often bizarre–characters passes before unconventional and unpredictable Judge Harry T. Stone (Harry Anderson) in the hilarious comedy Night Court.
---
Also Read: Shows Like 'Scrubs' To Watch If You Miss the Series
---
Scrubs (Hulu)
Synopsis: ABC's Scrubs examines the lives of the staff at Sacred Heart. In this unpredictable hospital filled with over-the-top staffers and patients, doctors have learned to survive by relying on each other to face relationships, death, kids, interns, water balloons, and anything else life may throw at them. Around here, humor and tragedy collide as they continually learn that even when you figure out who you are, there's still more life to navigate and it helps to have good people in your corner…even if they are a bit scattered themselves.
---
Also Read: Shows Like 'Abbott Elementary' To Watch While Waiting For Season 3
---
Abbott Elementary (HBO Max & Hulu)
Synopsis: In this workplace comedy, a group of dedicated, passionate teachers—and a slightly tone-deaf principal—are brought together in a Philadelphia public school where, despite the odds stacked against them, they are determined to help their students succeed in life. Though these incredible public servants may be outnumbered and underfunded, they love what they do — even if they don't love the school district's less-than-stellar attitude toward educating children. "Abbott Elementary" stars Quinta Brunson as Janine Teagues, Tyler James Williams as Gregory Eddie, Janelle James as Ava Coleman, Chris Perfetti as Jacob Hill, Lisa Ann Walter as Melissa Schemmenti and Sheryl Lee Ralph as Barbara Howard.
---
Also Read: Shows Like 'Brooklyn Nine-Nine' You Should Watch
---
Brooklyn Nine-Nine (Peacock)
Synopsis: From Dan Goor and Mike Schur, producers of The Office and Parks and Recreation, comes the hilarious Golden Globe® Award-winning comedy, Brooklyn Nine-Nine. Jake Peralta (Andy Samberg, Saturday Night Live) is a Brooklyn detective with a gift for closing cases and little respect for authority. When no-nonsense commanding officer Raymond Holt (Andre Braugher, Homicide: Life on the Street) joins the 99th precinct with something to prove, the two go head to head.
---
Also Read: Comedy Shows Like 'Modern Family' To Watch If You Miss the Series
---
Modern Family is one of the longest-running sitcoms and it follows the Dunphy and Pritchett family. The series is a mockumentary-style comedy and it follows Jay Pritchett (Ed O'Neill), his new wife Gloria (Sofia Vergara), his stepson Manny (Rico Rodriguez), and his daughters family Claire Dunphy (Julie Bowen), her husband and the best father Phil Dunphy (Ty Burrell), their children Haley (Sarah Hyland), Alex (Ariel Winter), and Luke (Nolan Gould). The series also follows Jay's son Mitchell (Jesse Tyler Ferguson), his husband Cameron (Eric Stonestreet), and their adopted daughter Lily (Aubrey Anderson-Emmons). Modern Family ran for 11 seasons ending with a banger of a finale in 2020.
---
Also Read: Comedy Shows Like 'Friends' To Watch If You Miss the Series
---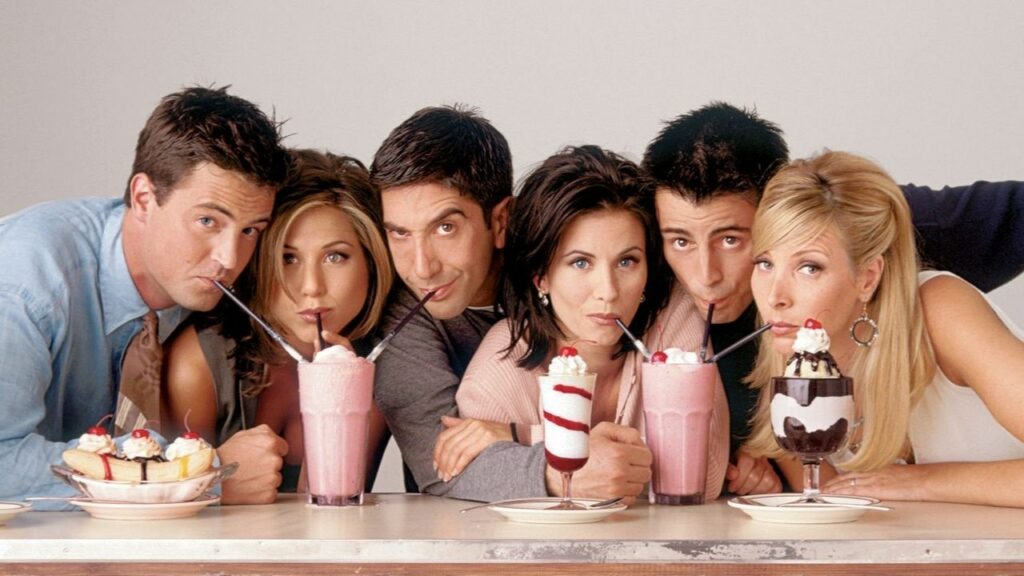 Synopsis: This is a show about love and sex and careers and a time in life when everything is possible … about the search for commitment and security … and the fear of commitment and security. Most of all, it's about friendship–for when you're young and single in the city, your friends are your family.
---
Also Read: Shows Like 'The Good Place' To Watch If You Miss the Series
---
The Good Place (Netflix & Apple TV)
Synopsis: What happens when we die? It's a question everyone has asked since the beginning of time. But when Eleanor Shellstrop (Kristen Bell) dies tragically she finds out that the afterlife is amazing; full of frozen yogurt soulmates and wonderful people who have done incredible things with their lives. It is absolutely perfect. The only problem is Eleanor isn't supposed to be in The Good Place. In fact her life decisions wouldn't have even gotten her close. But due to a clerical error, she's been given someone else's reward and now has to struggle with being good in order to make sure her secret isn't discovered.
---
Also Read: Shows Like 'Derry Girls' To Watch If You Miss the Series
---
Derry Girls (Netflix)
Synopsis: Set in Derry Northern Ireland in the 1990s, Derry Girls is a candid, one-of-a-kind comedy about what it's like to be a teenage girl living amongst conflict. It's a warm, laugh out loud funny and honest look at the lives of an ordinary family living through the Troubles in the early nineties. Armed police in armoured Land Rovers, British Army check points and 'peace' walls are all an everyday reality for Erin. But, despite all that, she has other things to worry about, like the fact the boy she's in love with (actually in LOVE with), doesn't know she exists. Or that her Ma and Aunt Sarah make her include her weirdo cousin in EVERYTHING she does. Or that head teacher, Sister Michael, refuses to acknowledge Erin as a literary genius. Not to mention the fact that her second best friend has ALMOST had sex, whereas Erin's never even kissed anyone yet. Like all teenage girls, Erin has her own Troubles. Derry Girls is based on writer Lisa McGee's (Indian Summers, Being Human) own experiences of growing up in Northern Ireland amidst immense civil conflict.
---
Also Read: Shows Like 'Ted Lasso' To Watch After Season 3
---
Ted Lasso (Apple TV+)
Synopsis: In this new comedy from executive producers Jason Sudeikis and Bill Lawrence (Scrubs, Whiskey Cavalier, Cougar Town), Sudeikis (Saturday Night Live, We're the Millers, Horrible Bosses films) stars as Ted Lasso, an idealistic all-American football coach hired to manage an English football club – despite having no soccer coaching experience at all. Based on the beloved character Sudeikis made famous online, Ted Lasso is the first television series that Sudeikis has signed on to star as a series regular since Saturday Night Live. Produced by Doozer Productions in association with Warner Bros. Television, the comedy series is also executive produced by Jeff Ingold.
---
Also Read: Shows Like 'Superstore' To Watch If You Miss the Series
---
Synopsis: "Superstore" is a hilarious workplace comedy about a unique family of employees at big box megastore Cloud 9. At the center is Jonah (Ben Feldman), a passionate optimist always looking out for his co-workers, including the sardonic Garrett (Colton Dunn), the sweet and fun-loving Cheyenne (Nichole Sakura) and the perpetually dismissed Sandra (Kaliko Kauahi). Back in the manager job is Glenn (Mark McKinney), who once again finds himself butting heads with aggressive assistant manager Dina (Lauren Ash), but is now assisted by Mateo (Nico Santos), who's pretty sure he would be running things by now if it weren't for his undocumented status.
---
Also Read: Shows Like 'The Office' If You Miss the Series
---
Synopsis: Steve Carell (The 40-Year-Old Virgin, The Daily Show) stars in The Office, a fresh and funny mockumentary-style glimpse into the daily interactions of the eccentric workers at the Dunder Mifflin paper supply company. Based on the smash-hit British series of the same name and adapted for American Television by Greg Daniels (King of the Hill, The Simpsons), this fast-paced comedy parodies contemporary American water-cooler culture. Earnest but clueless regional manager Michael Scott (Carell) believes himself to be an exceptional boss and mentor, but actually receives more eye-rolls than respect from his oddball staff.
---
Also Read: Comedy Shows Like 'Unbreakable Kimmy Schmidt' To Watch If You Miss the Series
---
Unbreakable Kimmy Schmidt (Netflix)
Synopsis: From the executive producers of 30 Rock (Tina Fey and Robert Carlock) comes the "wise, wicked comedy" (Jeff Jensen, EW), Unbreakable Kimmy Schmidt. Rescued after fifteen years in an underground doomsday cult, Kimmy (Ellie Kemper) decides to rebuild her life in New York City armed with only a fifth-grade education and a firm belief that truly anything is possible. She quickly finds a roommate, Titus Andromedon (Primetime Emmy® nominee Tituss Burgess), a job working for a spoiled Manhattan mom, Jacqueline Voorhees (Primetime Emmy® nominee Jane Krakowski), and a new beginning. Watch season one of the Primetime Emmy®-nominated series on these shiny discs that Kimmy is only now just learning about!
---
Also Read: Movies & Shows About Parenting Like 'Trying' To Watch After the Apple TV+ Series
---
Trying (Apple TV+)
Synopsis: All Jason and Nikki want is a baby. But it's the one thing they just can't have. Starring Rafe Spall and Esther Smith, "Trying" is a new comedy series about growing up, settling down and finding someone to love.
---
Also Read: Shows Like 'That '70s Show' To Watch If You Miss the Series
---
That '70s Show (Peacock)
Synopsis: For Eric, Kelso, Jackie, Hyde, Donna and Fez, a group of high school teens who spend most of their time hanging out in Eric's basement, life on the "70s isn't always so groovy.