Emily Blunt is one of the most talented and beautiful actresses working in the film industry right now. The English actress professionally made her acting debut in 2001 in Peter Hall's production of the play The Royal Family. Blunt didn't get her breakthrough role until her role as Emily Charlton in the 2006 film The Devil Wears Prada. She is currently starring in Christopher Nolan's biopic drama film Oppenheimer. So, if you also love Blunt's performances here are the 10 best movies starring Emily Blunt that should be on your watchlist.
Synopsis: Academy Award® nominee Matt Damon (The Bourne trilogy) stars in this action thriller about a man who glimpses the future Fate has planned for him – and chooses to fight for his own destiny. Battling the powerful Adjustment Bureau across, under and through the streets of New York, he risks his destined greatness to be with the only woman he's ever loved (Emily Blunt: The Young Victoria, The Devil Wears Prada). Based on a story by the legendary Philip K. Dick (Total Recall, Minority Report and Blade Runner).
9. The Young Victoria (Netflix)
Synopsis: From Academy Award winners Graham King and Martin Scorsese, along with the makers of Gosford Park and The Departed, comes the story of Queen Victoria's early rise to power. From an object of a royal power-struggle to her romantic courtship and legendary marriage to Prince Albert, Emily Blunt (The Devil Wears Prada) gives a stunning performance as the young Victoria. Packed with drama, romance, breath-taking cinematography, lavish costumes and featuring an outstanding British cast including Jim Broadbent, Harriet Walter, Mark Strong, Paul Bettany, Miranda Richardson, and Rupert Friend, The Young Victoria has captivated British audiences, and is the film that Company magazine called "an epic British film, which will sweep you up in her remarkable story."
Synopsis: Pawel Pawlikowski's BAFTA award-winning film juxtaposes the secret longings of two very different young women: Mona (Natalie Press), who's bored and tired of poverty, and Tamsin (Emily Blunt), who's long ceased to be impressed with her well-heeled lifestyle. When their worlds collide unexpectedly, Mona and Tamsin sense an immediate attraction. But can their unusual friendship survive their differences?
Synopsis: A young woman from the Midwest gets more than she bargained for when she moves to New York to become a writer and ends up as the assistant to the tyrannical, larger-than-life editor-in-chief of a major fashion magazine.
Synopsis: Academy Award® winners Tom Hanks, Julia Roberts and Philip Seymour Hoffman star in this compelling and witty film from Oscar®-winning director Mike Nichols and Primetime Emmy®-winning writer Aaron Sorkin (The West Wing). Based on the outrageous true story, Charlie Wilson's War shows how one congressman who loved a good time, one Houston socialite who loved a good cause and one renegade CIA agent who loved a good fight conspired to bring about the largest covert operation in history.
Synopsis: In the year 2044, time travel has not yet been invented. But in 30 years it will have been… In director Rian Johnson's sensational action thriller, Joe (Joseph Gordon-Levitt) works as a looper, a futuristic assassin who eliminates targets sent back in time by a criminal organization. The only rule is that you do not let your target escape – even if that target is you. The rules are put to the test when Joe is called upon to "close his loop" and assassinate his future self (Bruce Willis). In failing to pull the trigger, so begins a desperate race against the clock as Joe begins to unravel his own future and older Joe's past. LOOPER stars Bruce Willis (Die Hard), Joseph Gordon-Levitt (The Dark Knight Rises), Emily Blunt (The Adjustment Bureau), Paul Dano (There Will Be Blood), Piper Perabo (The Prestige) and Jeff Daniels (State of Play).
4. Mary Poppins Returns (Disney+)
Synopsis: The magic returns in Disney's reimagined classic as Mary Poppins helps the Banks family remember the joy of what it's like to be a child. Together with her friend Jack the lamplighter, fun is brought back to the streets of London in celebration that everything is possible…even the impossible!
3. Sicario (Tubi)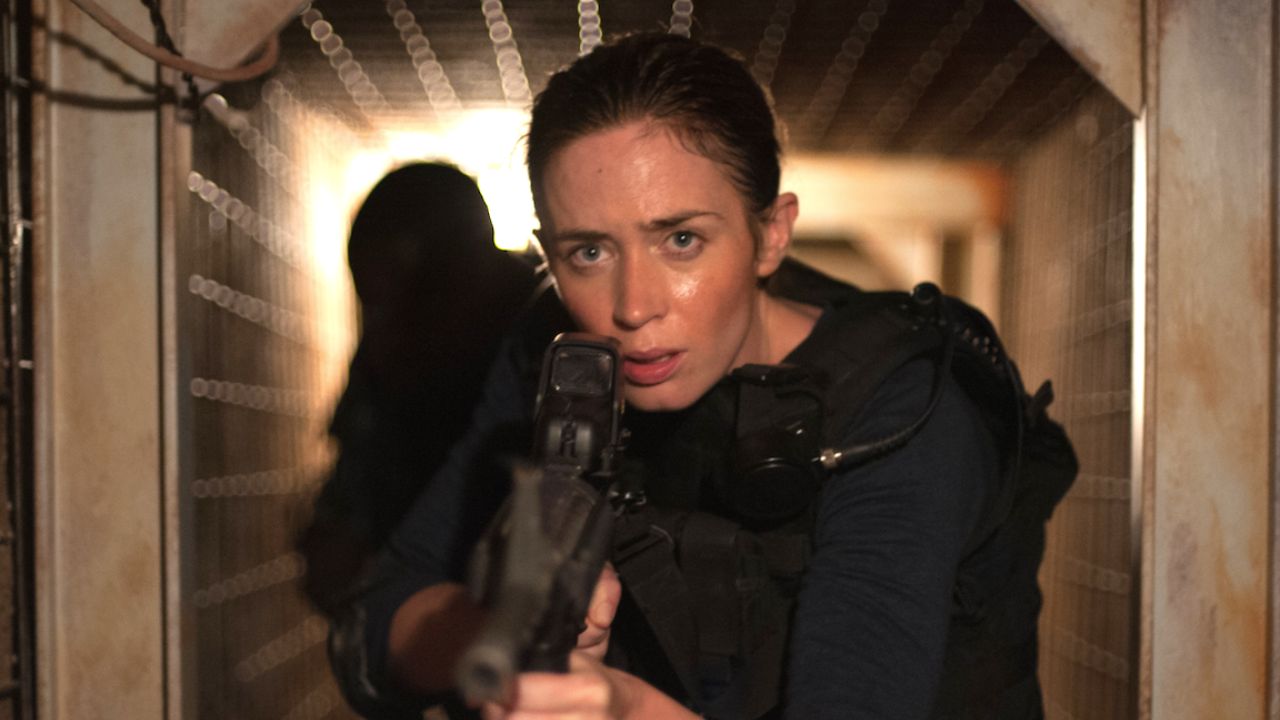 Synopsis: From the director of PRISONERS comes this taut, critically acclaimed thriller filled with pulse-pounding suspense. After an idealistic FBI agent (Emily Blunt) is recruited by a government task-force official (Josh Brolin) to pursue a drug lord, she begins a perilous mission that forces her to question everything she believes—and pits her against a shadowy consultant (Oscar® winner Benicio Del Toro) with a dangerous agenda.
2. Edge of Tomorrow (Max)
Synopsis: The epic action of Edge of Tomorrow unfolds in a near future in which an alien race has hit the Earth in an unrelenting assault, unbeatable by any military unit in the world. Major William Cage (Cruise) is an officer who has never seen a day of combat when he is unceremoniously dropped into what amounts to a suicide mission. Killed within minutes, Cage now finds himself inexplicably thrown into a time loop forcing him to live out the same brutal combat over and over, fighting and dying again… and again. But with each battle, Cage becomes able to engage the adversaries with increasing skill, alongside Special Forces warrior Rita Vrataski (Blunt). And, as Cage and Rita take the fight to the aliens, each repeated encounter gets them one step closer to defeating the enemy.
1. A Quiet Place Film Series (Paramount+)
A Quiet Place (Synopsis): In this terrifyingly suspenseful thriller, a family must navigate their lives in silence to avoid mysterious creatures that hunt by sound. Knowing that even the slightest whisper or footstep can bring death, Evelyn (Emily Blunt) and Lee (John Krasinski) Abbott are determined to find a way to protect their children at all costs while they desperately search for a way to fight back. Hailed by critics and audiences around the world, experience the must-see movie of the year.
A Quiet Place Part II (Synopsis): Following the deadly events at home, the Abbott family (Emily Blunt, Millicent Simmonds, Noah Jupe) must now face the terrors of the outside world as they continue their fight for survival in silence. Forced to venture into the unknown, they quickly realize that the creatures that hunt by sound are not the only threats that lurk beyond the sand path in this terrifyingly suspenseful thriller written and directed by John Krasinski.