Even though Elizabeth Olsen, has become more known in the masses through her role of Wanda Maximoff aka Scarlett Witch, she has been acting brilliantly well before that. The American actress stepped in front of the camera at the early age of four, and since then she has been giving out wonderful performances through TV and films for the world to see. In the hopes of bettering her craft, Olsen attended the New York University's Tisch School of the Arts, from where she successfully graduated in 2013, and not too long after that she had already gotten several nominations for her brilliant acting. Today we are going to rank the best 7 Elizabeth Olsen performances:
Liberal Arts
Synopsis: Newly single and uninspired by his job in college admissions, the introverted Jesse Fisher (Josh Radnor) lives with his head buried in a book. His deep nostalgia for his own alma mater in Ohio — the dining halls and dorm rooms, the parties and poetry seminars — makes him wonder if his best days are behind him. So when his favorite professor (Richard Jenkins) invites him back to campus to speak at his retirement dinner, Jesse jumps at the chance. Meeting Zibby (Elizabeth Olsen) — a precocious classical music-loving sophomore — awakens in Jesse long-dormant feelings of possibility and connection.
Captain America: Civil War
Synopsis: Steve Rogers leads the newly formed team of Avengers in their continued efforts to safeguard humanity. But after another incident involving the Avengers results in collateral damage, political pressure mounts to install a system of accountability, headed by a governing body to oversee and direct the team. The new status quo fractures the Avengers, resulting in two camps—one led by Steve Rogers and his desire for the Avengers to remain free to defend humanity without government interference, and the other following Tony Stark's surprising decision to support government oversight and accountability.
Ingrid Goes West
Synopsis: Ingrid Thorburn (Aubrey Plaza) is an unhinged social media stalker with a history of confusing "likes" for meaningful relationships. Taylor Sloane (Elizabeth Olsen) is an Instagram-famous "influencer" whose perfectly curated, boho-chic lifestyle becomes Ingrid's latest obsession. When Ingrid moves to LA and manages to insinuate herself into the social media star's life, their relationship quickly goes from #BFF to #WTF. Built around a brilliantly disarming performance from Aubrey Plaza, Ingrid Goes West (winner of the Waldo Salt Screenwriting Award at Sundance) is a savagely hilarious dark comedy that satirizes the modern world of social media and proves that being #perfect isn't all it's cracked up to be.
Sorry For Your Loss
Synopsis: Sorry For Your Loss is a half hour drama on Facebook Watch that stars Elizabeth Olsen as Leigh Shaw, a young widow struggling to put her life back together in the wake of her husband's unexpected death. The show is simultaneously devastating and uplifting, with grounded, flawed characters desperate to find humor anywhere they can. The series dives into grief as an unavoidable, universal, transformative part of life. Leigh's journey will teach us that grief is not something merely to endure, medicate away or "muscle through," but an essential part of the human experience.
WandaVision
Synopsis: Starring Elizabeth Olsen and Paul Bettany, "WandaVision" marks the first series from Marvel Studios streaming exclusively on Disney+. The series is a blend of classic television and the Marvel Cinematic Universe in which Wanda Maximoff and Vision—two super-powered beings living idealized suburban lives—begin to suspect that everything is not as it seems.
Wind River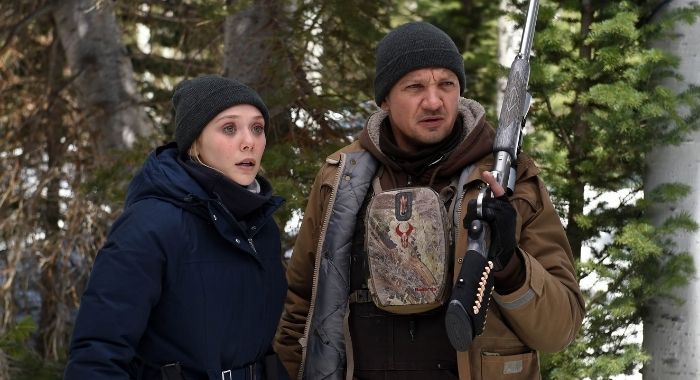 Synopsis: WIND RIVER is a chilling thriller that follows a rookie FBI agent (Elizabeth Olsen) who teams up with a local game tracker with deep community ties and a haunted past (Jeremy Renner) to investigate the murder of a local girl on a remote Native American Reservation in the hopes of solving her mysterious death.
Martha Marcy May Marlene
Synopsis: MARTHA MARCY MAY MARLENE stars Elizabeth Olsen as Martha, a damaged woman haunted by painful memories and increasing paranoia, who struggles to re-assimilate with her family after fleeing a cult.
---
This concludes the list of the best 7 Elizabeth Olsen performances. So, if you have watched them tell us in the comments and we will make a new list for you, and if you haven't what are you waiting for.